Affordable Elegance: Bathroom Design Ideas
It is my belief that a well designed bathroom should be a fun experience. The wall finish, art, and accessories must work together to create a mood. Changing the wall color, making a creative shower curtain, and adding a charming rug can transform an ugly bath into a beautiful room.
In many cases a bathroom update can be as simple as applying new wallpaper or painting. Wallpaper adds color, texture, and sets the theme for the entire project. I wanted the bathroom in the photo below to be relaxing; therefore I selected a beige and gold color palate. The ceiling is painted a soft gold. This particular wallpaper is timeless. It has words written in French script. This "French linen" look is hot in today's market. The interesting thing about this paper is that you do not have any idea what it says! This fact will drive you nuts or make you curious! Either way it gets you thinking!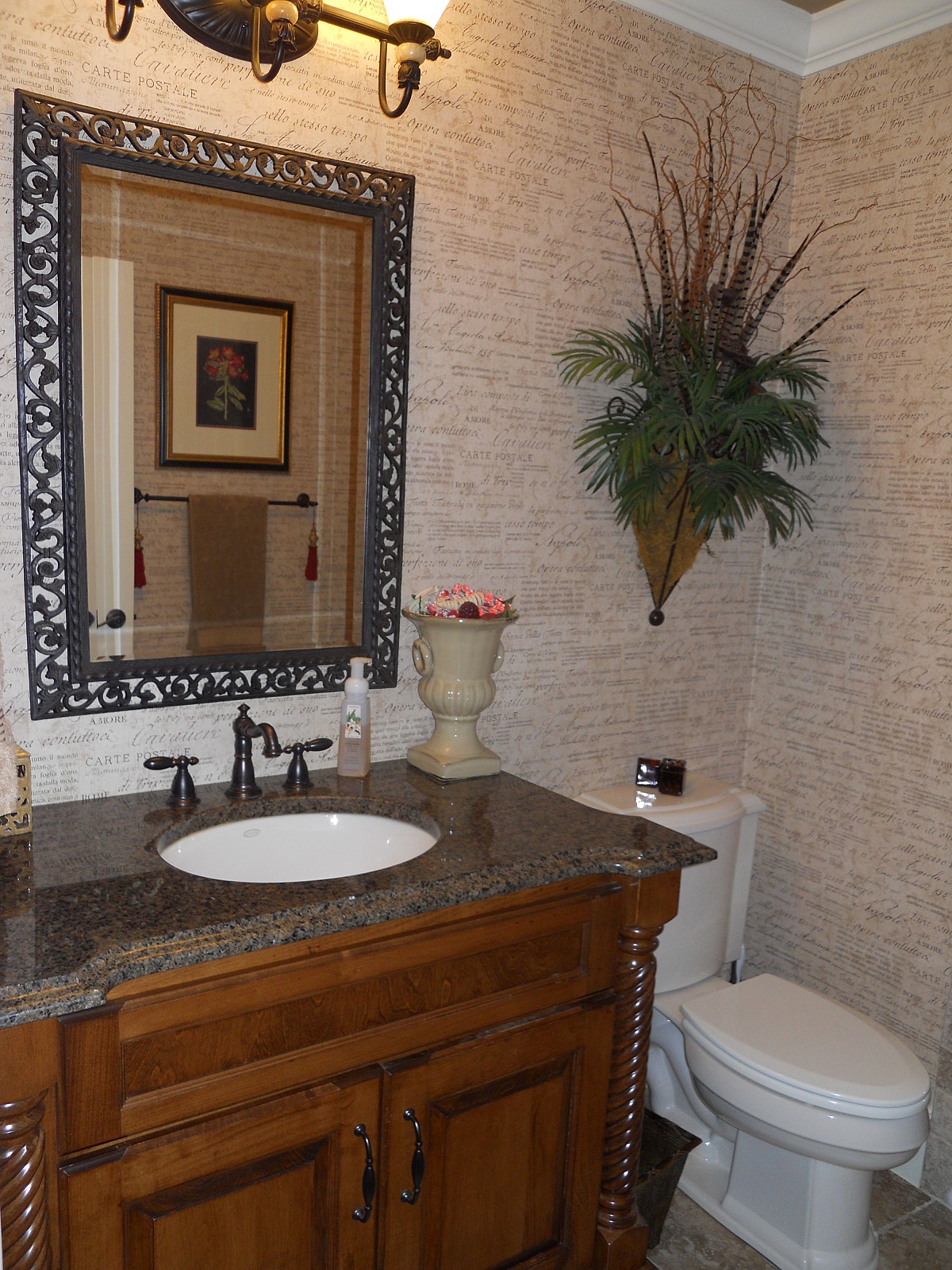 The vanity in the bath featured here was selected because it looks like an independent piece of furniture and sets the pace for the wood tones and style. In addition, I designed the linen cabinet with an arched opening in the base that looks like a furniture leg. Due to the fact that the cabinet and vanity look like furniture and not bath fixtures, it gives the bath a non-traditional ambience. I wanted the tile to be natural and earthy, so I chose a tumbled marble with beautiful trim accents and selected a frameless shower door to show it off. The accessories are simple and few. It is not necessary to inundate this bath with decorations because the basic selections can stand alone. I felt that a wall sconce with tall plumage and natural ingredients added an interesting unpredictable look.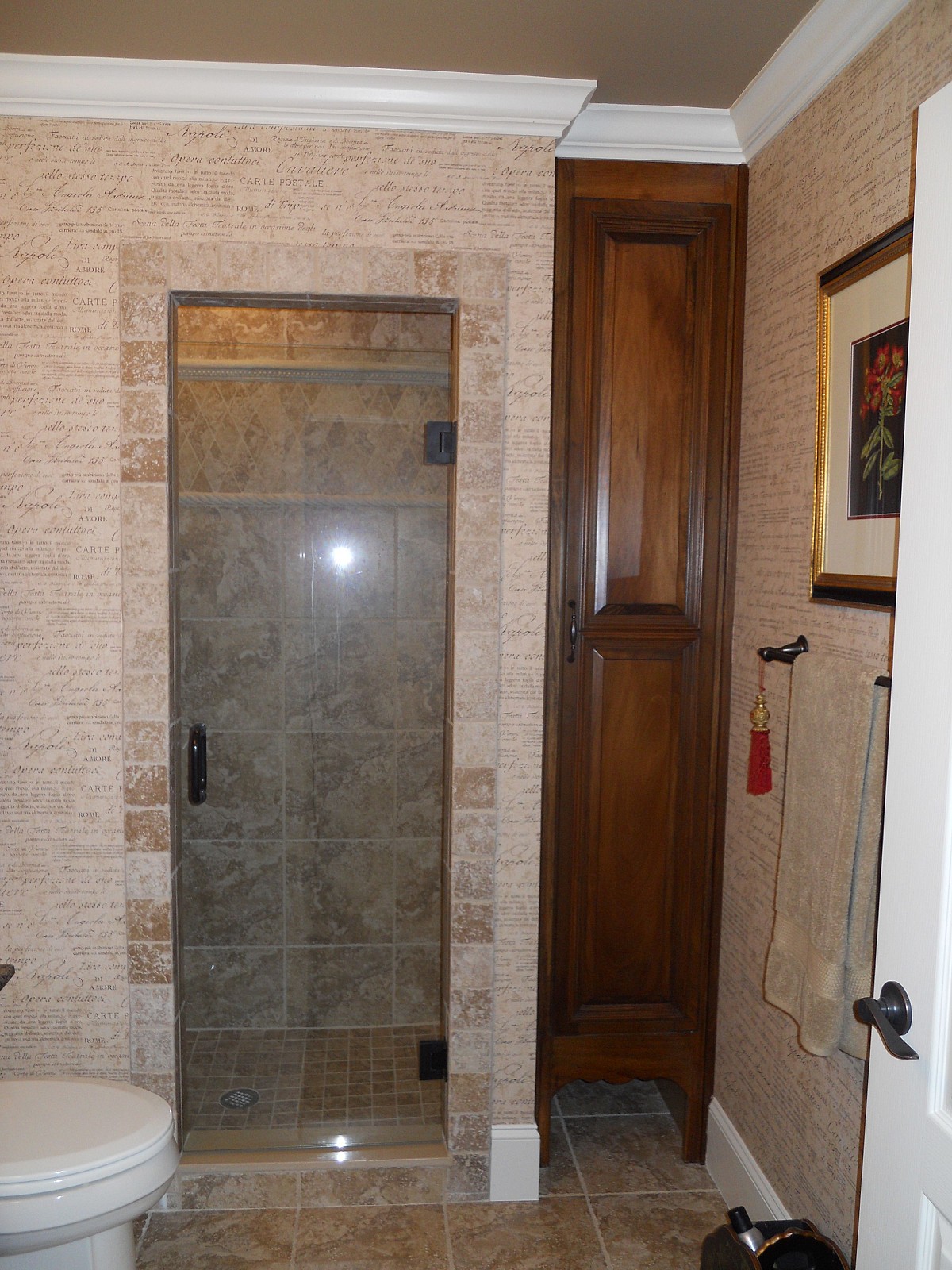 Another bathroom update that I enjoyed was in my son's home. It was a privilege to help, consult, and watch my son's bathroom renovations transform his dated, 70's condo into a 2012-style bathroom.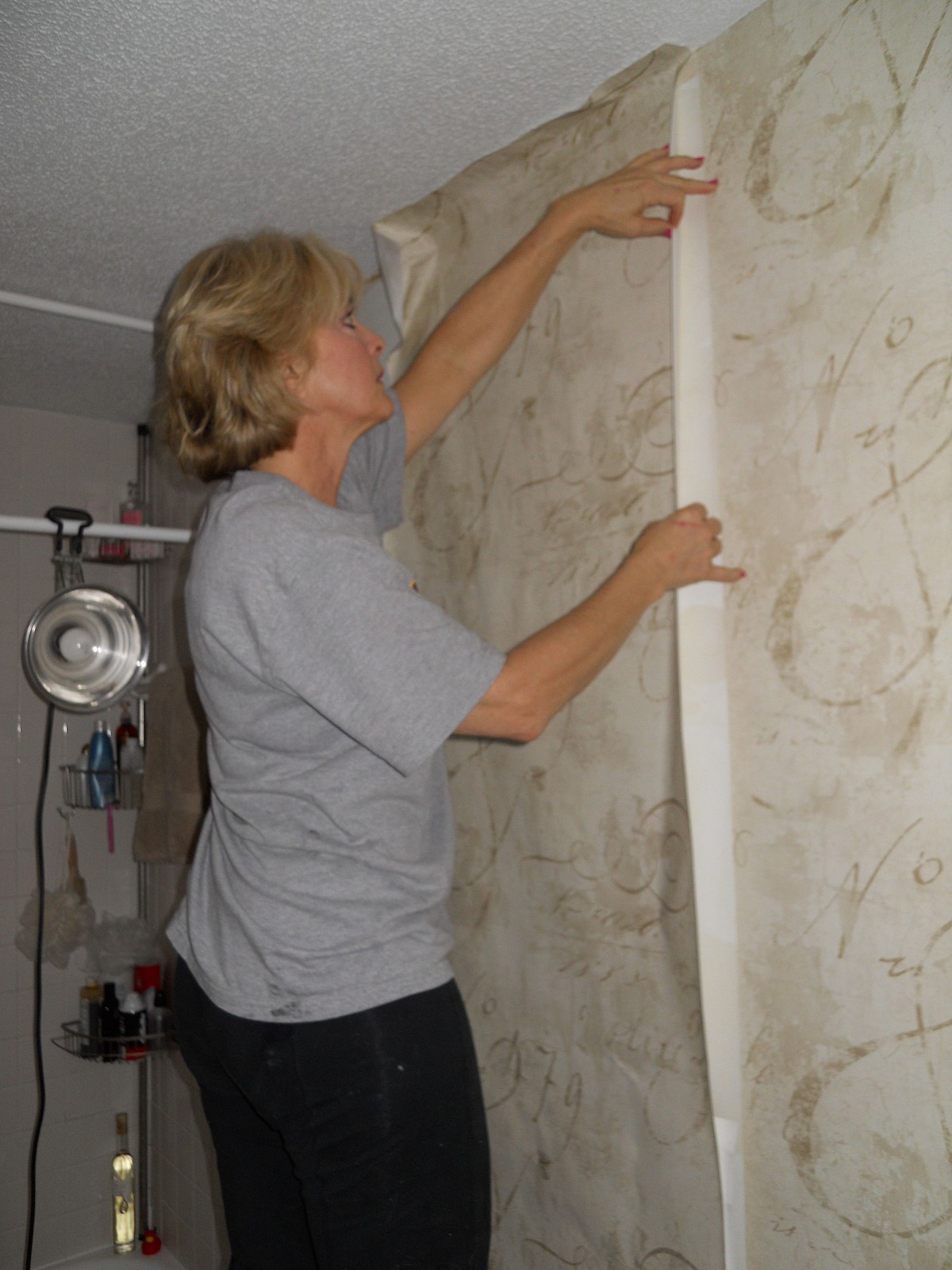 I did the DIY wallpapering part of the project. This wallpaper was selected for its calm neutral quality.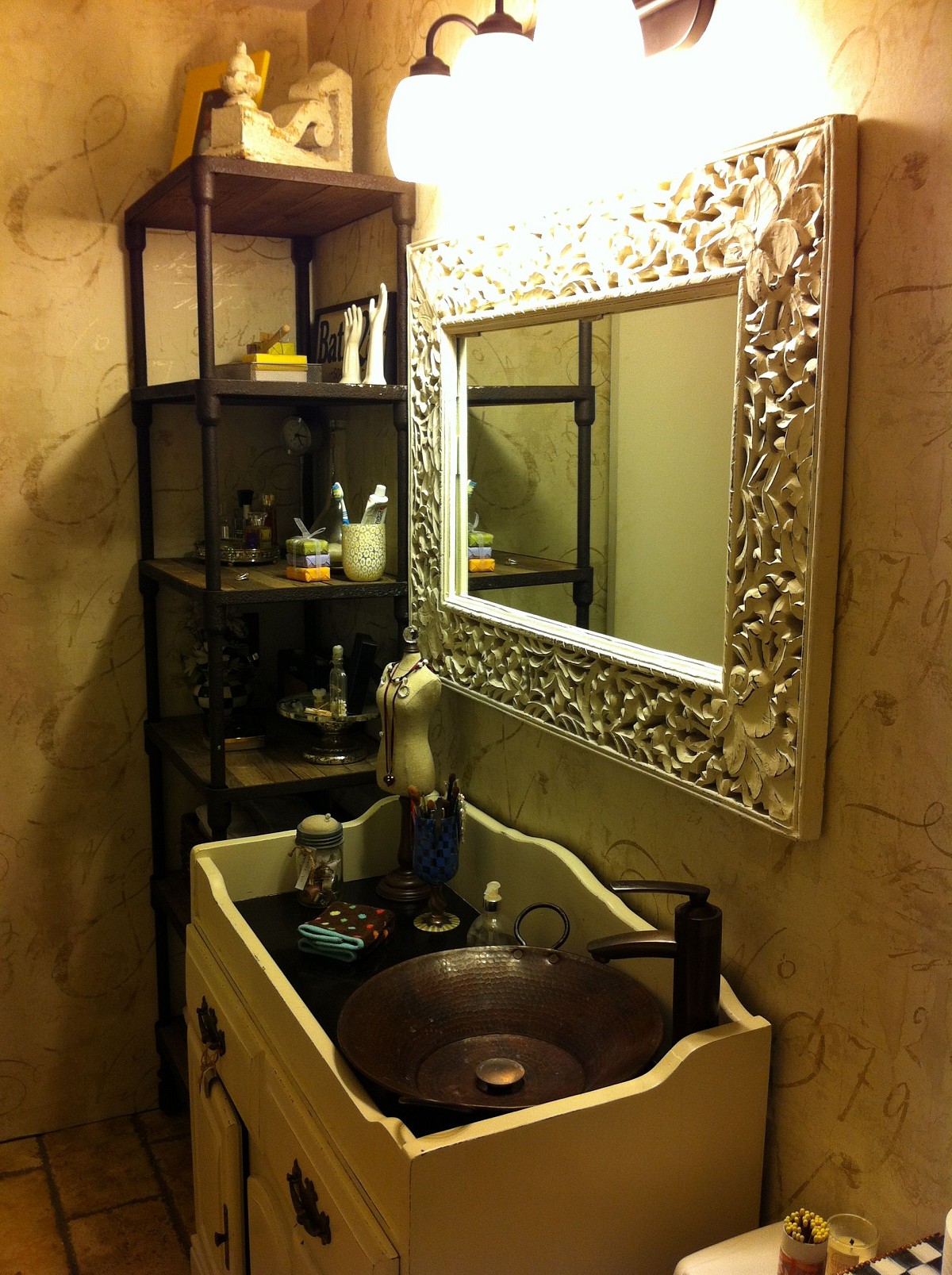 His fiancé found this old painted baby changing table in a shop; the copper vessel sink adds the needed dark metal texture. The new tile floor really updates the space and incorporates a classic look of beige tones. The old tub and tile had to remain due to money and labor.
On such a limited budget, my son, his fiancé and I were the labor in this DIY project. Although there weren't funds to call in an Atlanta tile contractor, we managed to give the room a thorough face lift. We wallpapered, again, with the latest "French Linen" look, replaced the old sink with a used piece of furniture, and updated the tile floor with travertine and dark grout for easy maintenance.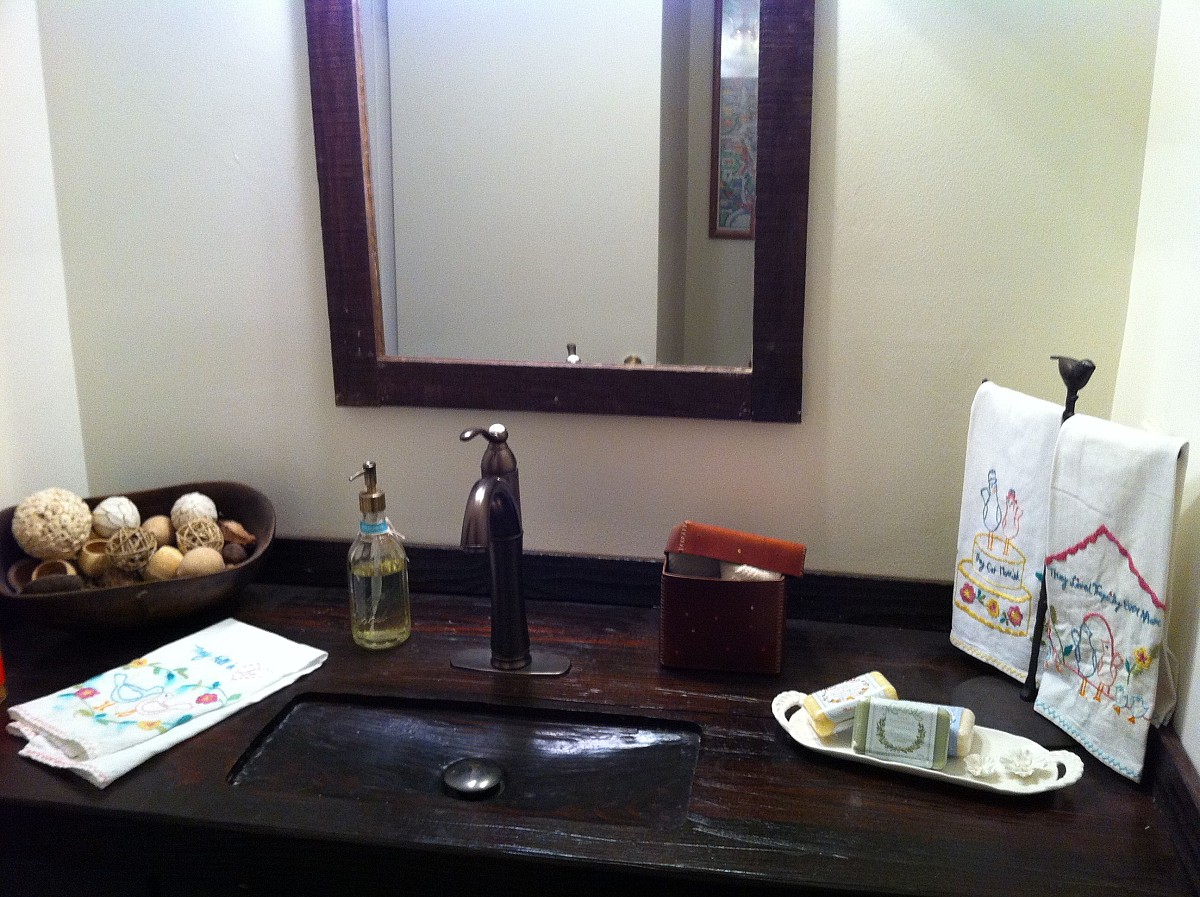 This is another bath in my son's renovation project. This one was very fun. It is a powder room. He had the bright idea of carving a sink out of some timber that we had lying around. I suggested that the sink be very shallow, only a couple of inches deep. It is hand carved and sealed with polyurethane. We kept the old cabinet to save money. We needed to add height to the dated, short cabinet and the timber slab did the trick. White walls mixed with rustic reclaimed wood elements are in vogue today.
Since updating the bathroom adds to the value of your home and makes you happy, I encourage you to roll up your sleeves, follow my example, and get busy!
Lee Anne Culpepper writes for Networx. Get home & garden ideas like this - https://www.networx.com/article/inexpensive-but-elegant-ways-to-update-y - on Networx.
Looking for a Pro? Call us at (866) 441-6648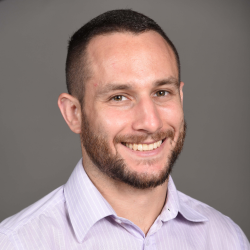 Top Cities Covered by our Plumbers