---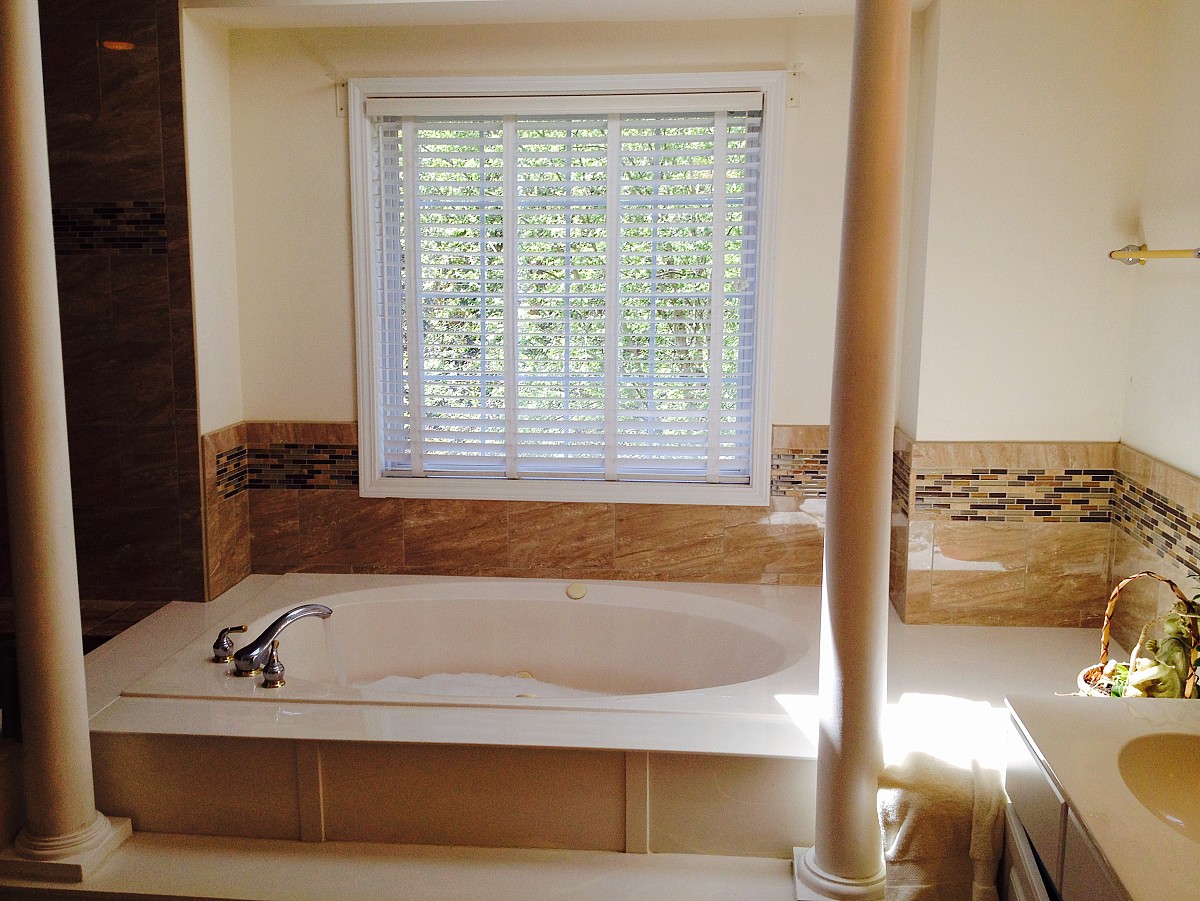 Our motivation was Husband (aka Bill) thought the shower looked cheap. He said, "Ruth, this white surround is just plastic-looking."
Our shower is huge – it's like 5 by 8! You could get a whole bunch of people in there … maybe 9 or 10 people at once. When you looked down at the floor, though, you saw that fake-y white whatever it is. Bill called it imitation marble. Then of course, you had the surround with all the same imitation marble and Husband said, "I want real tile in there." That was his motivation – him more than me. I could have lived with it. I mean, it looked fine, it cleaned up fine, it's been there since '99, but for whatever reason, Bill said, "Looks ugly. Tile will make it look prettier."
We went to a home show, where we saw a booth from a remodeling company. My husband asked them to come and talk with us about our bathroom tile project. When they came out and gave us a quote, I said, "That's terrible!" But Husband went along with it.
Well, it turned out that the first company was just a middleman and the real person who came out was Antonio Hernandez of All about Tile. We were very pleased with his work. At the same time, though, we were disappointed that we got to him through the larger company, which probably paid him only half of what they charged us and then kept the rest of the money. How foolish of us! We should have just gone with a tile man, and not a remodeler. But that's a mistake we made.
After we had the tile put on the shower, I said to Bill, "You know, it looks funny when you step up into the Jacuzzi tub. It's still that same fake-y marble that's there from when they built the house back in 1999." He answered, "Well, we have a box of tile left. How about if I call Antonio and ask him to install it?" So we did and he said, "Sure, I'll put that on for you. Five hundred dollars." That way we cut out the middleman.
He made it look so nice -- when you look in you see the backboard and instead of white, now it's the same caramel tile as the shower.
Next, about a month ago, my husband called Antonio again: "How about replacing our vanity? Because it's kind of short. It only hits about 30 inches." (Even though it was big and long, it was short and made of that plywood stuff covered in a white laminate that you could actually fold back, almost like shelf paper. I didn't know they made them that cheaply.) And Antonio said, "Oh yeah, now they're more like 32, 34 inches. You order the vanity and I'll put it in. Then I'll tile back behind it and put the granite on." He sent us the estimate for doing that, so now we'll have a new Black Forest maple vanity and a new granite top, and he's going to do the tiny little tiles across the back. We'll also have new mirrors where the big old fashioned slab mirror is now; we'll get smaller ones that go over the 2 basins. Then hopefully we'll be done with that master bath.
We did the bathroom piecemeal because neither one of us has the ability to visualize a finished product. The remodeling company just sent us down to a place in Charlotte that had all kinds of tiles and granite and said, "Pick out some tiles." There was a woman there that helped us, luckily. She's the one that helped us pick that caramelly tan. What's big right now, she said, are the decorative glass tiles. So we bought that and she helped us choose the floor tiles, which are a different shape.
Really, we didn't even know what we wanted. Bill and I are 70; we're old and even though this house was expensive (we paid $476K for the house), neither of us has ever been what I'd call someone who knew how to decorate very well.
The remodeling company was like, "Okay, you want a big border. You want to extend that tile out of your shower." We were only going to take it up to where the glass door would stop, but they said, "No, take it to the ceiling." So we carried it through and I'm so glad we did.
Husband loves it. My reaction? "Okay, if you say so." He says that someday people will look in there to buy our house (not to say we're selling right now) and say, "Oh, the master bathroom looks really pretty. It doesn't look cheap."
The kitchen's next, because it still looks like a 1999 kitchen – oak cabinets, Corian countertops, the GE white appliances. I bet you our kitchen will be about $40,000 by the time we're done, now that I see what a bathroom costs. Who knew?
Our advice to other homeowners who are planning to renovate? I would recommend going to a design showroom, rather than just a remodeling place, and have someone help you, sit down and say, "Here, this is how it's going to look." And bring you samples and so on.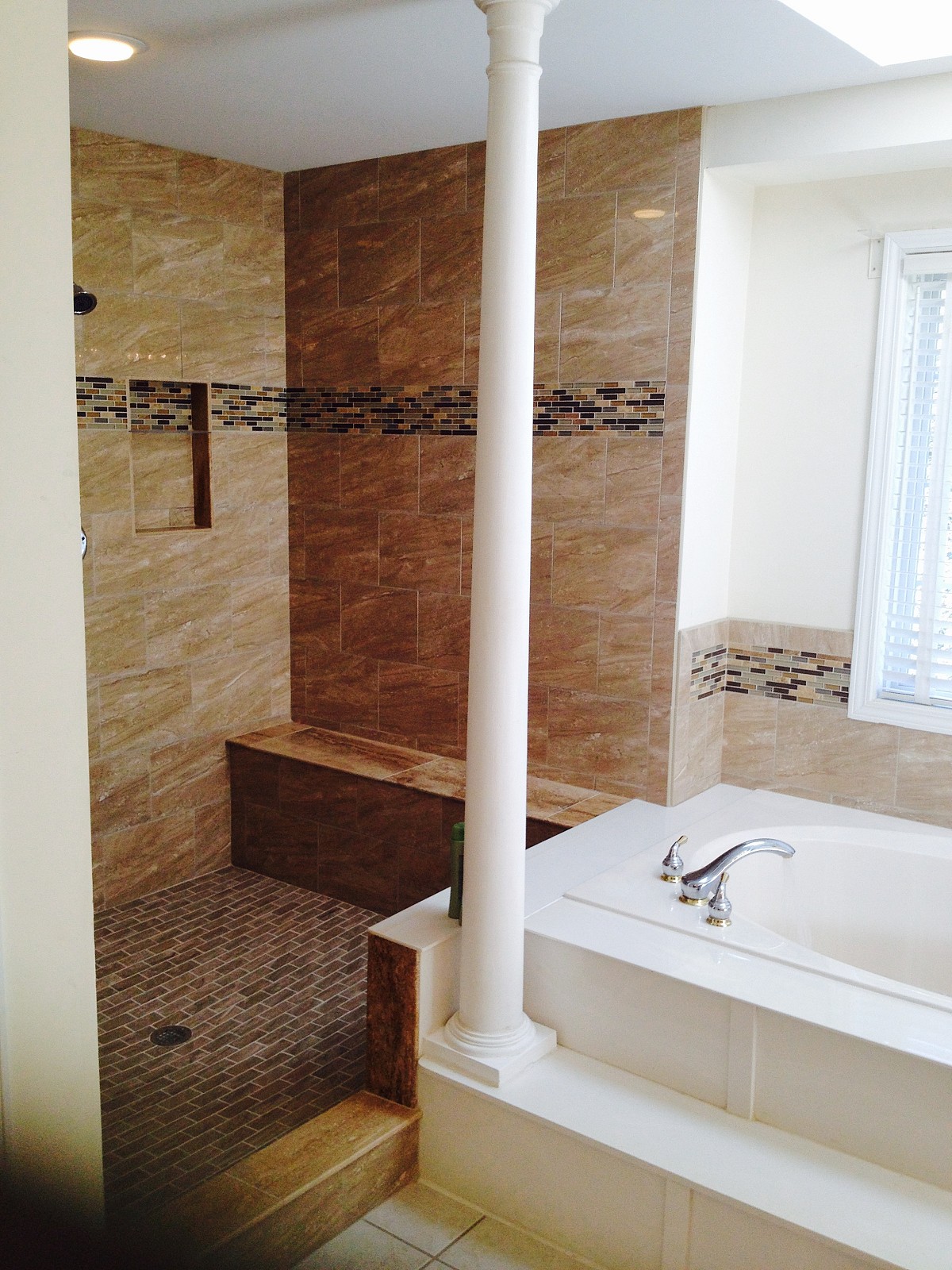 Save