Stamped Concrete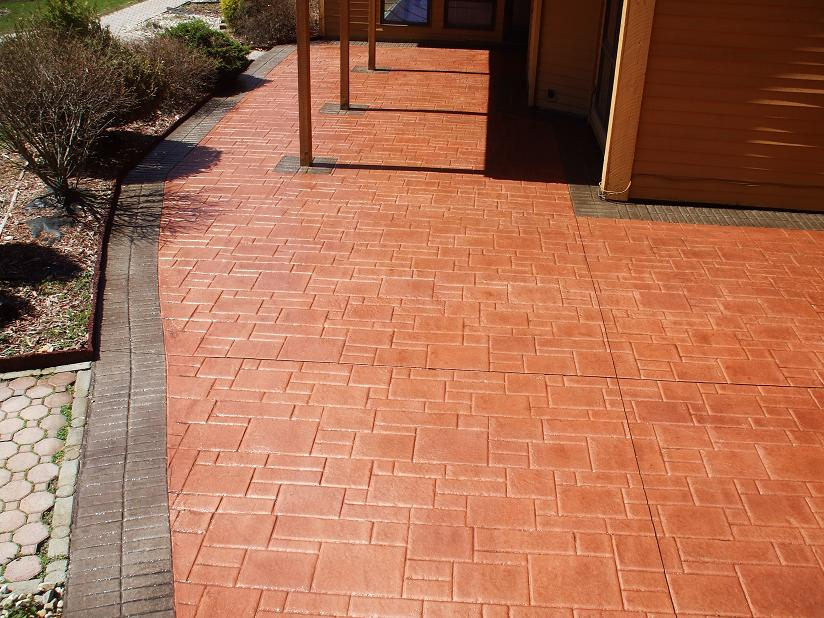 Are you looking for an easy, economical finish for your driveway, patio, pool deck, or even an interior floor? Consider stamped concrete. Stamping is a popular new technique which can make concrete resemble a huge variety of attractive materials like flagstone, wood, or marble – to name just a few possibilities -- easily and affordably. Take a look at the possibility of beautifying your home with stamped concrete.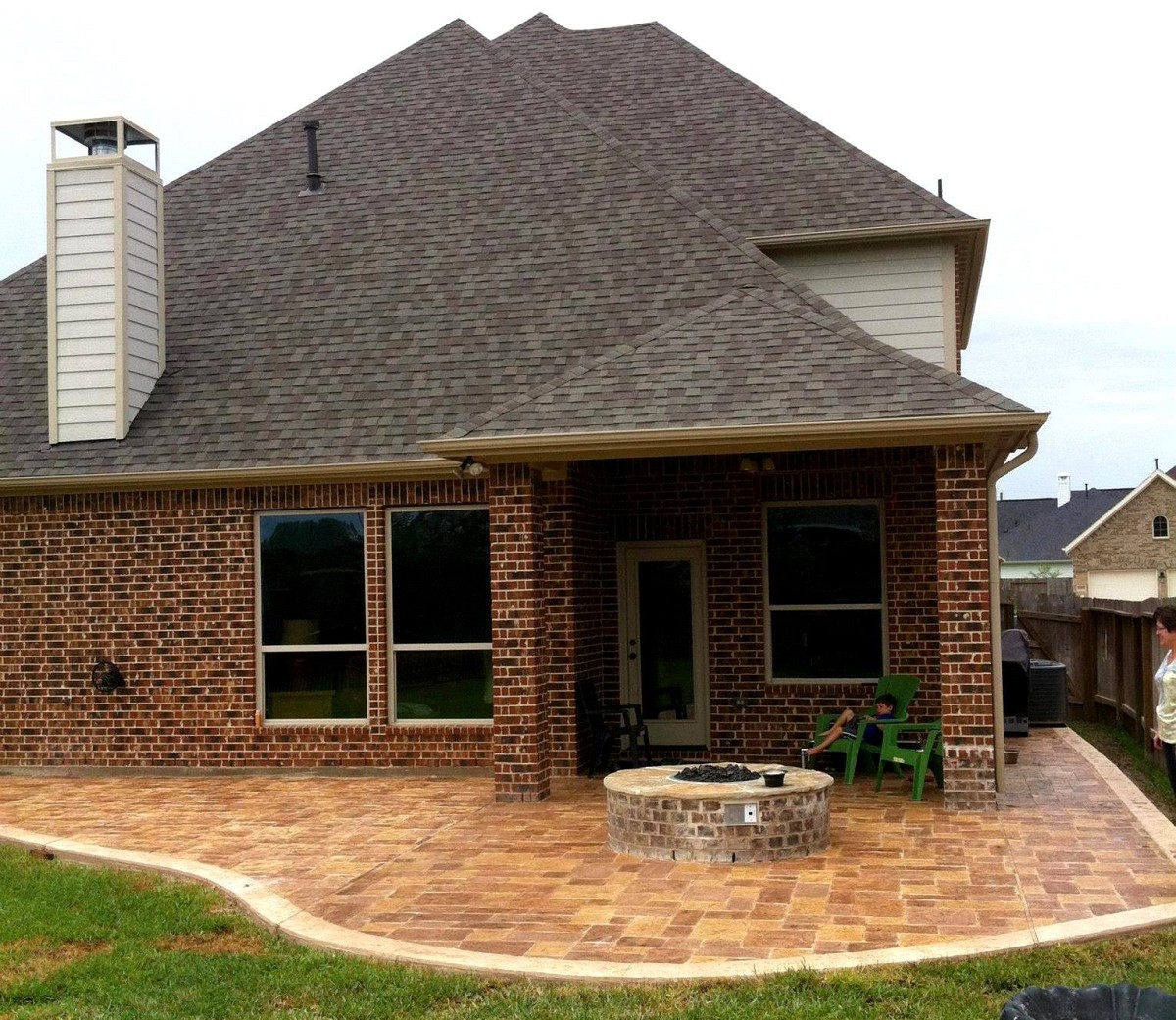 What is Stamped Concrete?
Stamping is a decorative treatment for new concrete surfaces and certain concrete overlays. It's usually intended to make concrete look less like concrete -- and more like natural stone, tile, brick, cobbles, or even hardwood planks. Standard stamping technique involves pressing a rubber-like stamp or mold into the surface of poured and smoothed concrete. After the stamp's removed, the concrete is allowed to cure, leaving a permanent impression. The key to successful stamped concrete lies not just in skillfully creating the impressions, but also in the tricky process of coloring.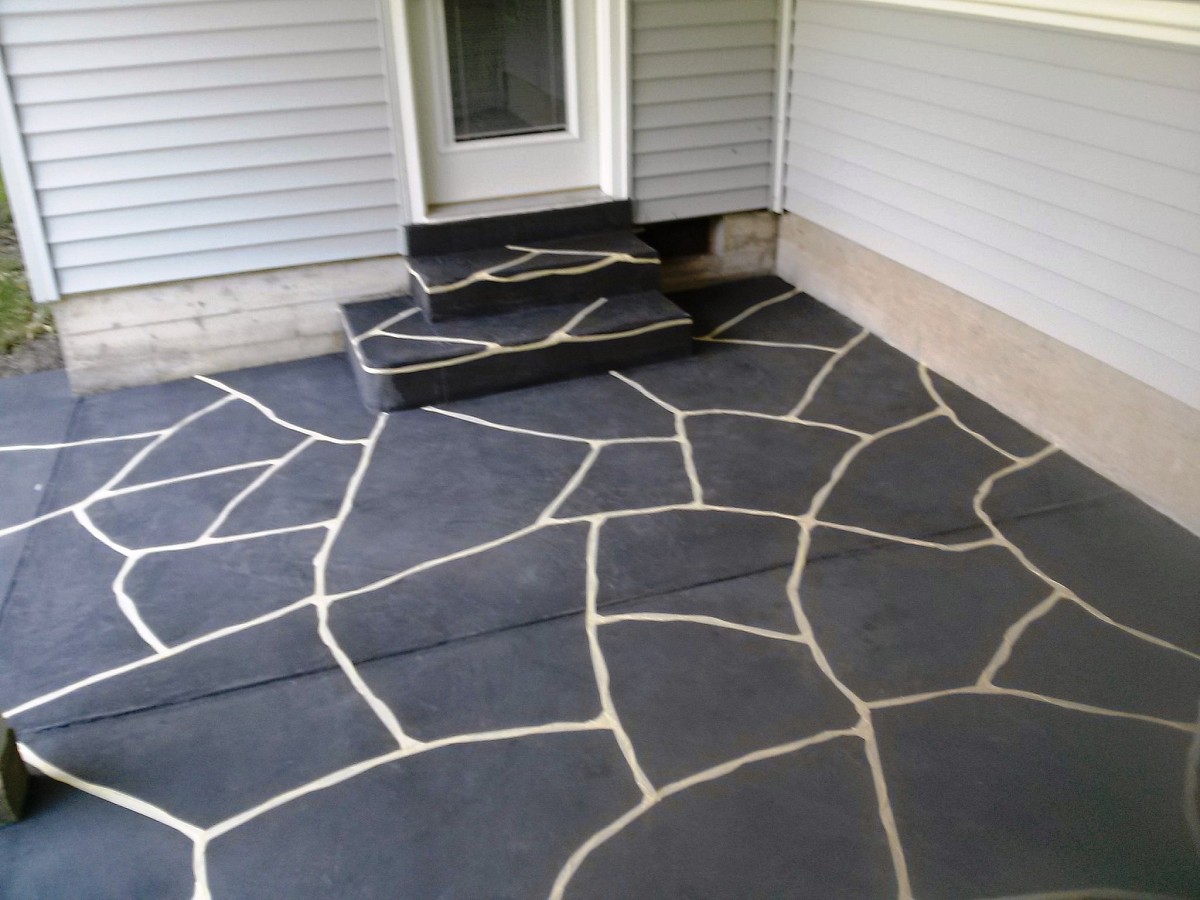 Benefits of Stamped Concrete
Cost. Stamped concrete patios or driveways are an economical choice, approximately half the cost of brick, stone, or tile. Simple stamped concrete projects start at about $8 a square foot, up to approximately $18-$25 for very detailed, time-intensive designs.
Long lifespan. Concrete is an exceptionally durable material, meaning that high-quality stamped concrete installation will last many years.
Stability. A solid stamped concrete surface stays flat and smooth. In contrast to concrete pavers, it won't lift or shift with time and changing weather conditions.
Easy maintenance. The only maintenance stamped concrete needs is occasional cleaning with a broom or garden hose, and resealing every 2-4 years. Unlike tile or pavers, stamped concrete does not require weeding.
Versatility. There are truly endless choices when it comes to stamped concrete. Choose design, texture, color, and pattern to suit your personal tastes.
Curb appeal. Driving up to a home with a stamped concrete driveway, walkway, or patio is a beautiful experience, which adds tons of curb appeal when you are ready to sell your house.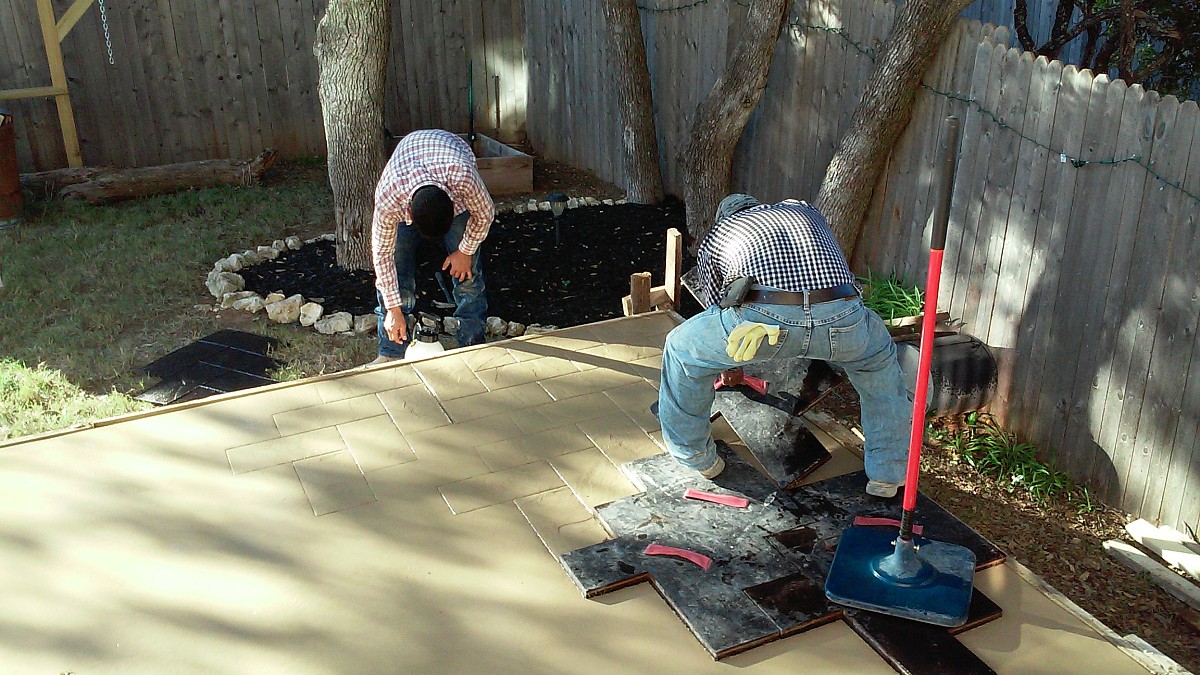 How to Install Stamped Concrete
Design. Choose a suitable size and shape for your concrete project, as well as design, pattern, and color.


Color. Concrete can be tinted with pure mineral oxide or a natural or synthetic iron-oxide colorant, in colors like electric blue, mint green, and earthen red. Add "integral coloring" as the concrete is mixed. "Broadcast coloring" is applied on top of the wet cement after pouring.


Pour. Mix and pour the concrete as usual.


Apply release agent. Release agent prevents the concrete sticking to the texture mats. It comes as a colored powder, which must be washed off, or a colorless liquid, which doesn't require washing off.


Lay mats. Stamping patterns or texture mats are laid on the fresh concrete, then walked on by the installer or tapped with a large wooden mallet.


Let dry 24 hours.


Pressure wash.


Apply seal.

Two thin coats will protect your newly stamped concrete.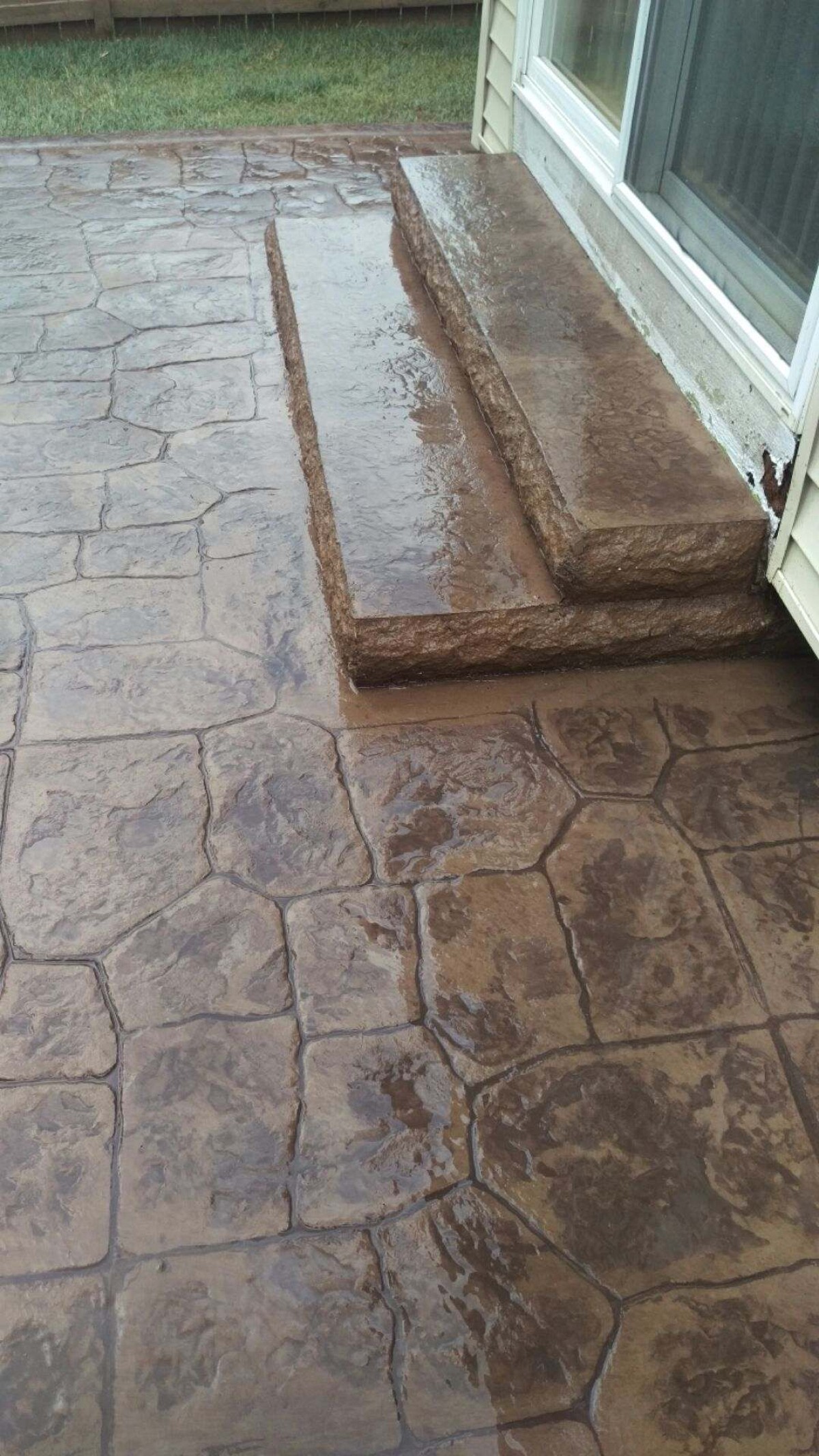 Factors in Stamped Concrete Costs
Two design elements affect the cost of stamped concrete: pattern and color. At the low end of the price range, expect to get a single pattern or effect (such as a particular cut-stone look) and a single color, with the color either mixed into the concrete or possibly hand-applied during the stamping.
Taking a step up from there, your project might include a contrasting border (for example, a field of "herringbone brick" surrounded by an edging of "soldier bricks" -- all concrete, of course), as well as two or more colors to provide contrast and add realism.
At the high end of the price range, things can get really creative. In addition to stamping, treatments might incorporate:
inlays with mixed materials

extensive hand-applied coloring and/or staining

cutting or grinding the cured concrete to delineate patterns and create other custom effects.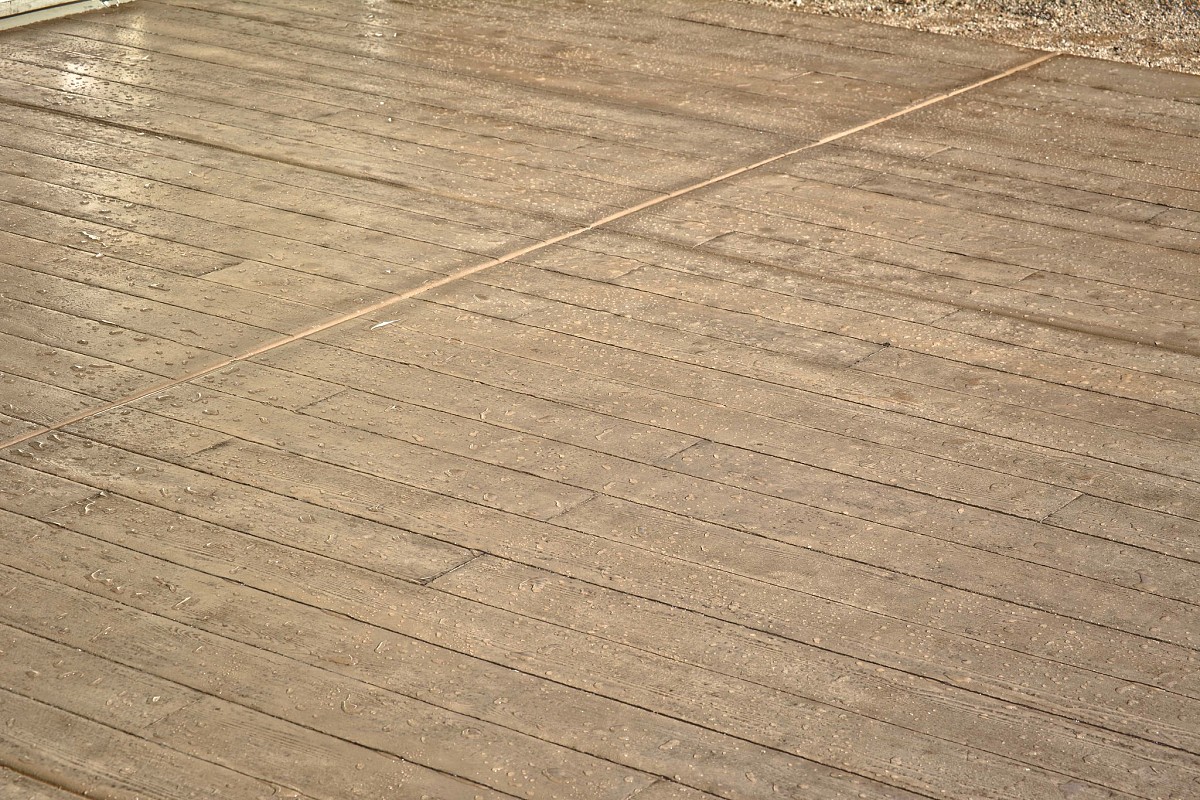 DIY or Hire a Stamped Concrete Pro?
Can you make your own stamped concrete structure? Well, there's no major potential safety risk, as with building a deck. On the other hand, it's more complex than painting a wall. Creating realistic "faux" stamped concrete effects require lots of skill, not to mention experience with the curing behavior of concrete.
DIY newbies take note: A stamped project isn't a good one to cut your teeth on. And even if you're comfortable with a concrete pour, the stamping might go smoothly, but fancy coloring effects are another story.
If you're seriously considering a DIY job, some research will show you how much has to come together for a high-end job. From knowing when to start stamping and applying color to laying out the stamps and getting a good release, a lot has to happen while the concrete is steadily and unrelentingly setting up. The good news is if you really mess up, you can start over. All you need is a sledgehammer, some bolt cutters, and a dumpster.
To estimate the cost of DIY stamped concrete, calculate the price of all materials, tool rentals and purchases, as well as compensation for strong-backed and fast-moving helpers (if their price is just deep indebtedness, consider yourself lucky). Then compare that to the cost of leaving your stamped concrete installation to an expert contractor. (Don't forget to factor in the professionalism and peace of mind you'll get with a pro on the job.)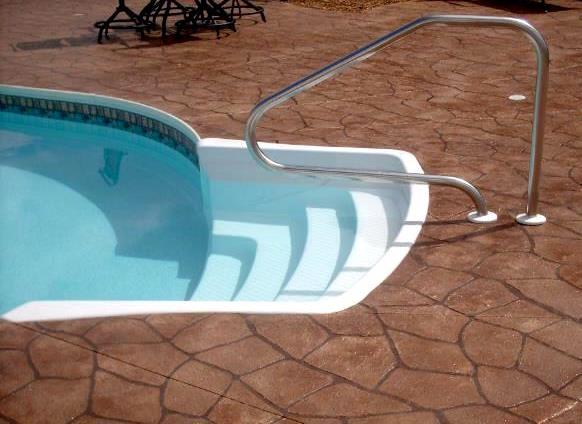 Updated August 16, 2018.
Looking for a Pro? Call us at (866) 441-6648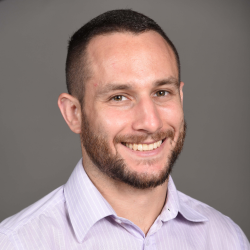 Top Cities Covered by our Concrete Contractors