Decorative Concrete Overlays for Patios or Pool Decks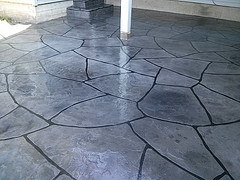 Trending now: outdoor living. (Yippee!) Whether you live in a cold climate and have just a few short months of summer to enjoy, or you're located in a balmier area, 'tis the season to be outside … swimming, barbecuing, or curling up in a lawn chair with a good book.
Right now, you want your concrete patio and pool deck to be in the best possible shape. If, however, they are less than perfect -- discolored, pitted, spalled, or cracked -- don't despair. Use a decorative concrete overlay to add a bit of pizzazz or give them a major facelift that will not only pretty them up but actually makes them stronger.
What is a concrete overlay?
A concrete overlay is a thin (1/8-1/4") coating that is applied on top of existing concrete. Not just the usual concrete blend of cement, sand, aggregate, and water, the overlay mix also includes a polymer resin for enhanced adhesion and improved performance.
The concrete overlay method may be used to restore a patio, pool surround, walkway, or other hardscape feature that is worn but still basically sound. It will not work, though, when the surface is badly cracked, damaged, or waterlogged, or if the concrete is settling. In addition, the process is not recommended for driveways, due to their heavy vehicular traffic.
Why not simply replace the worn concrete?
Removing old concrete which has become cracked, pitted, spalled, or discolored is a major headache. The tear-out process involves breaking up the concrete, then loading and hauling several tons of material away. This is a time-consuming, messy job -- not to mention costly. And that's before you even figure in the inconvenience and cost of a new pour.
Concrete overlay has a long list of benefits. It is:
Quick, inexpensive, and minimally disruptive because it requires only a small amount of concrete
Durable, lasting as long as 20 years if resealed regularly
Waterproof and mildew resistant
Lightweight (won't compromise the underlying structure)
Slip-resistant with the addition of tiny polyethylene texture beads
Cool under your bare feet even during the hottest afternoon hours
Fire retardant, so you can use your grill or fire pit with confidence
How is the overlay applied and maintained?
If damaged, your concrete patio or pool surround should be thoroughly prepped: Fill any cracks or holes, sand, and clean well. Then the overlay is poured, stained, and treated with a sealant. Allow 2-3 days for this process. In addition, you'll need to let the overlay cure for another 24 hours before you can finally walk on it.
Maintenance is simple -- pressure wash once a year to prepare for "outdoor enjoyment season." The rest of the time, you can simply sweep or hose it down if necessary. Reseal every 3-4 years.
How can concrete overlay enhance your property?
Saving the best for last, let's talk about the sheer good looks a concrete overlay restoration will give to your property. This versatile process can be done in any one of a huge variety of colors and finishes.
Choose from a cool shade of white, rich reds and browns, beachy blues and greens, and more. Then have your concrete contractor stamp, stencil, or use a hand chisel to custom score the overlay. The results can be made to resemble natural stone, elegant ceramic tile, classic brick, trendy hardwood, or whatever your imagination dreams up.
You don't have to confine yourself to just one style, either. Try a splashy accent medallion or a colorful contrasting border. After all, your patio and pool are the place for fun.
Laura Firszt writes for networx.com.
Updated May 13, 2018.
Looking for a Pro? Call us at (866) 441-6648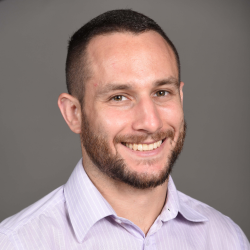 Top Cities Covered by our Concrete Contractors