Customize Your Bathroom with a Cool Concrete Sink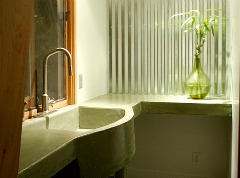 The bathroom, whether a guest powder room or master en suite, is an area of the home where you can let your decorating imagination run free. Paint the walls in your favorite vibrant color such as lavender or apricot … or experiment with a striking mural. For the bathroom sink, try concrete. Yes, concrete. Not just for driveways anymore, this versatile, customizable and durable material can be surprisingly stylish, and eco-friendly to boot.
Styles and Colors
Because it is molded and not cut, concrete has the unique ability to offer unlimited design possibilities. It can be as rough or sleek, contemporary or traditional, as you choose. In an avant-garde and artistic city like San Francisco, concrete is an excellent medium for expressing personal taste.
Have your concrete sink custom formed to any shape – think spirals, flowers and more – as well as any dimensions up to 7' by 3'. (Larger sizes may be formed by joining two slabs.) Vessel, pedestal, floating, integral, ramp (inclined), trough, floating and double bathroom sinks all can be made of concrete. Add in aggregate such as shells, pebbles, colorful glass or small tiles, or accent the edges with eye-catching details.
The color selection is virtually infinite and can be matched to order to your wall paint. Stains may be applied to give subtle color variations.
Advantages
In addition to their versatility in terms of style, concrete sinks entail low to zero maintenance. Integral basins, formed as one unit with the vanity or countertop, have no seams, thus avoiding major trouble spots for dirt and mildew. Mild soap and water are all you'll need to clean your concrete bathroom sink.
Concrete is quite durable. However, should it need repair, patching and resealing are simple matters. What's more, concrete sinks are affordable compared to those made from other substances, especially when the cost is averaged out over the course of their long lifetime. The concrete's appearance will improve as it ages and acquires a rich patina.
Disadvantages
Due to its innate porosity, concrete might absorb moisture and stains, especially acidic or oily ones. However, this may be minimized by proper sealing before use and wiping up spills promptly.
After molding, a curing process is necessary, which takes considerable time (at least two weeks) but produces concrete that is stronger, lighter and more resistant to staining and cracking. Don't forget to factor this period into your bathroom remodeling schedule.
Green Profile
Concrete is durable and long-lasting, with a lifespan of 50 to 60 years or more. The less frequently a substance has to be replaced, the less garbage will end up in the landfills. As well, concrete is made up of sustainable materials – namely sand, rock and cement. Because these components are readily available locally, concrete's carbon footprint due to fuel consumption for transportation is relatively small.
The mining and production processes do not rate top marks on a scale of environmental friendliness; it is possible, though, to choose concrete made with a percentage of recycled content consisting of industrial waste products like slag cement, fly ash and silica fume. This type of "green mix" reduces the amount of cement required by as much as half compared to conventional concrete. Alternatively, you might want to opt for a mixture that incorporates recycled compacted, crushed concrete.
Another interesting new green development is glass-fiber reinforced concrete (GFRC). Containing recycled post-industrial glass, GFRC is extremely strong, which permits it to be applied in much thinner layers and decreases the amount of product necessary.
Be sure to have your concrete sink treated with an eco-friendly sealant that is non-toxic, emitting low to no VOCs.
Laura Firszt writes for networx.com.
Looking for a Pro? Call us at (866) 441-6648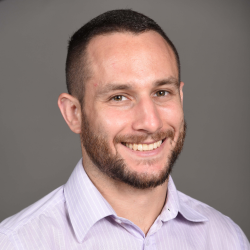 Top Cities Covered by our Remodeling Contractors