Concrete Pavers vs. Stamped Concrete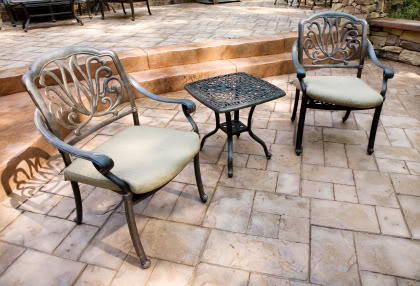 Concrete pavers and stamped concrete are two means to the same end: a textured, patterned patio, driveway, path, or other concrete surface. Concrete pavers, also known as paving stones, are precast concrete blocks that can be set and interlocked easily. Stamped concrete is a poured concrete area patterned with a stamp or set of stamps to create texture and aesthetic variation.
While stamped concrete has an edge in variety and versatility, concrete pavers win on base price and simplicity. Here is a more in-depth comparison of the two popular options.
Weekend Warriors Take Note
Setting pavers takes careful preparation, but no specialized tools or expertise. In fact, concrete pavers are probably the simplest way for do-it-yourselfers to install concrete. Like most concrete projects, pavers require a flat, compacted base and subgrade. However, once a sand bed is in place, the pavers are simply laid in place and interlocked.
On the other hand, to make stamped concrete, liquid concrete must be poured and leveled, then stamped quickly and precisely before the concrete sets. Experts warn against do-it-yourselfers trying to stamp concrete. You only get one chance to make a good impression, so to speak. Set concrete is permanent, so replacing a poorly stamped slab can be very expensive and time-consuming. It's well worth the cost to hire a professional concrete contractor.
Price the Options
Of course, the labor costs drive up the price of stamped concrete. Basic square concrete pavers cost less than $2 per square foot. A simple stamped concrete pattern in a solid color costs at least $8 per square foot.
However, the price begins to equalize on larger and more elaborate projects. At the high end, homeowners can expect to pay about $20 per installed square foot for either pavers or stamped concrete. High-quality decorative pavers can cost more than $10 per square foot, and it is very time-consuming to crawl across a large driveway laying individual pavers. Stamping concrete takes more skilled expertise, but laying 2,000 square feet of pavers takes approximately twice as long as pouring and stamping the same concrete surface.
Seeking Variety and Versatility
If a unique and creative aesthetic is your priority, stamped concrete is the clear choice. It offers unlimited combinations of patterns and colors. Some companies even offer customized stamps for an insignia or team logo.
On the other hand, while there are hundreds of concrete paver styles and patterns, but your choices are typically limited to the options at your home-improvement warehouse or landscaping supplier.
Maintaining the Surface
Finally, both pavers and stamped concrete present maintenance challenges. The gaps between pavers can attract pesky, hard-to-remove weeds, but a chipped or cracked paver can be easily replaced. No weeds should come through a stamped concrete, but crack repairs are more expensive and complicated.
Concrete pavers and stamped concrete each offer distinct advantages for creating a patterned concrete surface. Compare cost, ease of installation, variety and upkeep when you make your choice.
Updated March 12, 2018.
Looking for a Pro? Call us at (866) 441-6648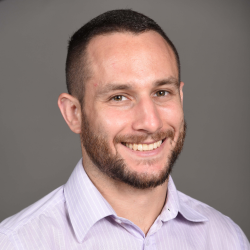 Top Cities Covered by our Concrete Contractors