Concrete Pavers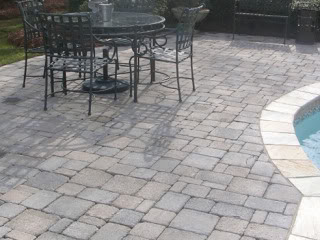 View additional images at
concreteideas.com
Concrete pavers offer some convenient features for your outdoor flooring needs,including easy installation and the ability to remove and reinstall the pavers if necessary. Pavers, also called paving stones, are laid to create an interlocking pattern to your specific design and color request. Concrete pavers are used most often for driveways, pooldecks, walkways and patios. Unlike concrete, pavers require some regular maintenance, including weed pulling. If you are looking for a high-end decorative look without having to pay high-end prices, then concrete pavers are for you. They are so durable and versatile that you will not need to replace them for many years.
Pavers are a great way to turn a bland or unorganized yard into a more attractive and organized space in which to spend your time. Concrete pavers contain sand, gravel, Portland cement and water, but their durability and texture vary depending on how they're made. There are two types of concrete pavers: interlocking and architectural slab. Interlocking pavers are made with a stiff, very strong concrete mix. They are also thick, making them a good choice for driveways.
Architectural slabs do not have edge spacers as interlocking pavers do. Rather, they aremolded from wetter concrete to resemble stone or brick. Architectural slabs are thin and are not recommended for driveways. Interlocking pavers usually come with lifetime guarantees, while architectural slabs come with more limited warranties. Discuss with your concretecontractor which paver type is best for your project.
Additional Benefits
Low maintenance: You'll need to clean your pavers every so often with a power washer to get the deep-down dirt off. The pavers should also be resealed as necessary. Thefrequency of the resealing will depend on the traffic the floor receives, as well as the weather conditions and amount of exposure to moisture. Shifting pavers may also need to be reset. You may also need to scrub off stains from oil and mildew that can occur over time.
Cost: Simple designs cost about $6 per square foot. More complicated designs can cost up to $20 per square foot. Some concrete contractors will give you a discount for very large concrete paver jobs.
They are manufactured in various textures and styles.
Pavers are practical and can even be a do-it-yourself project.
Slip resistance: Driveway pavers offer better traction than poured concrete, especially on steep slopes.
Some Disadvantages
Staining: Concrete pavers absorb oil stains, which can only be removed through scrubbing and power washing. Make sure to use a sealer on your pavers to help repel stains.
Color changes: Over time, the original color of the pavers will change. Always try to purchase the best quality pavers and have the pavers installed by a professional.
Additional Images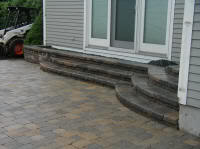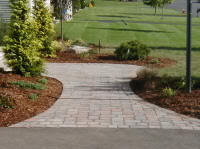 landscapingconcepts.com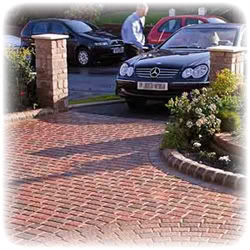 homeimprovementandrepair.net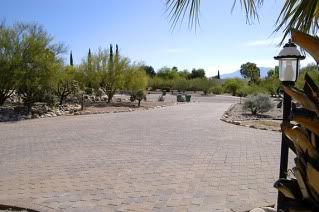 concreteideas.com


Looking for a Pro? Call us at (866) 441-6648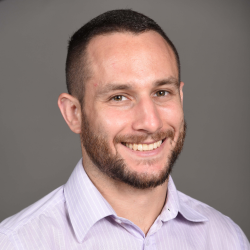 Top Cities Covered by our Concrete Contractors