How To Choose The Right Flooring For Your Kitchen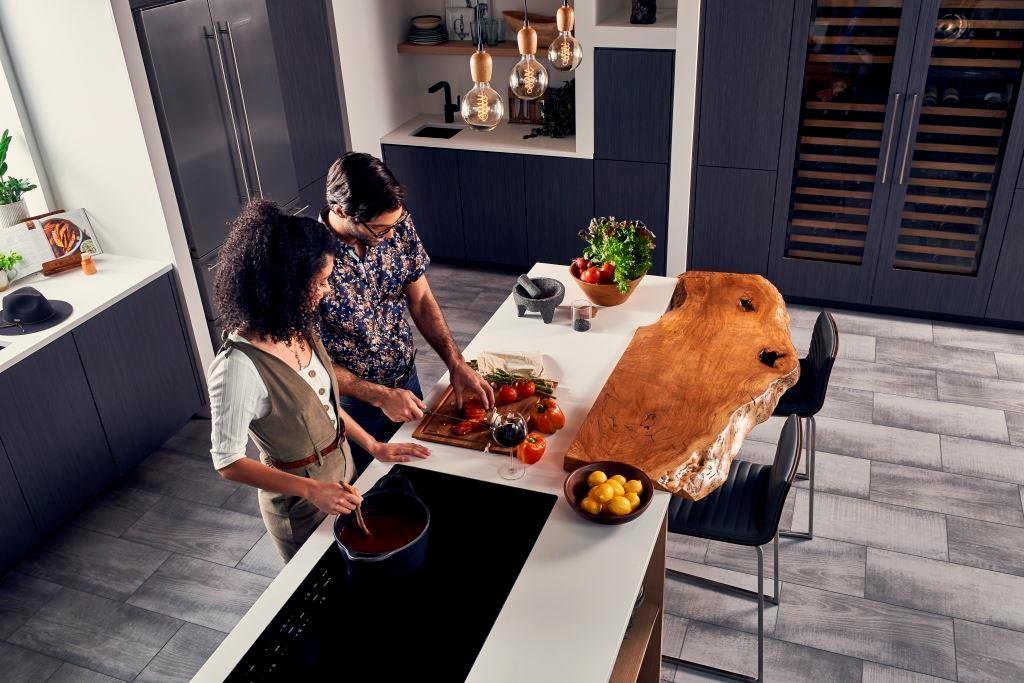 Say you've already done your homework and learned the basics about flooring for your kitchen: It should be durable, water-resistant, and simple to clean. You may have also decided whether to hire a flooring professional or attempt the installation yourself.
Great. Now you're ready for the master class.
In this interview with Jamie Sandford, Editor of the Home Flooring Pros review site, we don't talk generalities. Instead, we zero in on the specific type of kitchen flooring that best fits your homeowner profile.
Find the ideal flooring for your kitchen and your home!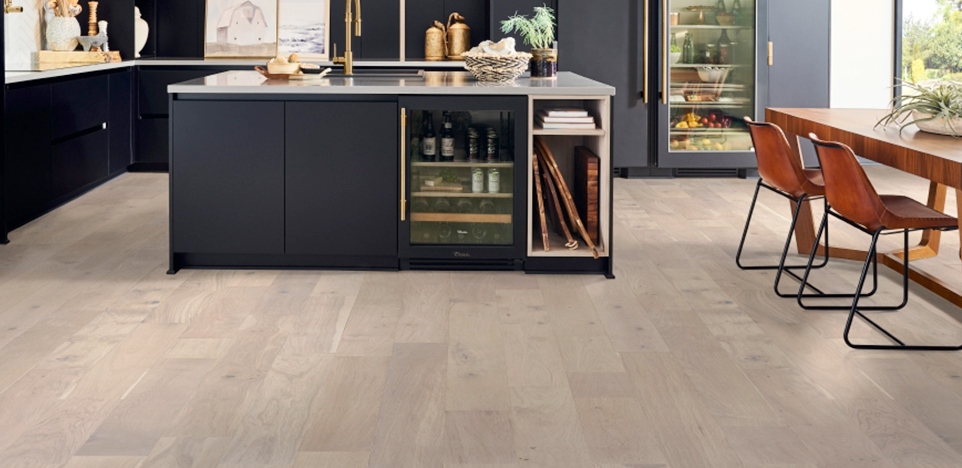 Q. What kind of kitchen flooring works for ...?


Families with Young Children
Anyone who has kids (or who's ever been a kid) is aware that youngsters + food + drink = spills + mess! So a floor which will be child's play to keep clean is a must.
RECOMMENDATION: Rigid-core vinyl flooring. It's waterproof and stain-resistant.
If you love cooking and love entertaining friends in your kitchen, then a floor that's easy to maintain, yet super classy, will be a winner.
RECOMMENDATION: Natural hardwood. Create a rustic country kitchen style with distressed reclaimed wood, or a more classic and refined look using warm-toned smooth planks... possibly in the new waterproof hardwood flooring.
Pet owners know there are 3 risk factors for their kitchen flooring investment: mess from food bowls, scratches from claws, and the occasional "accident."
RECOMMENDATION: A robust flooring such as terracotta tile, which tends to be less textured than natural stone tile (making it lower-maintenance) and will withstand just about anything!
The ideal for seniors aging in place is beautiful, durable flooring for the kitchen which can be laid in a seamless continuous way, avoiding trip hazards such as room transition strips.
RECOMMENDATION: Luxury vinyl flooring.
Follow these 2 tips if you're a flooring installation newbie:
Stick to a budget, so that if you damage a few planks or tiles along the way, buying more won't break the bank.
Choose a flooring material that will be simple to install.
RECOMMENDATION: Laminate or luxury vinyl flooring. They're usually installed using a click-lock mechanism and a floating floor method which aren't hard to master.
Basement or Garage Remodelers
If you're looking to add a kitchenette into your basement or garage remodel, choose a floor that is resistant to humidity but still relatively comfortable underfoot.
RECOMMENDATION: Rigid core flooring since, like ceramic tile, it is waterproof, with one important difference: it is made of vinyl so it'll feel a bit warmer to your feet.
When you want your home to shine as a design showplace, you'll be looking to inspire that wow factor in your kitchen. Fortunately, you've got several stunning options.
RECOMMENDATION: A top-of-the-line engineered hardwood for an elegant backdrop, or a highly polished concrete to provide a contemporary edge. You could also rock this artistic option: treat the flooring for your kitchen as the fifth wall and go for a boldly patterned encaustic cement tile.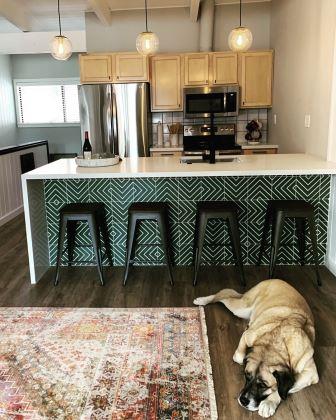 Q. Are there any new flooring materials or trends that readers should be aware of?
Rigid core flooring (also known as engineered vinyl plank) is the newest version of luxury vinyl that is fast becoming the industry favorite. The reason is obvious – the planks are as resilient as ceramic tile, the digital embossed-in-register graphics make it look and feel incredibly authentic, and it's generally very easy to install.
Q. Anything that is definitely out of favor these days?
I don't know if this trend is completely out of favor, but I feel that all the gray toned flooring for your kitchen and the rest of your house is getting a bit old…
Q. What type of flooring do you personally prefer and why?
Personally, I prefer tiled floor (terracotta, encaustic cement, and terrazzo being my favorites). Partly it's because this is what I grew up with in my childhood home, but also because it's almost effortless to keep clean, lasts a lifetime, and I like having the same flooring throughout my home. Tile works everywhere.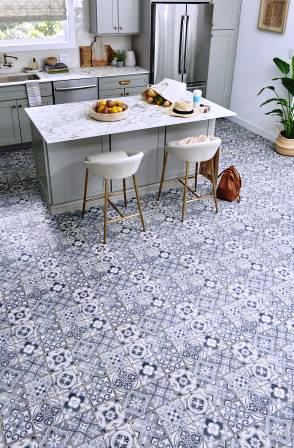 Laura Firszt writes for networx.com.
Looking for a Pro? Call us at (866) 441-6648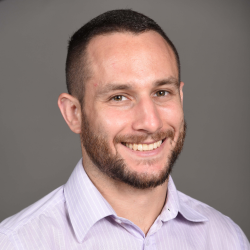 Top Cities Covered by our Flooring Contractors