Small Kitchen Remodeling and Design
The kitchen is typically the most used area in any home, even for people who don't cook often. Successful small kitchen remodeling and design require thoughtful planning. Kitchen renovation frequently requires plumbing and electrical work, lighting changes, appliances and cabinetry.
Remodeling a smaller kitchen is often a blessing for the skilled DIYer, who may not have too much trouble, say, laying 80-100 square feet of tile. Small layouts are often simple squares or rectangles. Large kitchens of 300-400 square feet can be challenging even for professional carpenters because islands and unusual shapes can add extra time and effort to the project.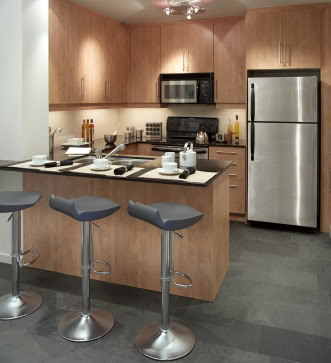 Small kitchens are often easier to renovate than large kitchens.
Small Kitchens Save Money
Larger kitchens will almost always be more expensive. The more space you have, the more it costs to dress it up. Additional cabinets, lighting, floor coverings, countertops and specialty appliances come with a price tag. In small kitchen remodeling and design, you can often splurge on better grade materials or equipment, selecting quality over quantity. It is not uncommon to see upgrades in tile, cabinets and appliances for these smaller spaces. Installing 400 square feet of travertine marble in a large kitchen could run to $5,000, while installing that same tile in a 100-square-foot kitchen might cost just $1,250. The large kitchen owner may choose to install cheaper porcelain tile instead, while the small kitchen owner may stay with the marble.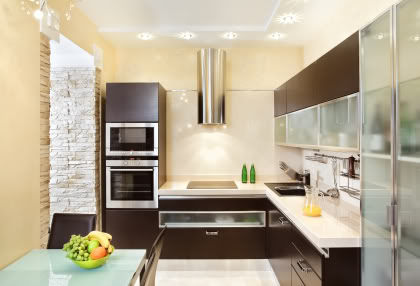 A smaller kitchen allows for investment in higher quality materials.
Optimize the Workflow
There are 3 key areas to a kitchen:
food storage area (refrigerator/pantry)
cleanup area (sink/dishwasher)
cooking area (stovetop/oven)
Some old-school specialists in kitchen remodeling and design may only use these three, comprising the classic "work triangle." I like to add in a fourth area, with space to roll out some pie dough, chop or slice veggies, mix cookie batter: what I call the 'work area." Very rarely can you go straight from the fridge or pantry to the cooking area. After all, that can of beans for the chili needs to get opened somewhere, right?
I've seen the dimensions of the work triangle range from just a couple feet on each side to upward of 8-10 feet per side for really big kitchens. If your kitchen is only 4 or 5 feet wide, this triangle can be very efficient with just a step or two between stations. Try to add a work area to your triangle; the most functional place is between the storage and cooking area.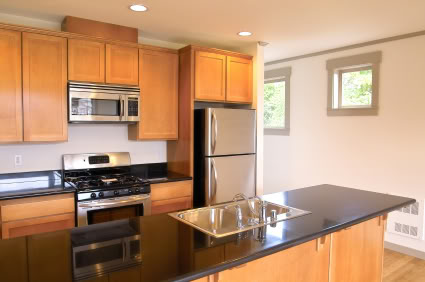 Try to include a preparation area in your "work triangle."
Bigger Is Not Always Better
Small kitchen remodeling and design requires balance. A 36" wide pro-grade range and 29 cu-ft. fridge should obviously be avoided; they'd overwhelm a modest-size kitchen. A 30" standard range and 6–18 cu-ft. fridge will provide more balance. If you save a little space on each item, you will have more space for something else. A single basin sink that fits in a 24" or 30" base cabinet may be the best choice, as it allows room for a dishwasher. A trendy new sink style allows for an integrated work surface, which sets inside the bowl area and can be used as a cutting board or prep area, freeing up nearby counter space.
You may be envious of your neighbor's dedicated wine storage fridge and that copper sink in the corner of the 4-foot wide island. But in your small kitchen, you can go from fridge to stove to sink in just a few steps, while they need to hike halfway around the block to do the same task. With all the money you will save on your small kitchen remodel, why not treat your neighbor to a nice bottle of wine for his dedicated fridge — and keep a few cases of wine for yourself?
Choose the right tile for your small kitchen remodel, and plan the layout carefully. Hire a kitchen remodeler with experience in small kitchen remodeling and design.
Updated November 14, 2018.
Looking for a Pro? Call us at (866) 441-6648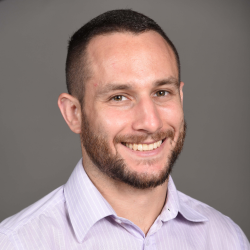 Top Cities Covered by our Remodeling Contractors