Kitchen Floor Plan Ideas
Since the 1950s, you really can't have a discussion about kitchen floor plans without mentioning the concept of the "work triangle." For as much as kitchens have become the favorite gathering spots (not to mention prime symbols of personal taste) in today's homes, the kitchen remains, above all, a place of work.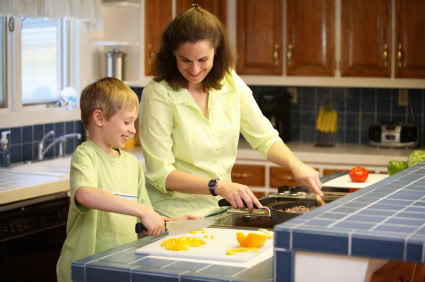 The function of the kitchen should guide the floor plan.
As you mull over layout ideas for your new kitchen, keep in mind that the true test of any kitchen floor plan is how well the arrangement accommodates the everyday tasks of storing, cooking and serving food (and, unfortunately, cleanup). In other words, the function of the kitchen should guide the floor plan. With that in place, all the fun stuff, like appliances, cabinets and countertops, while important, are like icing on the cake.
The Work Triangle
The work triangle is merely a simple design guideline that states that the three main kitchen work centers – the sink, stove and refrigerator – should roughly form a triangle. Each leg of the triangle (the distance between any two work centers) should be no less than 4 feet and no more than 9 feet. Ideally, the total of all three legs is no more than 26 feet. It's all about efficiency: If the work centers are too far apart, you'll take countless unnecessary steps working in the kitchen; if they're too close, work centers can overlap, and appliance doors and other people will always be getting in the way.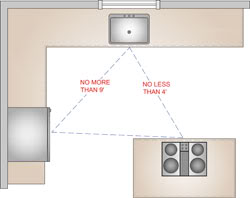 The work triangle connects the sink, stove and fridge. Image credit: NKBA.org
Ideas for Common Kitchen Floor Plans
Due the universal functions of the kitchen, most layouts tend to follow one of four different configurations. But every kitchen floor plan offers opportunities for customization and special amenities.
U-shaped plans occupy three walls or three connecting countertop sections. They're great for efficient work triangles, with handy countertop work spaces set between the sink, stove and fridge. They also tend to have very little traffic flow through the space. As a variation on the classic U-shape layout, one leg of the U can be a peninsula (made with base cabinets and a countertop) instead of a full-height wall. This opens up the kitchen to the adjacent spaces while maintaining the 3-sided work area and limiting traffic flow.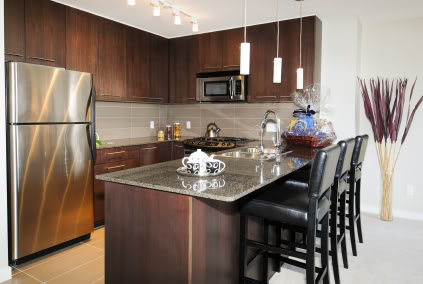 U-shaped kitchen layouts are efficient and don't encourage traffic.
An L-shaped kitchen floor plan fits into any corner where two walls meet, making it a versatile design that's easy to customize. With the work centers set along the walls, the space outside the work triangle is available for adding an island or a dining table. An island with a range/cooktop or prep sink makes an L-shape plan work much like a U-shape kitchen.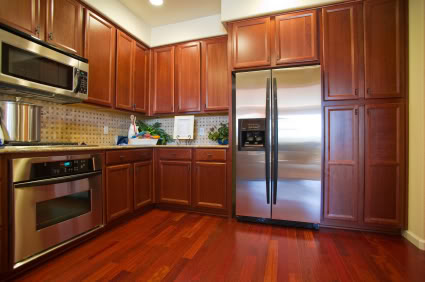 Kitchen layouts with an L-plan are versatile and easy to customize.
Galley kitchen floor plans run along two opposite walls, often with a sort of "hallway" space in between. They're nice for keeping the work centers within close range; for example, the sink and stove next to each other on one wall and the fridge directly opposite on the facing wall. However, these kitchens tend to be used like real hallways with a heavy flow of traffic right through the middle, and often this is unavoidable. The most efficient galley kitchens have 3 to 5 feet of space between opposing sides.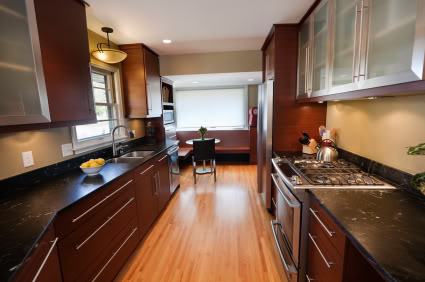 Galley kitchens keep work centers in close range, but often function as a hallway.
One-wall, or single-line, kitchens are common in studios and other small homes. For efficiency, these should be no longer than 12 feet. Space-saving appliances, such as dishwasher drawers, small refrigerators and compact cooktops, can help make the most of limited counter and floor space. One-wall kitchens can be open to the neighboring space or separated by a tall peninsula with a counter that doubles as a breakfast bar.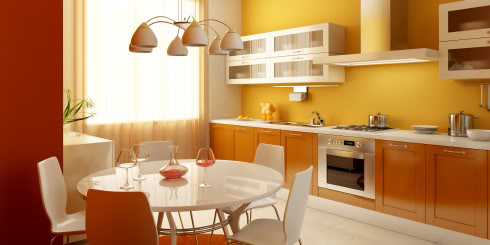 A one-wall kitchen is good for small spaces.
When you consider different kitchen remodeling ideas, keep the work triangle in mind. Hire a contractor with proven experience in creating kitchens like the one you want.
Philip Schmidt writes for networx.com.
Updated August 28, 2018.
Looking for a Pro? Call us at (866) 441-6648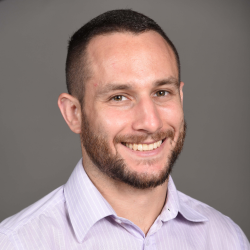 Top Cities Covered by our Remodeling Contractors