Upgrade Builder Grade with Easy, Inexpensive Fixes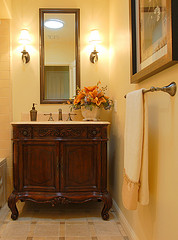 "Builder grade" is a term used to refer to home construction materials. It is the lowest ranking, compared to quality, custom, and ultra custom grades. If you live in a builder grade home, you may find that the finishings, although in good shape, are a bit too basic for your taste. How can you make your house a real home, one that meshes with your family's style, without renovating on a large scale (and sending perfectly usable materials to the landfill)? A few inexpensive cosmetic updos can work wonders to upgrade basic builder grade.
Kitchen
The kitchen is the heart of most homes and the cabinets are the largest item in this important room. Because they are so visible, cabinets tend to be the most complained-about builder grade feature.
The simplest way to make basic oak or particle board kitchen cabinets more upscale and modern is by sanding and painting them. While you are in painting mode, you might want to revamp the counters as well. There are paints available that will give almost any type of countertop – laminate, tile, wood or solid surface – the glamorous look of granite.
As an alternative, consider removing the doors from several of the cabinets to create stylish open shelving. A dingy kitchen can be brightened considerably in this way. (Just make sure that you organize your dishes and ornaments to design an attractive display.) Or take the opposite tack: build your kitchen cabinets up to the ceiling and cover the addition with crown molding. This not only produces an elegant, sophisticated look but also eliminates a dust-catching surface that is difficult to clean.
Living and Dining Room
Molding and wainscoting can also add a touch of class to living and dining room walls. This is an easy DIY project. For extra oomph, apply wallpaper above, or beadboard below, your new wall trim. Building frames out of molding material is another quick fix that provides dramatic flair to your builder grade windows.
Install built-in bookcases or cupboards for both beauty and practical storage space. The look of costly custom built-ins can be faked with inexpensive units from IKEA.
Bathroom
Builder grade bathrooms, especially mirrors and vanities, are another pet peeve among homeowners. Adding a frame and possibly some shelving helps to define the huge expanse of mirror typically found in standard construction.
Vanities may be painted, similarly to kitchen cabinets. As an alternative, add trendy door inserts, such as glass or metal mesh. A popular trend is replacing the vanity altogether with a quirkily charming repurposed piece of furniture. Two great transformations are a dining room buffet or a vintage sewing machine table turned into a unique bathroom vanity. Don't forget to repurpose the old vanity as well … perhaps as a potting bench?
Changing hardware and light fixtures will also make a big difference in your bathroom and all through the house. You could purchase new ones, but why not recycle the old by spray painting them a more up-to-date shade?
Garage Door
One builder grade garage feature that homeowners generally seem less troubled by is basic garage doors. However, the door of your garage, one of the first things that passersby notice about your home, plays a large role in your home's curb appeal. If you are hoping to sell your property, your garage door deserves an upgrade.
Once again, paint is a versatile tool, which you can use to give the entire door a warm, appealing appearance. For a change of pace, do the trim in a crisply contrasting hue. You can even use paint to add faux carriage house windows.
Laura Firszt writes for networx.com.
Updated June 26, 2018.
Looking for a Pro? Call us at (866) 441-6648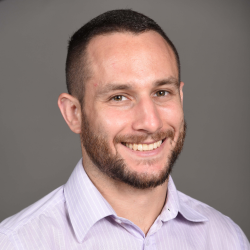 Top Cities Covered by our Painters