Kitchen Remodeling Ideas
If you have paged through a home improvement magazine lately, you might have gotten some kitchen remodeling ideas. You will, no doubt, have noticed two of the biggest and most recent trends: stainless steel and granite. Lots of modest remodels will often incorporate these elements into the plan just for the added wow factor, or for their timeless appeal.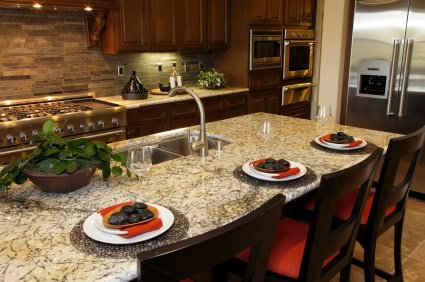 Stainless steel and granite are popping up in kitchens everywhere.
A Kitchen Remodel is Worth the Effort
Kitchens have a unique ability to inspire people to aim high or get emotionally charged. No other area of a home, besides a bathroom, typically evokes these feelings. When a buyer is shopping for a new home, the kitchen is an area that typically makes or breaks the deal. Money spent here will often have a return on investment (ROI) of 80%–100%. This may not seem as high as some great tech stocks in the boom days of Silicon Valley, but keep in mind that most "other" home improvement or remodel projects only yield a 40%–50% ROI. The $8,000 spent on a new roof may give you and a potential new buyer some peace of mind, but it does not produce the same warm happy feeling that a shiny new granite countertop can.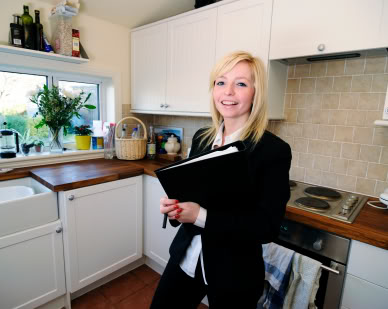 A kitchen can yield a 100% return investment when you sell.
How much is this going to cost?
When looking for kitchen remodeling ideas, it is important to keep the project in balance with the rest of your home. Some kitchen designers use the 15% rule. This rule says you should not spend more than 15% of the value of your home on a kitchen remodel. Some people have grand kitchen remodeling ideas and do spend more, sometimes lots more; these big projects often see a smaller return. Modest but well-planned remodels are more likely to hit the break-even mark or even exceed it.
One of the greatest obstacles most people see in a kitchen remodel is the inconvenience and loss of the space during the remodel. While this is true for most big projects, not all kitchen remodels need to be bank-busting, months-long projects. A simple cabinet re-facing project combined with some new flooring or lighting can improve the look of a dated kitchen without making you rely on fast food.
Popular Kitchen Remodeling Ideas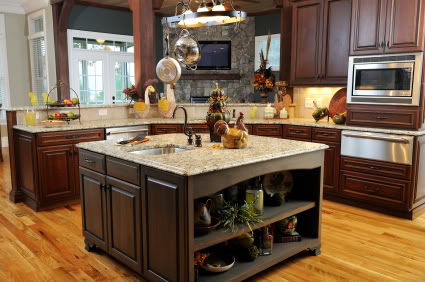 Adding an island is a great kitchen remodeling idea, since it offers extra counter and storage space.
One great option for some homes is the addition of an island or center workspace. I have seen many kitchens that have a large open area that is just asking for some added workspace. These islands can also provide much-needed storage below. Converting a seldom-used storage cabinet or corner into a mini-office nook is also a great way to expand the functionality of your space.
Other kitchen remodeling ideas can include new appliances, simple repainting, accent lighting, new flooring with hardwood or tile, a tile counter or backsplash, a new sink and faucet or maybe just new cabinet hardware. You can combine just of few of these at a time as your schedule and budget allow.
Whether you are upgrading to sell your home, looking for an updated look or for efficient workflow as you work in the kitchen, you will enjoy the benefits of a remodel immediately. It is not uncommon for owners of newly remodeled kitchens to begin spending more time in them, either cooking or otherwise.
We have come a long way from roasting a rabbit on a stick over an open fire in the back of our cave. Imagine the awe in our ancestors' eyes if they could see us now. Hot and cold water from a magic pipe, instant fire without wood or smoke, and a shiny box with a tiny sun inside where food stays fresh for days and days. It is simply amazing!
Get advice on hiring kitchen remodelers who can help you choose the right elements for your kitchen, from sinks to cabinets to tile designs. If you want to save money and just do partial renovations, you can paint, wallpaper or redo the cabinets.
Ask a professional remodeler for ideas by using the form below.
Author Kevin Stevens moved to Colorado from Michigan in 1991. He has been a woodworker for over 30 years, and has also worked as a biotechnology engineer. Kevin now runs a remodeling business where he practices green technology and sustainability. He is currently building an off-grid cabin in New Mexico.
Looking for a Pro? Call us at (866) 441-6648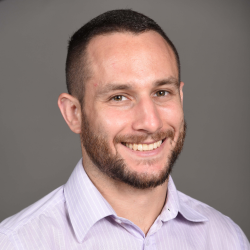 Top Cities Covered by our Remodeling Contractors