Water-Based vs Solvent-Based Concrete Dye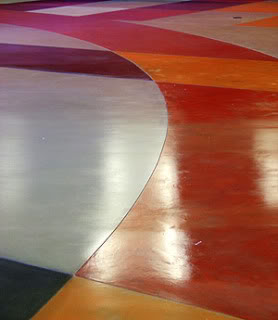 concretedecor.net
Water-based and solvent-based are the types of concrete dye used to deepen the color of stained concrete. There are several differences between these two, the main one being that solvent-based dyes provide deeper, richer colors. Both kinds are typically applied to concrete overlays and polished concrete floors, and they may also be used to color existing or older concrete slabs.
Solvent-Based Dyes
Solvent-based concrete dyes provide amazingly bold and beautiful colors which cannot be achieved through any other method. The translucent finish of solvent dyes is rich and gorgeous when applied over an acid-stained concrete floor, as pictured above. Dyes can be used full strength to attain greater depth of color or diluted with water or solvents to produce paler shades or a lighter, more translucent color wash.
When you use solvent-based floor dye preparation, it is extremely important that the concrete surface be completely clean. The cleaner the floor, the better the dye will penetrate. Your concrete floor contractor will explain to you the best ways to get your floor clean before the dye is applied.
Caution: Solvent-based dyes can be dangerous mostly because they are flammable. In fact, some manufacturers only sell their dyes to experienced applicators, since an open flame in a building along with solvent dyes could cause an explosion. Make sure that you hire a reliable concrete contractor who is experienced in using solvent-based concrete dye.
Water-Based Dyes
Water-based dyes are more green friendly, as they do not contain as many harmful chemicals. However, you won't be able to achieve such bold colors or hide imperfections so well with water-based dyes. The finished color will tend to be subtler and softer, making water-based concrete dye a great choice for kitchen and bathroom floors. Water-based dyes are easier to apply and easier to clean up. So if you are looking for a more environmentally friendly dye and softer tones, then water-based dyes are best for your floor.
Updated April 11, 2018.
Looking for a Pro? Call us at (866) 441-6648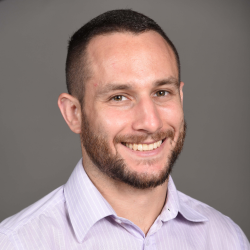 Top Cities Covered by our Concrete Contractors