Decorative Concrete Finishes: a Picture Glossary
Concrete is not just for sidewalks these days. In fact, with the development of special decorative techniques, concrete is revolutionizing home decor.
This durable and affordable substance can be used for a multitude of applications indoors and out. Strikingly handsome concrete patios, pool surrounds, garden paths, flooring, walls, and even kitchen or bathroom countertops show off just how versatile concrete can be.
Here is a glossary explaining the most popular finishes used to create decorative concrete.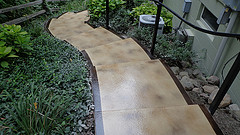 Acid stained -- treated with permanent, durable color, usually in earthy shades like greens or browns. A solution of inorganic salts, acid, and water is applied to poured and cured concrete. The resultant translucent stain gives a mottled, marbleized effect.
Broadcasted (also: seeded) -- hand distributed a dry substance (for example, dryshake color hardener or decorative aggregate) onto wet concrete to enhance looks and reduce slipperiness.
Broom finished -- distinctive texture produced by using a broom on the surface of newly poured concrete.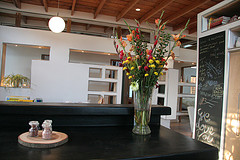 Cast in place -- shaped on site to allow more design flexibility and avoid having to move heavy pieces. This technique is often used to make functional, decorative concrete countertops for kitchens or bathrooms. Smooth, durable, and inexpensive, concrete countertops can be designed in a huge range of colors and shapes.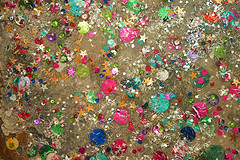 Color chips -- colored plastic chips that are scattered onto concrete flooring freshly coated with epoxy resin.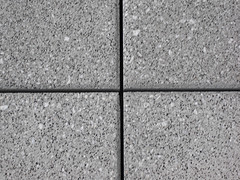 Decorative aggregate -- aggregate of colorful pebbles, such as quartz, added to concrete mix to both strengthen it and produce an attractive end product.
Dyed -- poured and cured concrete to which a water- or solvent-based colored solution is then applied. The process differs from acid staining in that dyes do not react chemically with the concrete and are available in a wider range of colors.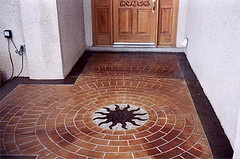 Engraved -- cut with special tools to create decorative concrete patterns, often mimicking the look of tile.
Etched -- marked with patterns using a special etching gel that is brushed on, frequently with the aid of stencils.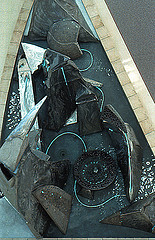 Faux rock -- shaped, textured, and dyed to resemble rock, as in concrete water features or pool surrounds.
Flashed -- colored with dry-shake hardener prior to stamping. This not only adds subtle accent color, it also conditions the surface of the concrete path, floor, etc.
Float finished -- textured by roughly finishing the wet concrete surface with a hand float or bull float.
Integral color -- color is blended into concrete before the mix is placed.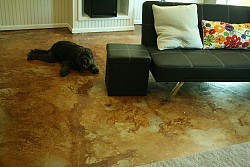 Marbleized -- given a marble effect, via both coloring and finishing.
Micro topping -- decorative concrete topping which is made of extra-thin polymer, sometimes incorporating fine-ground pigments.
Overlay -- a topping thicker than ¼ inch applied to cured concrete to enhance or restore its appearance.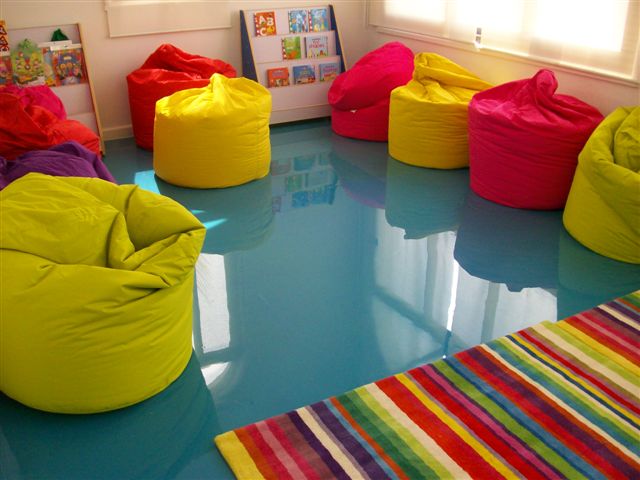 Polished -- finished using floor polishers equipped with abrasive disks. The result is a highly smooth, shiny, low maintenance decorative concrete surface.
Polymer stained -- treated with a type of acrylic-urethane stain, which is low in volatile organic compounds (VOCs) and offers a broader range of colors than acid stains.
Salt finished -- textured with indentations by broadcasting salt onto the freshly placed concrete, rolling it into the surface, and washing it off once the concrete has set.
Sand blasted -- patterned by spraying sand onto the concrete via a high-speed nozzle, sometimes with the help of an adhesive stencil.
Splatter coated -- irregularly coved with a coating that is splattered onto cured concrete.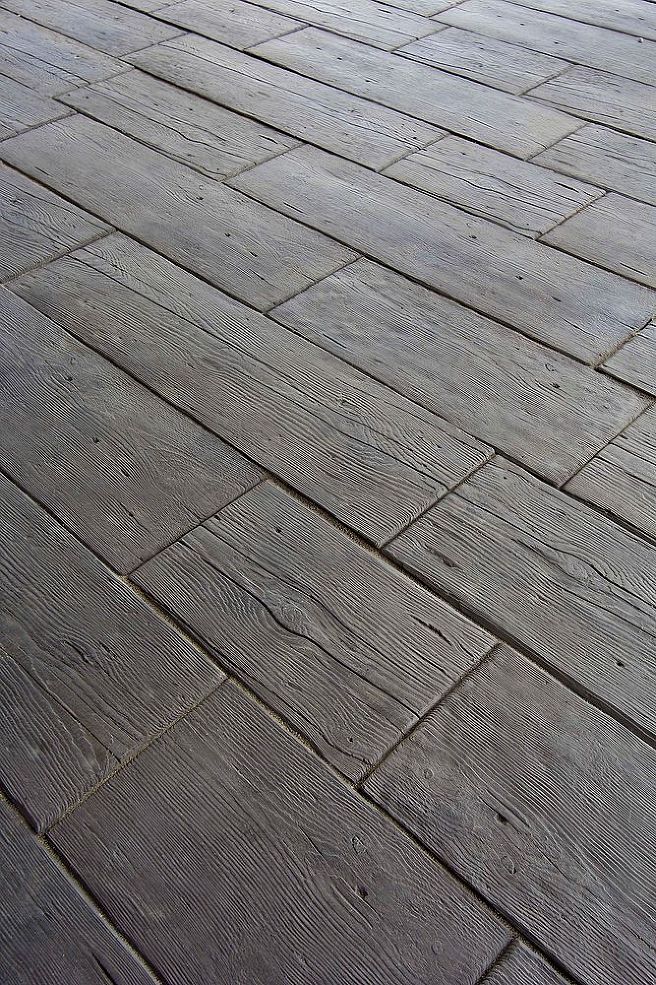 Stamped -- worked with special tools such as stamping mats or texturing skins to give the effect of stone, tile, wood, or brick. Vertical stamped refers to decorative concrete walls treated in a similar fashion.
Stenciled -- embellished by the use of stencils and coloring, etching, or sandblasting the exposed surface of cured concrete.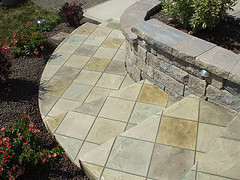 Tinted -- treated with a wash to add subtle color.
Trowel finished -- attractively textured by hand troweling of wet concrete.
Laura Firszt writes for networx.com.
Looking for a Pro? Call us at (866) 441-6648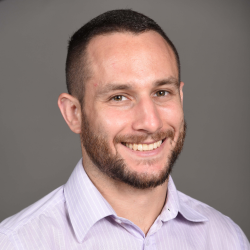 Top Cities Covered by our Concrete Contractors