How Much Does it Cost to Stain a Concrete Floor?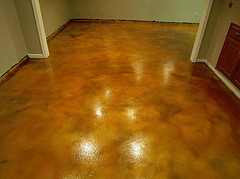 Sick of that gray, drab garage floor? Want to add a bold, shiny finish to the concrete in your kitchen? Concrete staining is an inexpensive, quality way to improve any concrete surface you have. It provides a unique, rich color that's permanent and flake-proof. A formulated chemical substance made of acid and water mixed with metallic salts is applied to your floor, and as it reacts with the concrete it creates a deep, bold, shiny finish that lasts for decades. You can replicate the look of marble, natural stone, and even leather, or design your own unique pattern.
Staining a concrete floor can be a dangerous and difficult process. If you choose to do it yourself, you will save money, but without experience you run the risk of acid burns and/or permanently ruining your floor.
Costs
A professional concrete contractor will typically charge $2-$4 per square foot for a simple stain application, including the sealer. A stain application with patterning and sawed lines will typically cost between $4 and $10 per square foot. Multiple color patterns and intricate sawcuts can run between $5 and $15 per square foot. Elaborate sandblasted stencil work and layered staining can cost between $12 and $25 per square foot.
Contractors will generally charge a lower rate as the total size of the job increases.
Advantages
The options are endless, and you can be as creative and fun as you want or as elegant and conservative as you want. Each chemical process is unique and each slab of concrete is unique, leaving you a one-of-a-kind finish.
Instead of hiring a painter to paint your concrete floor, only to have it crack, peel and fade in a few years, stain it. A stain can be applied to new or old concrete floors, revitalizing lackluster surfaces. Though cracks and blemishes will be visible through the opaque finish, specific patterns and styles can be designed to mask the flaws your floor may have.
Properly sealed and maintained stained concrete lasts for decades and rarely needs repair. Even in cities as rainy as Minneapolis, you can stain an outdoor concrete driveway and it will last. It's invulnerable to tearing, gouging, mold, or water damage, and even if the color wears over time it can usually be restored with touchup staining and additional layers of protective coating.
Stains Versus Dyes
An additional option for improving concrete floors is to use dye. The dye, as opposed to staining, colors the concrete by penetrating the surface and adhering to the concrete, instead of reacting with it. An advantage to dye is that it dries faster than stains and it comes in a wider variety of colors. The price of dying is typically the same as staining. A disadvantage, however, is that dyes tend to fade when exposed to direct sunlight for extended periods of time. UV-stable sealers are available to counter this phenomenon. Dyes can also be used together with stains to create special effects.
Whatever design you choose, your unique stained floors will bring new life into those bleak concrete surfaces.
Mark Stevens is a writer from New Jersey who has written over 100 home improvement articles. Want to ask Mark something? Send him a message.
Looking for a Pro? Call us at (866) 441-6648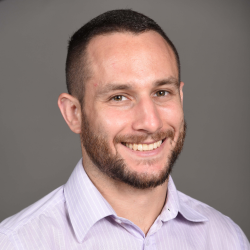 Top Cities Covered by our Concrete Contractors