Concrete Countertops Pros And Cons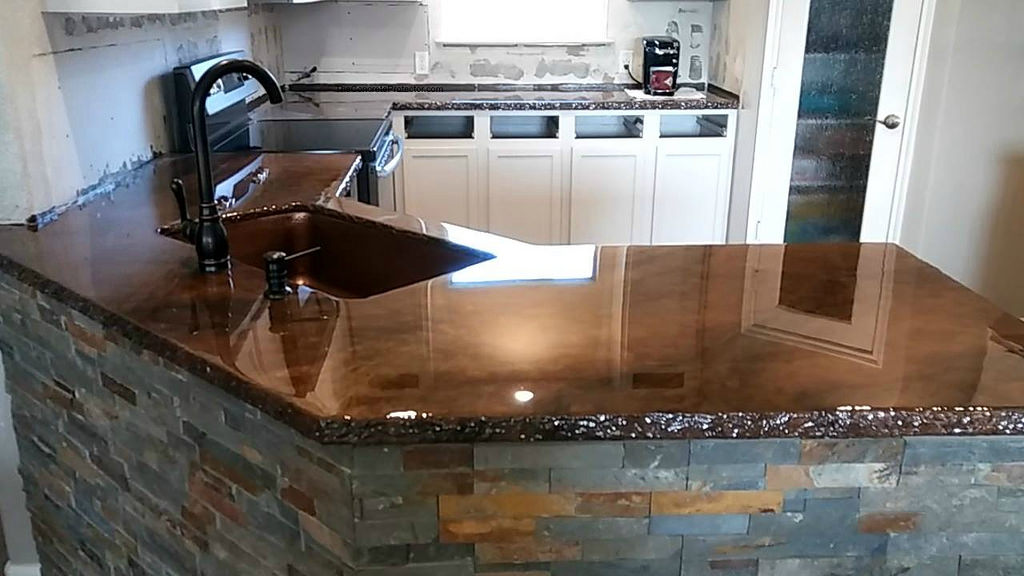 Are you considering concrete countertop installation? Concrete countertops are super trendy right now for their industrial good looks. They're also strong, and affordable compared to popular materials like quartz or granite. However, besides the obvious advantages, there are a few negatives to kitchen and bathroom countertops made of concrete. Let's take a closer look at concrete countertops' pros and cons.
Concrete Countertops: Pros
A major advantage of concrete countertops is their beauty, uniqueness, and modern flair. Concrete may be attractively shaped, colored, and textured in an almost infinite number of ways. Adding decorative elements or integral features (such as a built-in drainboard) will truly personalize the look.
Depending on the exact size and design of your countertops, you can achieve a smooth seamless concrete surface.
Concrete countertops are easy to clean as long as they've been installed and sealed properly. Warm, soapy water is the best way to wipe up. For heavier cleaning, follow the directions from your contractor or use a pH cleaner that won't harm the sealant. Avoid abrasive cleansers.
Concrete Countertops: Cons
Before you begin, you must ensure your base cabinets are sturdy enough to support the weight of a concrete slab (145 pounds per cubic foot). If you choose to have concrete countertops poured in place, you'll have to deal with a mess. The alternative is ordering countertops to be precast offsite and transported to your home, but especially long and/or thick countertops will be heavy and awkward to move.
Non-structural hairline cracks occur in nearly all poured-in-place concrete countertops. Expert installation by a reliable concrete contractor will minimize these cracks, but cannot prevent them altogether. Generally, the cracks are hardly noticeable; some homeowners even feel they enhance the look of the counters. Proper care and maintenance of your concrete countertops will help avoid hairline cracking.
Placing scalding hot pots or pans directly onto concrete countertops could damage the top and the sealant. Instead, keep a trivet handy to protect your counters. To avoid the problem entirely, some homeowners have chosen to add built-in trivets to their concrete counters. Not only is this a practical option, but it also adds a handsome customized look to the countertops.
Spills need to be wiped up promptly, especially if they are oily or acidic like vinegar, lemon juice, red wine, etc. Even exposure of just a few minutes is capable of causing a stain on some concrete countertops. Protect your new countertops with a concrete sealer and reseal every 1-3 years.
Although concrete resists scratches due to normal wear and tear, cutting with a sharp knife directly on the bare countertop is not recommended. Knives can cut through the sealant and create weak spots. As with trivets, cutting boards can also be installed directly into the countertop for a combination of functionality and design.
Concrete Countertops: Pros AND Cons
Wondering why there's a section called "Concrete Countertops: Pros AND Cons"? Ironically, a couple of concrete countertops' greatest advantages sometimes turn into major disadvantages. Here's why.
Concrete is one of the most durable of all building materials -- the foundation of our homes and roads. When you install concrete countertops, you won't have to worry about replacing them for decades. However, if in a few years you decide that you don't care for the style or simply want a new look, concrete removal is not easy. It requires a team of several skilled people to uninstall the countertops without damaging the cabinets beneath. You're left with the problem of recycling or otherwise disposing of the concrete.
From color to shine to gorgeous finishes, the design possibilities are endless with concrete countertops. You can hire a concrete specialist to replicate the look of granite or marble or incorporate small chips of glass, colored stone, or seashells, terrazzo-style. It's also possible to create just about any shape you can dream of for the counters and their edges. The downside? While plain concrete countertops are less expensive than many other materials, the more elaborate your design, the higher the price.
Laura Firszt writes for networx.com.
Updated December 30, 2018.
Looking for a Pro? Call us at (866) 441-6648