Determining the Cost of Concrete Countertops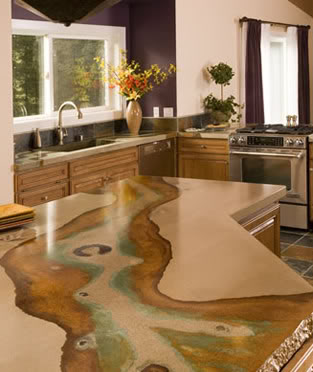 Photo credit: ConcreteCountertops.org
Concrete countertops allow customization and personality. However, individuality comes with a price, and the concrete countertop cost may be prohibitive for some homeowners. Before committing to concrete, add up material, labor and added flair to determine your total concrete countertop cost.
Why concrete countertops?
Concrete countertops are typically individually cast in molds built to a customer's specifications, so they can be set to any width or depth. You can expect the base concrete countertop cost to be at least $65 per square foot, according to professionals. Installers can embed colored glass chips or other sparkles, and can add meaningful or quirky personal items like broken china or toy soldiers.
Compared to stone options, concrete is also more easily molded into curves and odd angles. Plus, it's relatively simple to mold practical items into the concrete. For example, the countertop may have an embedded soap dish or an indentation for your favorite saucepan that will keep it from tipping over.
But all the custom work will add to your concrete countertop cost. Typical high-end concrete countertops cost around $130 for specialty customized work. A WallStreet Journal article polled remodeling experts and estimated average concrete countertop costs at $100 per square foot, compared to about $40 per square foot for granite.
Expensive Ingredients
Your concrete countertop cost may rise higher with additional customization that is more aesthetic than practical or personal. Installers can alsocreate custom colors and artistic blends by mixing other ingredients into a basic concrete mix. Rare stones, fossils or seashells will also significantly drive up your concrete countertop cost.
Installation
You also must add installation labor prices to your concrete countertop cost. Installation typically costs about $40 to $50 per hour. Of course, the square footage of installation per hour will vary between contractors, but your contractors should be able to estimate their bill.
The Downside
Countertop replacement in general is considered one of the best ways to boost resale value, but many experts warn that you may not recoup your concrete countertop cost. Unlike granite, concrete countertops tend to be "love-it-or-hate-it" items, and the more youpersonalize your countertops, the more likely buyers will fall into the "hate-it" category. Buyers are unlikely to want to see your childhood toys in their countertop.
On the other hand, some eco-conscious homeowners can justify the concrete countertop cost because concrete is a widely available and renewable resource, unlike products that contain petroleum-based plastics or non-renewable quarried stone.
Author Steve Graham is an expert on green building who writes for several homeimprovement publications. He's full of great, practical home improvement answers, and incidentally, he's pretty funny - so send him a message.
Looking for a Pro? Call us at (866) 441-6648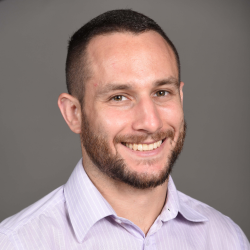 Top Cities Covered by our Concrete Contractors