Concrete Floors: Staining and Dyeing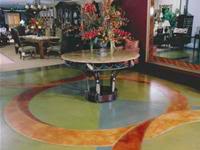 AFS Creative Finishes Rancho Cordova,
CA
; image from
concrete-floors.org
Concrete staining and dyeing are the most versatile and creative methods for finishing a concrete floor. The stains that are used for concrete staining are formulated to chemically react with the lime content in the concrete to create a deep, bold, shiny finish for your floors. The options are truly endless, as you are in complete control of the color and design of the floor. Staining and dyeing offers the ability to create a wide range of bright and bold colors such as reds, blues, yellows and more. You can be creative, fun and elegantin the design of your stained or dyed concrete floor. Consulting with a concrete finishing specialist or artist is the best way to achieve the special look that you want for your floor. View some images below and click the links for additional images to help you get some ideas for your floors.
Concrete Stains
Concrete stains or chemical stains (such as acid stains) can be applied to new or old concrete floors, but keep in mind that since the finish is opaque, it will not hide or mask any concrete imperfections or flaws. You can avoid this by choosing a design which will help the imperfections blend in with the design. Stained or dyed concrete floors are popular for just about any room in a house, from the kitchen to bathroom or even the basement or garage floor.
Some of the design techniques used in staining and dyeing include using graphics, borders, stain blowing, marble and ceramic tile replication. Artists can also use feather leaves, sponges, sawdust and other materials which are also used in faux paintingtechniques.
Concrete Dyes
Concrete dyes are used to add additional color to already stained concrete. The dyes come in either water-based or solvent systems, each with its own limitations and advantages. Learn more about the differences between water-based and solvent-based dyes. A professional can mix dyes on-site to come up with a special and unique color for your floor. Variations and inconsistentcolors often occur with dyes. But most people find these variations desirable because they result in a more natural appearance, and they understand the variation factor when choosing dyes. An additional setback to dyes is that they can sometimes fade from direct andextended contact with UV rays. To help prevent this problem, there are UV-stable sealers or dyes which are premixed with sealer. There are several options for dying, including acrylic dyeing, which is inexpensive when compared to some staining methods and can end up savingmoney on labor costs too.
Cost
There is a range of cost for the installation and finishing of interior concrete floors. The amount of detail you choose, the type of finisher (artist vs. applicator) and other factors will all affect the cost. Artists who specialize in concrete floor finishing will charge more, and expect that the more details you choose, the higher the cost will be. A simple stained finished concrete floor will run about $4 per square foot, while highly detailed, stenciled floors can run as much as $25 per square foot.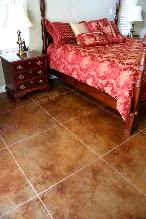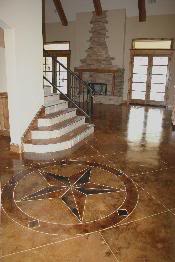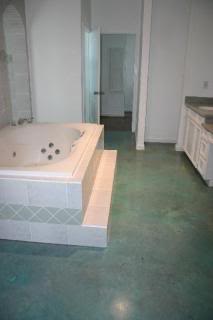 stainedconcrete.org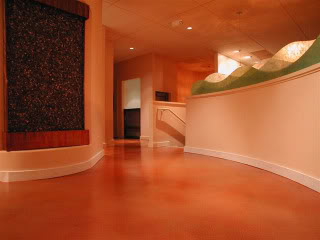 concreteideas.com
A dyed concrete floor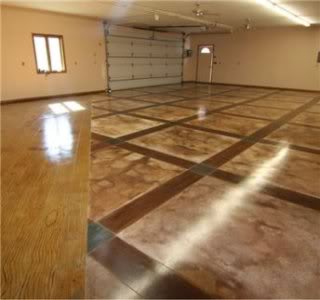 LuxuryHousingTrends.com
a stained concrete garage floor by
SpecialEffex
Looking for a Pro? Call us at (866) 441-6648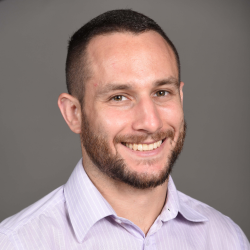 Top Cities Covered by our Concrete Contractors