Winter Survival for Your Roof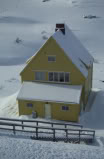 Winter can be hard: hard on your skin, hard on your car and especially hard on your roof! How cold it gets where you live will determine how much of a hit your roof will take over the cold winter season. Certain precautionary steps can be taken to ensure your roof doesn't have any preexisting problems before winter begins; it could save you a lot of time, hassle and money. So take the time to check your roof and you'll be glad you did, especially if you live in Wisconsin, Illinois or Rhode Island where the winter weather can be extreme.
The best, most hassle-free step way to check your roof is to find a professional roofing contractor who will help you by performing an inspection of your roof. You may be wondering what exactly your roofer will be looking for. Below is a list of the red flags that the roofer will look for that might indicate a problem that needs to be fixed before winter. You can also help by keeping an eye out for some of the more visible problem signs, not just before winter, but all year round.
The Before-Winter Check
Ceiling spots.

These are usually a sign that there is a spot on your roof that needs a leak repair. Missing shingles. You can sometimes spot these on your own, but sometimes they are not visible from the ground. That is why it's important to hire a roofer who can go up on your roof to inspect it.

Cracked flashing.

Flashing is the material installed between your roof and any wall, such as the wall of your chimney. If it is cracked, it should always be replaced as it could allow leaks. With snow sitting on your roof, you want to make sure there are no cracks, as the flashing is a very common spot for the snow to melt and create leaks.

Buckled or curled shingles.

This is something to keep your eye out for all year round, as it could indicate a more serious problem with your shingles, such as improper installation.

Blistered shingles.

This often occurs from inadequate roof ventilation.

Granules in the gutters.

This is a sign that the shingles may be getting old and starting to disintegrate into the gutters.
Ice Dams: Another Problem to Watch For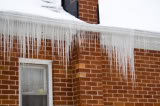 One of the most common winter roof problems results from ice dams. Ice dams occur when snow accumulates on a slanted roof of a house. Ice dams are seen more often in homes with inadequate insulation or ventilation in the attic. Ice dams are created when warmth from your home comes up through the roof and melts the snow, resulting in the melted snow flowing down the roof, under the blanket of snow, onto the eave and into the gutters. Because there are typically colder conditions on the overhang, the water freezes, turning the water into ice along the gutters. Although icicles hanging from the house may look pretty to some, be aware that it is a real problem!
Why is this such a problem for your roof? It is a problem because other snow on the roof cannot drain properly through the ice and can in a short time cause roof leaks. When ice dams occur, make sure you get help by finding a roofer, since there isn't much that you can do on your own to fix the ice dam problem. It's also important to keep in mind that you may want to check the status of your attic insulation and ventilation to make sure it is up to par.
Looking for a Pro? Call us at (866) 441-6648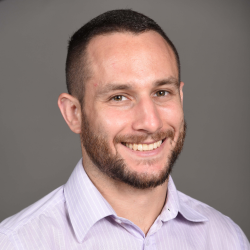 Top Cities Covered by our Roofers