---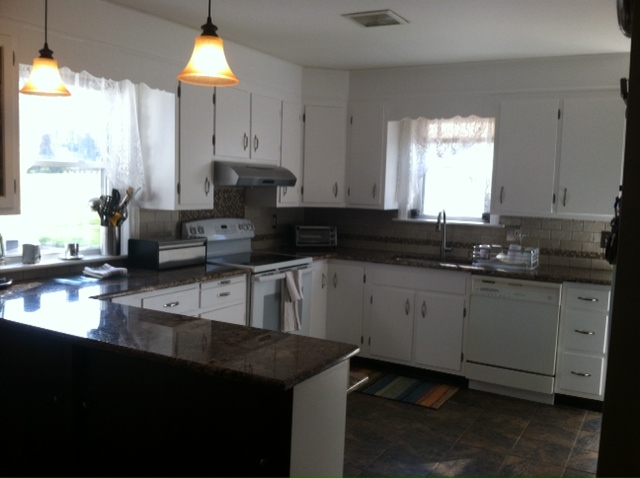 We were getting new granite countertops put in but the cabinets were all chipped up and looked a little dull. it was a while since they were repainted so we decided to do something about them.
My wife searched everywhere: online, people close to us, Home Depot, Lowe's, and everywhere. Most of the places wanted to either resurface or make you buy new cabinets. We decided that the cabinets themselves were in good shape, though. We just needed them repainted or touched up and we didn't feel like spending tons of money.
Eventually we found a contractor near us that was willing to paint the cabinets. We were looking for good customer reviews and a good price. Good customer reviews was a big thing, because we don't know anyone who does this for a living so we had to go by reviews or word of mouth.
The contractor we hired gave us a good price and stayed on top of the time. He helped us choose the paint. My wife originally wanted a different type of tan, maybe a little bit more chocolaty. He had the color book and he showed her, "Well, you want this but I think this would look nicer." He actually helped steer us in that direction and we're thrilled with the color now.
The job took him about 5 days. He took off just the doors, because we didn't want to get into too much. The cabinets themselves have been there since we moved in, in '93. They're in good shape and they're made of nice wood, so we figured we'd just repaint the fronts. He also painted our dining room.
We didn't replace the pulls. My wife had bought the handles we had a couple of years after we had gotten the cabinets painted the first time. (She painted them the first time herself.) They were super expensive. So we decided to keep them.
Our contractor didn't only paint, he patched up the walls and smoothed them out because this is an old plaster house. I mean, we didn't realize how bumpy the walls were. In the past, we'd just paint over things. Some of the roughness was behind our china cabinet or our buffet in the dining room area and we didn't care that much -- nobody really sees it. But he made the effort to smooth them out and make everything look nice again.
He was great, he really was. Even after we were done, he checked out our side kitchen door. We thought the wood trim around it was starting to rot. We were going to rip it all out and get all new stuff this spring, but he said, "No, that's not the problem." Turned out it was just pulling away from the brick on the outside because of the caulk that was in there -- I don't know how old that was, probably 40 years. And he recaulked it real nice. It looks awesome and he charged us minimally for that.
This contractor wasn't out to rip us off.
We put on an addition back in -- oh boy! -- 2000. The guy we used that time gave us a great price, only he wasn't here half the time. And after a couple of years, we found out we had leaks in our roof and all kinds of mess. We're still finding stuff, so that can be a nightmare. That other contractor had had good reviews but I think he used his buddies to review him, if you know what I mean. He even asked us after that project was over, "Can I use you for reviews?" We said, "I don't think you want to."
My advice is: Go and try to do some homework as far as whatever project you're going to do. Look at customer reviews; that's often all you can go with. Then you meet the guy and if you have a good feeling about him, you try it.