Wood Siding Options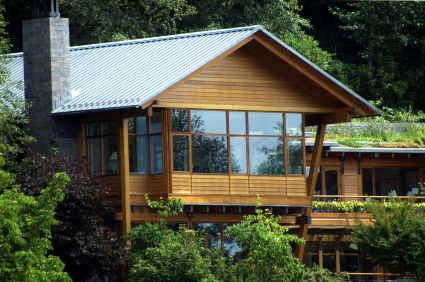 One hundred years ago, homes fell into two basic groups: those with wood siding and those without. The non-wood homes were either brick or stucco. The wood-sided homes were clad in a number of possible ways, the more common being lap siding, shingles or board and batten. As styles change, some types have come and gone, but many homes today are still sided using these time-tested materials.
If you are looking to hire a contractor for wood siding installation, you'll want to learn more about popular siding types.
Board-and-Batten and Board-on-Board
These wood siding options differ from the majority of others in that they run vertically. In board-and-batten a smaller "batten" is used to cover the gap between two larger boards. Board-on-board is very similar but uses boards of equal size. Since the invention of plywood, battens have also been used to cover the gaps between those panels.
Lap Siding
This type of wood siding has been around for as long as people have been milling lumber. It can be done with simple flat-sawn boards that are overlapped or in a more refined style known as "bevel lap siding." In bevel lap siding, the board is milled to be slightly tapered, so that the top of the board is thinner than the bottom. When these boards are nailed in place, the nails are set in the top of the board with the next course above covering the nails of the lower course.
Another variation of this is "Dolly Varden," a bevel lap siding with a rabbeted lower edge that allows the back face of the board to rest against the sheathing. Dolly Varden is the heroine of Charles Dickens's novel Barnaby Rudge (1841), and in addition to having a type of siding named after her, she has also lent her name to a species of roses, a kind of trout and the Dolly Varden mountain range in Nevada.
Rusticated Lap Siding
This is a wood siding style that was popular in the 60s and is still common in some more rustic mountain communities today. Here, the natural log edge of the board is left on after slicing the lumber into planks and the result is a wavy edge along the bottom of each course.
Drop Siding
Drop siding, also called channel rustic, is milled with two rabbets: a wide one on the front top and a narrower one on the bottom back. When the boards are placed over each other, the results are concealed nails along the top and an even, narrow recess between courses. I have seen this used in vertical configurations as well, but less frequently.
Shingles
Wood siding shingles range from flat sawn to hand-split rustic. The lower edge can be flat or cut into fish scales or diamond patterns. When installed they can be set in even or irregular courses. Many homes will mix shingles with other siding options for a great contrast in style.
Sheet or Panel Products
The siding options listed above are comprised of individual "boards," but some manufacturers will offer panels of these elements preassembled. There are also many "sheet" style siding options. These can consist of multi-grooved plywood or variations of "V" groove and bead-board panels.
Whether you choose siding named after a literary heroine or one of the classic styles, you will have many great siding options to pick from. When I sided my home a few years back, I went with a Dolly Varden lap siding in cedar; it is finished with a transparent oil finish to showcase the cedar's grain. If you are working with cedar or redwood and you do not plan to paint it, the use of stainless steel or corrosion-resistant fasteners will reduce the black streaking caused by the chemical reactions of tannins in the wood and the iron in the fasteners.
Kevin Stevens writes for networx.com.
Updated August 5, 2018.
Looking for a Pro? Call us at (866) 441-6648