Vinyl Composition Tile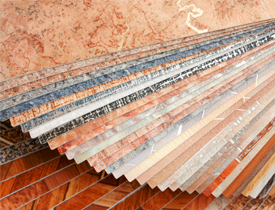 Vinyl composition tile, or VCT as it's known in the trades, covers the floors of virtually every grocery store in the free world, not to mention schools, hospitals and most other public spaces. The economy, durability and easy cleaning of this material are undeniable. The question is: Do you want vinyl composition tile in your home? And if so, where does it belong?
The Language of Tile
Vinyl composition tile is called many things, including VCT, peel-and-stick tiles, PVC tile, resilient flooring and linoleum. All of these names are accurate except the last. Vinyl tile is not linoleum. Both are types of resilient tile flooring, but vinyl is made primarily of plastic (PVC, or polyvinyl chloride), while linoleum is made with linseed oil, jute, wood or cork and other natural materials. In short, vinyl is less "green" than linoleum (PVC is a generally abhorred by environmentalists) -- but it's cheaper.
Where to Use VCT
Manufacturers of vinyl composite tile will surely tell you that it's the perfect flooring for every room in the house. And while vinyl is really no less comfortable than wood or other types of hard flooring, it's hard to imagine using it in your bedroom or living room. Since VCT is tough, water-resistant, stain-resistant flooring that's made for everyday mop-ups, it's best for kitchens, laundry rooms, mudrooms, basement rumpus rooms and utility spaces of all kinds. Arguably, it's ok to use it in bathrooms, but standing water on the floor can lead to problems with the joints between tiles—an inherent drawback to VCT that doesn't apply to its cousin, sheet vinyl flooring.
Install VCT
Vinyl composition tile is basically an easy-to-install version of sheet vinyl. It also offers more flexibility with design (see below). Both tiles and sheet vinyl need to be installed on a perfectly smooth surface; otherwise, bumps and dips will transfer right to the top of the floor. A typical installation starts with a layer of underlayment (1/4-inch plywood or other sheet product) fastened to the subfloor. The underlayment joints and any dips are filled with leveling compound. When that's dry, the tiles are laid following perpendicular layout lines (very important).
VCT comes in both self-adhesive (peel-and-stick) and glue-down versions. If you're planning to tile the space yourself, the former is easier for DIYers to work with. If, on the other hand, you hire a flooring professional, go with whichever version you prefer.
Choose a Pattern
When it comes to designing with vinyl tiles, you can take one of three different approaches. You may select a style that mimics traditional materials, like wood, ceramic tile or stone. In this case, you definitely should look at a sizable installation of the tile, such as in a showroom, to see how convincing the illusion really is. The opposite tactic is to go full-bore with the atomic-age fun and modernity of plastic flooring and use bold, colorful patterns; think acid-green or sunburst-orange tiles laid with white tiles in a checkerboard pattern. Your third option is safe and subtle: choose a pattern and color that blend harmoniously and inconspicuously with the surrounding decor.

So, is vinyl composition tile right for your home? Chances are it's ideal for one or two rooms that need a hard-wearing, low-maintenance floor. Be aware that prices and quality vary widely. Better products have a thick, no-wax wear layer that protects the tile's surface from scuffs, scratches and general wear from foot traffic.

Updated March 30, 2018.
Looking for a Pro? Call us at (866) 441-6648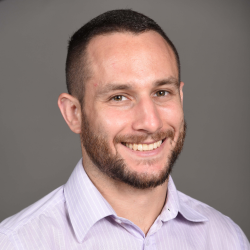 Top Cities Covered by our Tile Contractors