Natural Rugs: Chemical-Free Choices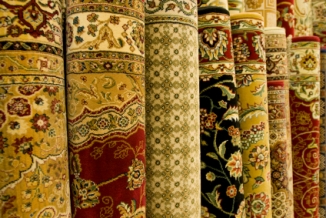 In recent years, rugs tend to come from unnatural, unhealthy sources, such as chemicals and petroleum-based products, and are glued down with off-gassing glues.
Lately, however, there has been a strong push to return to all-natural rugs that are better for the environment and our health. Historically, rugs were made from leather hides or woven from wool and silks. Today, these are still some of the most popular and sought-after types of natural rugs around. Find out more.
Leather and Hide Rugs
Leather and hide rugs have not always been considered the most green products due to the way they're processed. However, companies such as Spinneybeck have dedicated themselves to developing and maintaining tanning and dyeing processes which are natural and environmentally friendly. Their rugs are Greenguard-certified to contain no volatile organic compounds (VOCs). The entire process, from tanning to dyeing to the use of recycled backing materials, adheres to the most stringent environmental standards.
Oriental Wool and Silk Carpets
Antique oriental carpets were made of natural wool or silk to last, and to become more beautiful with time. Natural vegetable dyes were used to create one-of-a-kind rugs. When purchasing any Oriental rug, whether new or antique, make sure the dyes are natural, plant-based colors -- not synthetics, which came into use during the middle of the 20th century. Synthetic dyes are more consistent and cheaper, which made them more popular. However, all-natural dyes, in addition to being more environmentally friendly, result in a unique finished product that softens with age and develops patina.
Greek Flokati Rugs
Flokati and shag wool carpets are made from sustainable all-natural long-haired wool that has come back into vogue recently. Flokati rugs originated in the Greek mountains and have a natural, soft and cozy appeal.
Grass Rugs
Sisal carpets, which are the most popular of the plant-based natural rugs, are made from sisal fibers extruded from the agave plant and then spun into strong, smooth fibers. Sisal carpets are extremely durable and naturally fire-resistant.
The very popular Seagrass rugs come from coastal areas of China and India. The grasses are smooth and hard, which provides excellent durability in high-traffic areas. These rugs are stain-resistant and work well in humid environments, such as porch floors. The natural mid-toned colors are perfect neutral backdrops for many decorating styles.
Rugs made of mountain grass, also known as hemp, come mainly from the northern Pacific rim and are very hard and durable. Because the fibers are so hard, they are not recommended when comfort is a factor. The darker natural colors of mountain grass are warm and inviting.
Bamboo Rugs
Bamboo is becoming a very popular choice for a natural area rug. Although they've been around for centuries, bamboo rugs have recently taken off because responsibly sourced bamboo is an environmentally friendly product: sustainable, economical and durable. Its natural look is clean lined, which is a great choice for contemporary interiors.
Natural rugs come in many textures and forms. They can be soft or hard, colorful or all-natural. The thing they all have in common is that these styles have all been around for centuries and, having stood the test of time, can be expected to be with us for a long time to come.
Talk to an experienced reliable contractor in your area about great flooring choices for your home.
Updated July 19, 2018.
Looking for a Pro? Call us at (866) 441-6648