Cleaning Concrete Countertops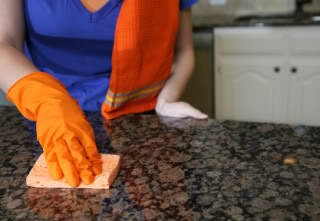 Your best bet is to clean with a non-abrasive sponge and warm, soapy water.
Proper care and cleaning of your concrete countertops will help extend their long lifespan and keep them looking as beautiful as the day your concrete contractor installed them. Every spill should be cleaned up as soon as possible because even though the countertops are sealed, there is a chance that the spill could seep through and cause damage (such as a stain), especially if the counter was sealed years ago. If you make wiping up spills a habit, you shouldn't run into any problems.
Concrete Countertop Cleaning Tips
Make Sure Your Countertop is Sealed Properly. Before doing any cleaning of your countertops, make sure that your countertop has been properly sealed. Proper concrete countertop maintenance includes resealing every few years. Make sure to keep an eye on your countertop; if you notice even small stains from any liquid, then it is time to reseal.
Choose the Right Cleaning Material. Sponges, cloths, or soft brushes, moistened with warm soapy water, are the best tools for cleaning your concrete countertops. You can wipe with paper towels, but they're less environmentally friendly. TIP: Instead of throwing away old t-shirts or undershirts, cut them into small rags for the countertops. Alternatively, bar cloths and cheap washcloths from our local dollar store make great counter wiping tools. Wash these cloths with hot water in a load of soiled towels.
Use a Concrete Countertop Cleaner. Never use abrasive cleaners on your concrete counters. Instead, choose one of the several good-quality products on the market which are specifically formulated for cleaning stone and concrete counters. MarbaMist Spray is especially formulated for concrete countertops, for example. Or purchase countertop wipes from Stone Care International.
Never Use Ammonia, Bleach, or Vinegar. Harsh chemicals such as ammonia and bleach can ruin your once-beautiful countertops. Avoid vinegar, lemon juice, and other acids, as well, because they are capable of etching the concrete.


Use a Neutral pH Cleanser. Any other cleanser that you choose should always be neutral in pH level. Read the ingredients or directions on the package to check whether it is pH neutral. Spot testing a new cleanser on an unobtrusive area is always a wise idea. To play it safe, choose a cleaning product that you know is specifically designed for concrete countertops, as mentioned above.
Updated August 21, 2018.
Related Articles
Looking for a Pro? Call us at (866) 441-6648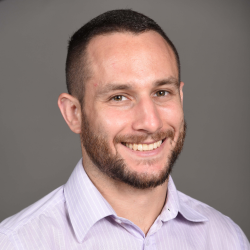 Top Cities Covered by our Concrete Contractors