Home Improvement Advice from: Bartenders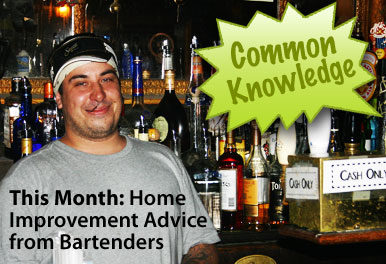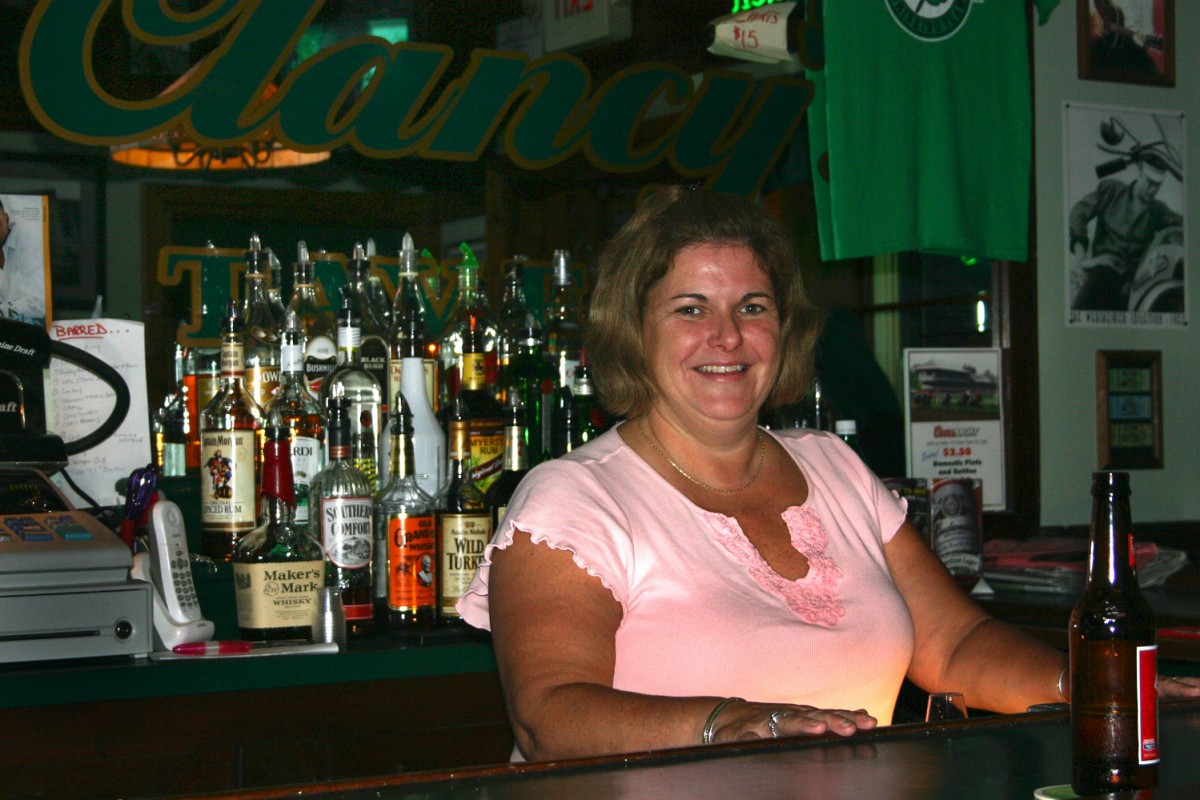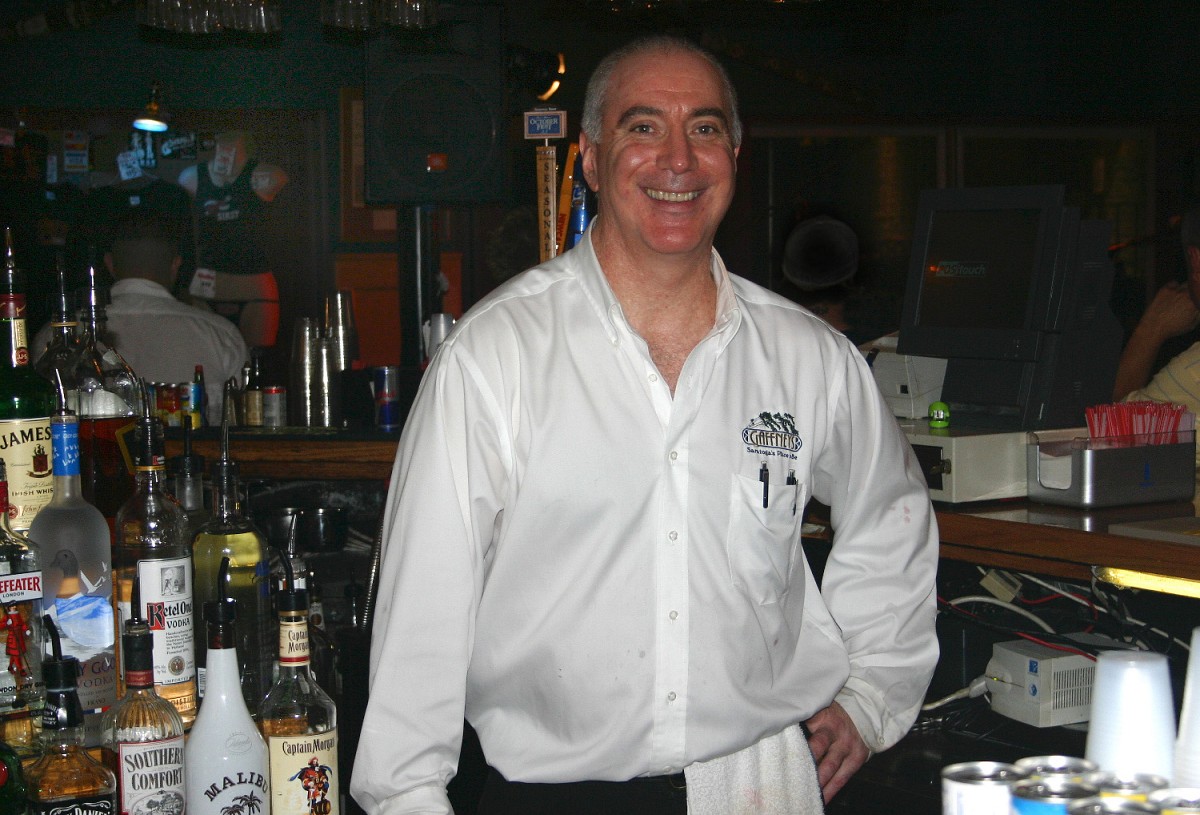 Ross Kelch - Bartender at Desperate Annie's of Saratoga Springs, NY
Q: Where's the best place to build a bar in a home?
A: The basement. It's more private, you can get louder and have a less chance of disturbing the neighbors.
Q: What should it be built out of?
A: Cherry. With a Jager machine. One seat - I don't want a whole bunch of people mooching and I don't want to have to bounce at my own bar. So I can have some company while I stay behind the bar and drink.
Q: If you were stuck on a desert island with one tool, what would you take?
A: For a wino I guess a bottle opener. I'd bring a water sanitizer to have fresh drinking water. Like a pump that brings in salt water in one end, and filters fresh water out the other. I guess working the same as a Brita filter. Water is the essence of life, right?
Q: What's your sign?
A: Pisces, see I'm a fish. I like water.
Q: What would you do to make a bar more like home?
A: The thing about home is comfort. So, being polite and listening to them makes them not long for home. To make them feel comfortable. They don't want to be sitting somewhere feeling judged. It's about me just being non judgemental and polite; making them not want to go home.
Q: What is the coolest home bar you've seen?
A: My friend Chris Z's. He really took time and built a really nice bar and stocked it up, like a real bar. Flat screen TV, not huge, right there for you to watch. I feel like I'm at a real bar and then I can just take a few stops and go to sleep.
Kevin J. Rogers - Bartender at Gaffney's of Saratoga Springs, NY
Q: I would like to build a bar in my home, where is the best location in my house for that? Why? What should I build it out of? Any special designs or features on it?
A: Most modern home bars are located in a game room or finished basement, and I think that's a good place for them; you can have a lot of fun in a room with, say, a pool table or something like it, a big screen TV, and a well-stocked bar. And it's a good idea to place it in a room with a lot of open space if at all possible, since it's bound to attract a lot of traffic if you're hosting a party, especially a large party over the holidays or on a special occasion. The traditional material for a bar is mahogany, at least the bar top, but that can be awfully expensive, and most home bars are now made either of cheaper woods or marble or even formica , which can be made to look like marble. The best home bars are "wet" bars, which means they have a supply of running water, and sometimes even a small working ice machine. It's a good idea to have a small cooler behind the bar, too, for stocking perishables like milk and for keeping cut fruit fresh when not in use. (A good guide for stocking and supplying a home bar is "The Ultimate Bar Book" by Mittie Hellmich - very worthwhile.)
Q: If you were stuck on a desert island with one tool, what would it be?
A: A Swiss Army knife - it really does have 1001 uses. But if that's "cheating," I would have to say a screwdriver, since it can double as a hammer, as long as the handle is heavy enough; a grout; a knife, if you sharpen it. Plus you can write "HELP" on the beach really legibly with it.
Q: My old house has a mildew problem on the back side. The gutters fall down from the snow, the siding is rotting, there's an underground cement space where rain water is collecting, possibly from when people made big blocks of ice. A couple rooms have mildew problems to the point where the carpet is wet on the back wall, and nothing is dripping on it. What should I fix first and how?
A: I would fix the gutters and siding first, since that's probably where the excess water is coming from, and it wouldn't make sense to fix the other problems if they're just going to reoccur. Although it may be that once you look at the gutters you'll find that the real problem is a leaky roof - if that's the case, fix that first. Usually re-shingling it will do the trick, and that's fairly easy to do.
Q: Some people spend more time at the bar then they do at home. What would you build to make a bar more like home?
A: The "homiest" bars are always done in earth tones, with a lot of well-polished wood and a large mirror behind it. Mirrors, by the way, serve a dual purpose in bars: one is to give the bartender "eyes in the back of his head," the other is to make the space feel larger. Bars that are overly bright, garish, or gaudy are far less comfortable. Unless, of course, you live in a tropical area - I do not - in which case the opposite is true: you would want a Toucan Sam color scheme, since earth tones and dark woods would seem dull and out of place. The point is to make a bar suitable and appropriate for its surroundings and its purpose, whether it be a commercial bar or a home bar intended for personal pleasure.
Q: What is the coolest home bar you have seen? Please describe.
A: Probably my good friend Tony Frank's. He built his house to spec and included a large sunken living room in the back of the house, with a fireplace, French doors leading out to the yard, the requisite big-screen TV I mentioned earlier, and a wet bar tucked neatly in the side of the room. Tony and I tended bar together for many years. It was his part-time job - he was a teacher by profession, and a very good one, so he knew exactly how to design it, stock it, and set it up, with all the features I mentioned earlier. And I can tell you, we have had many fun times in that room, especially during football season. A well-designed bar can really add a lot to the social dimension of your home.
Julie Ernst - Bartender at Clancy's of Saratoga Springs, NY
Q: Where is the best place in my home to build a bar?
A: In the basement, because it's extra space. Some friends of mine have a bar and pool table in their living room and that's too much.
Q: What should I build it out of?
A: Wood. I don't know...oak. Put a brass bar on the bottom for people to put their feet on, like a pipe. I'd make it shiny on top with a poly coat. If it was mine I'd put collectable items underneath the surface with the shiny coat on top. Make it personalized with concert tickets or something. I like to read so I'd put book covers on it, mystery novels. I like to read so much I know my library card number by heart. I still have my first library card from when I was a kid.
Q: If you were stuck on a desert island with one tool, what would you take?
A: An axe. You can dig with it, kill with it if you have to, cut up food. I'd sharpen it on a rock or sand.
Q: Some people spend a lot of time at bars; how would you make a bar more like home?
A: Free jukebox! To have music available. Not couches, you never know whose been sitting on it and that would be gross. Good chairs, 'cause some rock because they're missing a foot. Put hooks under the bar so women can hang their purses on it.
Q: What's the coolest home bar you've seen?
A: My sister's in Florida. She has an outside bar her husband made. He's a cook and restaurant owner. It's like a cabana with a reed roof. There's a grille built in the deck so you can cook and serve drinks at the same time. They have palm trees by the pool. He built a smoker out of a refrigerator. It stands up, is lined with stainless steel, you light a fire at the bottom and there's a chimney at the top.
Looking for a Pro? Call us at (866) 441-6648