7 Cheap Cheerful Home Improvement Hacks For Kitchen And Bath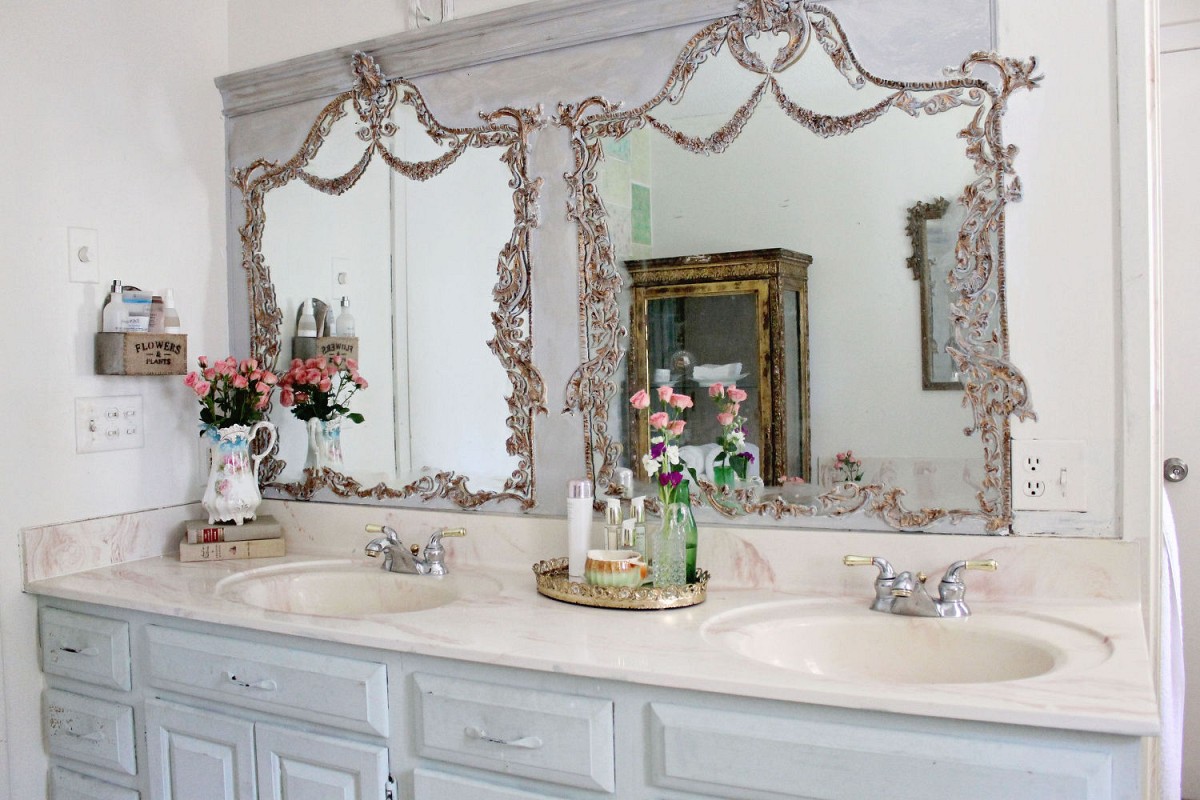 Does this homeowner scenario sound familiar? Your bathroom or kitchen is looking awfully drab and in your heart, you long to go ahead with a complete remodel. However, your bank statement tells you otherwise ... as in, "Right now, cheap and cheerful is all you can afford." Don't worry. Here are 7 great ways to achieve a high class, low budget look, with our home improvement hacks for your kitchen and bath.
1. Create a contemporary "Comfort Height" vanity. Would you like to upgrade your standard 32 inch bathroom vanity to a more contemporary, comfortable height of 36 inches or so? Here's an easy, affordable solution for you: don't trash the cabinet … raise it. Mount your existing vanity on a base built out of 2x4s and covered with trim board. BONUS: Besides saving the cost of a new vanity, you'll be keeping one more item out of our landfills.
2. Modernize your wall mirror. Do you have one of those gigantic bathroom mirrors that just scream "I'm from the Nineties"? Those babies tend to be so firmly anchored that removal might tear off half the wall, as well. Instead, use your creativity to transform a monster of a wall-to-wall mirror into a sweet mild-mannered wall mirror, by framing it with paint and appliques, rustic wood, stick-on beveled edging, or tiny, colorful mosaic tiles.
3. Install a classy pass-through, paired with inexpensive countertops. Replace your meh kitchen pass-through with granite (a remnant should be big enough for this project and won't cost the earth), then install new laminate granite-look countertops that fool the eye by picking up the colors of the natural stone. I saw this trompe-l'oeil trick in a condo in my building … which, at this very moment, is on the market for big bucks.
4. Touch up that old tile. Your shower or wall tile may have started losing its luster after a few years of hard wear. But that doesn't mean it has outlived its usefulness -- unless it is seriously cracked or chipped. Professional tile reglazing is a wallet-friendly way to preserve the tile you love – or to recolor the tile you're not so crazy about. And don't forget the fresh, clean difference tile regrouting can make.
5. Give your cabinets a facelift. Paint, stain, or whitewash your kitchen cabinet or bathroom vanity for a facelift that will enhance the appearance of the whole room. This works wonders to brighten up a formerly gloomy space. While you're at it, add some molding to replicate the effect of pricy custom cabinetry. For the finishing touch, replace your outdated hardware with pulls or knobs that are a little more this century.
6. Build a better backsplash. Here's a fun project for DIY newbies and old timers alike: Install an imaginative, practical backsplash. Some of the best are also amazingly low budget and simple to put together. Why not experiment with a backsplash crafted of stainless steel tile, sheet vinyl flooring, or wood shims? Or try your hand at a truly unique faux copper look made out of … (wait for it) … painted aluminum foil!
7. Float the flooring. Save time and money on installation of a new kitchen or bathroom floor. Floating flooring (try saying that 5 times fast) eliminates the hassle of demolition and removal of your old floor material; instead, it's just placed right on top. Choose from a wide array of special floatable planks of laminate or vinyl, or tile made from ceramic or cork. CAVEAT: In both bathroom and kitchen, either make sure that the flooring of your dreams is waterproof … or have it well sealed.
Laura Firszt writes for networx.com.
Updated August 30, 2018.
Looking for a Pro? Call us at (866) 441-6648