---
The Snapshot
Why did you look for a contractor?
Assembly of the media console I bought for my sons' room.
Why did you choose this particular contractor?
He was the first to respond and his online reviews were very positive.
How do you feel about the results?
It's great!
If a friend asked you for a referral, what would you say about this contractor?
Oh my gosh! I would recommend him to anybody. This guy's an ace. He gets 5 stars for everything.
The Full Scoop
We had no idea our project would be so complicated. The media console that we ordered for my son's room was beautiful and got great reviews. The picture looked so simple we thought it would be a snap to assemble in our new apartment … until the box actually arrived.
It was ginormous!
The package weighed 132 pounds. The console is a very well made piece, so it's heavy, solid wood with a steel frame and over a hundred little parts and screws.
I tried to put it together myself but it was horribly difficult. My son and I even got it out of the box wrong. Finally I said, "Okay, there's no way I can do this." So then I went online and was given the names of 2 or 3 contractors. Mr. Cunningham of JCC Inc., contacted me right away, literally that night.
First he asked me to send any information I had about the console, such as the instruction sheet. When he made a quote it was so very low that I was understandably nervous. We live in Manhattan, where nothing is cheap. I decided to take a chance, though, especially because he told us he could do it the next day, which was Saturday; I was excited about that, since we're in the middle of moving and this made things a little easier. I looked at a few of his online reviews, as well, and saw that he had a 4- or 5-star rating.
Saturday morning he showed up punctually, just like he said he was going to. I felt sorry for the guy. He took a long time to assemble it, because it was a very complex piece. But he's a really talented man and he put it together perfectly. He was also a lovely person. My husband and I were completely blown away!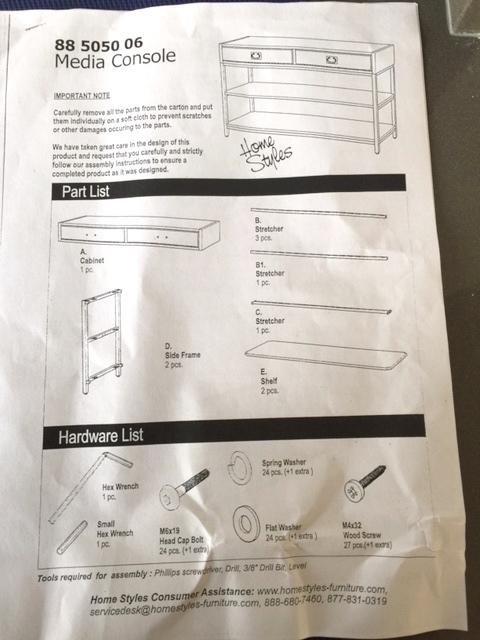 He's somebody I would use again. He and his wife run a kind of mom-and-pop store, which I love. It's a carpentry business so he obviously does know his craft.
Several things stand out about my experience with this gentleman:
He was reasonably priced. It's hard to get people to do the small things and sometimes the small things can be exorbitantly expensive, but his price was cheap considering how complicate the console was.
He was really accommodating of my busy schedule during our move to the new apartment. His willingness to come in and do the job on a Saturday was really great.
Once he finished with the console, he went the extra mile. Moving furniture wasn't part of the job, but he carefully moved my son's TV from its temporary position on a side table. Then he placed the side table next to the bed and stood the bedside lamp on top of it.
What advice would you give to other homeowners based on your experience?
When you look for a handyman, check the reviews. And if you get great service, write your own review.