---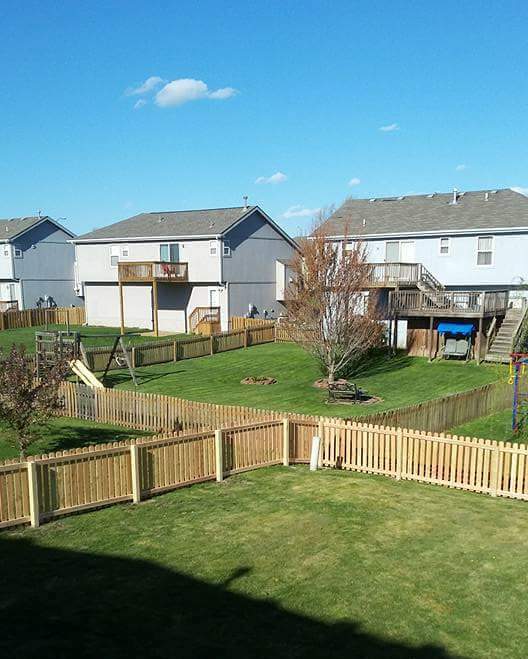 We've been in this house only about 5 months and we have a large Labrador retriever. We were putting him on the stake but he wasn't getting enough exercise so we had to do something. We decided to get a fence so that he can run around.
To find a contractor I actually just Googled on the internet "wood fence in Kansas City MO" and Missouri Fence and Supply came up third or fourth. I work in construction and I knew I didn't want anybody commercial, but I had to have someone who was licensed and bonded so I started calling the Google results.
The first 3 people I called all came out the same day and estimated the fence. They were all there about 30 minutes apart, but I liked Shane, the owner of Missouri Fence, right off the bat. It was my first time meeting him, but he was so personable. He treated me like he'd known me his whole life and I felt comfortable. He let me walk with him while he did measurements and we talked about our kids and our dogs.
Then the next guy showed up and while that guy was measuring, Shane just sat down and wrote the estimate out.
I work for a general contractor so I also knew of two fencing contractors through work. Instead of having them come out and estimate, I actually just sent them the measurements and the type of wood Shane had quoted me and still neither one of them could come close … and there are not too many contractors I really would trust. Plus a lot of them won't even do residential, especially this time of the year. They're too busy doing commercial.
Going into the project, all I knew was that I wanted a wooden fence. My neighbors had just gotten a new fence but Shane told me that they used really cheap wood and they had their pickets spaced too far apart. He told me that the best kind of wood was cedar and I should have my pickets 2 inches apart. He guided me all the way through it.
The first thought in my head was, "This guy's trying to rip me off. I can't afford the best wood and who cares how far my pickets are." But still … both of the other guys picked a cheaper wood with a 4 inch spacing – and they were still $1000 higher than Shane.
He knew what he was doing. He was there the day he said he'd be there and he was done the day he said he would be done. His dad was helping him and he had a couple of laborers. They came in the first day and put in the concrete; then they came back the second day and by the time I got off work that night they were just finishing up.
They cleaned up after themselves amazingly – you wouldn't even have known they were there. We had removed an old privacy fence that was just around the patio when we put up this new fence and he had already hauled all that stuff off. Then he took all the extra dirt and placed it around where the holes had been for the privacy fence. It looked awesome!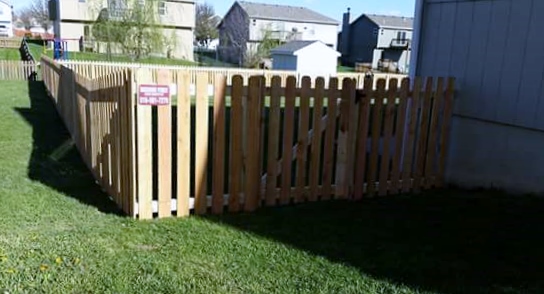 Shane explained to us that you can't stain the fence for the first year because wood holds moisture and so it would just soak it in. He told me to mark the calendar to call him in one year and he'll come out for the fence-staining party.
It's kind of hard to tell how great the fence looks from the pictures because I took most of them standing inside the yard. So really the pretty part is on the other side. He does that so that when the people are looking at the house they see the nicest part of the fence.
Shane's a great guy, he's got a great company and I would recommend them to anybody. I don't think I could have found anybody better if I tried. In fact I put him on our bid list at work, although he's so small that he can't really do giant commercial work like we do. I know he's gotten 4 or 5 jobs in our neighborhood because I posted pictures of our fence on the Facebook page for the subdivision where we live.
If you're planning to hire a contractor, definitely make sure that he is insured and bonded, and look at his experience. I researched it pretty thoroughly. I wanted to make sure I wasn't going to get somebody that would show up and then never finish the job. I made it very clear that he was not getting one dime until the job was done and he was perfectly fine with that. So make sure you don't have to pay your contractor until the job is done and the quote is set in stone. Don't pick the first guy that comes along or necessarily the cheapest, because cheapest ain't always better. Even though it was in my case, I got lucky.