Main Services: Residential, Commercial, Agricultural Fence and Railing; Fence Supplies.
Description: We are a fence and fence supply contracting company located in the Kansas City region. Our professionals install residential, agricultural, and commercial fencing and railing. We pride ourselves on providing high quality materials for long lasting fences. Our company is licensed and insured. We offer free, no hassle quotes at convenient times for home and business owners. Our employees are knowledgeable, courteous, and above all, professional.
See More
2 Reviews
Review Me
Work Description: 4ft wooden fence
Comments: There are not enough kind words to describe the workmanship, the fence and Shane. The experience was great and I wouldn't recommend anyone else!!!
Work Description: Installing 4ft wooden fence on back yard and tearing down existing privacy fence.
Comments: Shane is a great guy and they are an awesome company. They have not started the project yet, but he impressed me from the get go. By the time he was done measuring and estimating for my new fence, I felt like I knew him for a lifetime. Amazing guy!!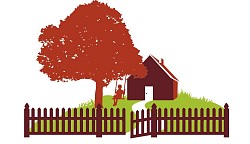 Thank you very much Lori G. We are looking forward to installing your new western red cedar fence!