---
There was a problem with my outdoor kitchen. I have a kitchen in my backyard and the lights stopped working over the stove and sink area.
We had tried pushing the reset button but it had no effect on the lights. Then we contacted an electrician to come out and take a look. He tried the reset button with the same result … nothing!
Finally I got desperate enough to call in another electrician, M&M Electric. He came by, did a few little checks, and finally flipped the reset switch. The lights turned on!
I was so embarrassed. I can only assume that water had gotten into the electrical wiring and caused it to shut down. Then, because it's been so hot here in Antioch – in the triple digits (!!) – the sun must have eventually dried out the moisture that was in the system.
So by the time I got the electrician to come out, it turned out that he really didn't have to do anything. He just flipped the switch and that was it. Bless his heart, he didn't charge me anything, either.
He was very kind and said that he had come out to give me a free estimate anyway. I felt really bad. If I'd thought about it, I would have offered to give him something for his time.
It was fantastic service and I want it to be known that he was excellent. He gave me some great advice. He also told me an important fact: if a contractor is licensed and bonded, they're required by law to give us their business card. You want to make sure you get that before you let anybody look at your stuff, whether it's an electrician, a plumber or whoever it is. (The last electrician that came over never gave me a business card -- never even offered -- though he said he was licensed.)
I took his card and said I will tell all my friends to call him and use him.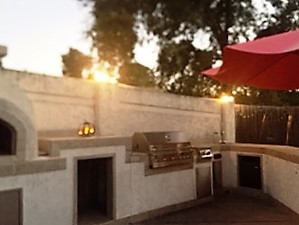 Save