What's Your Interior Design Style? A Quiz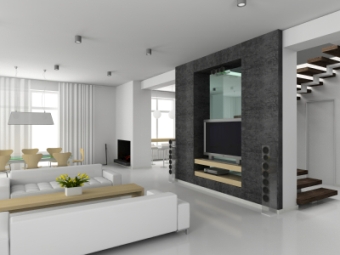 What's your interior design style? If you're either country casual or city sleek, the difference is extreme and you're fairly easy to describe. But what about if you are transitional? And what does that even mean? Your interior design style is a hard thing to define, but understanding your likes and dislikes, and knowing how to describe them, is Step 1 to a successful new design plan. The following highly unscientific quiz will help you get to know your interior design style.
1) What is your favorite wood?
a. Red oak
b. Knotty pine
c. White oak
d. Wenge
2) What kind of wood finish do you prefer?
a. Stained
b. Painted
c. Hand waxed
d. Polished or lacquered
3) What kind of material do you like?
a. Leather
b. Denim/cotton
c. Linen
d. Ethnic prints or solid textures
4) What type of kitchen appliances do you prefer?
a. Hidden under cabinetry panels
b. White or black
c. Custom colors
d. Stainless
5) What is your favorite lighting?
a. Handcrafted sconces and floor lamps
b. Table lamps
c. Lanterns and chandeliers
d. Subtle, indirect or cove (recessed) lighting
6) What kind of flooring do you prefer?
a. Wide pine floor
b. Stone floor
c. Parquet wood floor
d. Bamboo or exotic woods
Of course, there are no hard and fast rules to determining an interior design style. We all have specific likes and dislikes that may be as arbitrary as our favorite color. Where in the world we grew up or would like to travel tends to affect our design styles.
There are no rights and wrongs, except when we feel we "should" prefer a certain interior design style. For instance, a big strong man can prefer a more refined European style just as easily as a feminine woman might prefer a strong classic Arts and Crafts style. By breaking a particular style down to its basic elements -- without labels -- we may be surprised by what our individual inclinations indicate.
So, look at the choices you made above. If you circled more As than anything else, that means a Craftsman interior design style is for you. If you went for Bs, the country look appeals to you. Cs indicate a preference for a Euro-rustic look, and Ds point toward a contemporary leaning. If your choices were split more evenly, you have an eclectic side to. Read on to find out more about your interior design style.
A. Craftsman Style
Craftsman style is defined by its handcrafted appeal. Dedication to artisanal carpentry and craftsmanship, together with all-natural materials, is a highlight. Exposed woods, hand-tooled leathers and sturdiness are all elements of the Craftsman style.
B. Country Style
Country style is defined by a mixture of natural and painted woods, vintage furniture, cotton and denim fabrics. These are sturdy, durable and livable spaces that seem to have been "collected" over time. Visions of crisp cotton sheets flapping in the breeze and the smell of apple pie cooling in the window come to mind with country style.
C. Euro-Rustic Style
Euro-rustic style is all the rage right now, and it's easy to see why. Soft linens, elegant furnishings and classic chandeliers are being combined with slightly rusticated industrial pieces and cozy grainsack pillows for casual Continental appeal. Calling to mind old-world manor houses and slightly washed-out elegance, the Euro-rustic style is a classic.
D. Contemporary Style
Contemporary style comprises clean lines, sleek finishes, uniformity and drama. Exotic woods, gleaming fixtures and polished surfaces evoke a modern feeling of speed and lightness. Art Deco, the beginning of the modern era of design, was all about speed and forward motion, which is still a prevalent attitude of contemporary style.
Eclectic Style
Of course, most of us are a combination of more than one specific design style. This mix of styles can be described as eclectic. Eclectic style is a combination of different pieces and styles that the homeowner truly loves -- not just a random mix of mismatched elements. Elegant classic elements mixed with modern lighting and rustic furniture can combine to create a very personal space that is comfortable and not slavish to a specific style.
Whatever your style, it should be embraced and loved. Our homes are truly our castles and we are in charge, whether we're in a tiny apartment or a large suburban McMansion. Make it yours and you will love to come home every day.
When working with an interior designer, it's good to have an idea of your style before you get started. If you're the eclectic type, look at our guide for arranging your furniture. If the country look is your thing, explore the options for your kitchen.
Updated August 29, 2018.
Looking for a Pro? Call us at (866) 441-6648