Polishing Concrete Options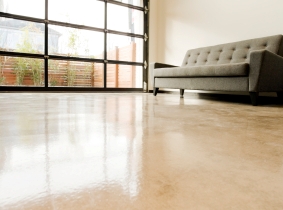 Polished concrete is a floor and countertop material that can be as beautiful as it is tough. Because it has a smooth surface, polished concrete is allergen-free and easy to clean. Concrete is a green building material since no living organisms (ie. trees) are destroyed and concrete can be ground and recycled.
The act of polishing concrete is much like sanding wood. Abrasive discs or pads grind down the concrete's surface just like sandpaper smoothes the surface of wood.
By abrading the surface of poured concrete, a dense, smooth reflective finish is created. As a result, polished concrete will bounce light around the interior space. To transform drab gray concrete to a value-added feature of your home or business, consider these options for polishing concrete.
Dry Method
Contractors and do-it-yourselfers sometimes use a combination of the dry and wet methods for polishing concrete. Unlike the wet method, the dry method does not use water. Machines equipped with dust catching systems are used to prepare the floor and remove gross bumps and imperfections.
With advances in dry concrete polishing machinery, dust is no longer a disadvantage of this polishing method. Heavy-duty vacuums remove the dust before it contaminates the area or becomes airborne. The dry polishing phase removes the most concrete and creates a smooth surface for the finishing steps.
Wet Method
This method of polishing concrete is called wet because water is used to cool the diamond abrasive materials and eliminate dust. Water also reduces the friction and heat generated by the spinning polisher, thereby extending the life of the expensive diamond and resin discs or pads.
Water makes this process somewhat sloppy, so care must be taken to cover surrounding areas that may be damaged by water stains. Because the abrasives are expensive, the dry method of polishing concrete is often used in the initial stages of grinding and the wet method is used for the finer work of creating the polished finish. Because a soupy mess is created when water is used, it can be difficult to determine when the desired sheen has been achieved.
When to Do It Yourself and When to Hire a Contractor
Polishing floors can be done by the do-it-yourselfer with a rented polisher and plenty of time. The advantage of hiring professional contractors is that they know how to prepare the floor and how to identify which cracks need to be filled and which ones will be remedied with the polishing process. They also know when to switch to the finer grinding pads, thus extending the lifetime of the most expensive materials. Additionally, concrete can be stained for a custom design feature. Professionals know when to add the stain and how to finish the floor for long-lasting beauty.
When it comes to the artistic flair of creating polished concrete countertops, it is best to hire a pro. Creating the form for the countertop and selecting the right materials is best left to the artisan familiar with the complexities of this art. Poured at the final location or at the artist's studio, most concrete countertops are comprised of lightweight aggregates and even recycled glass. Handheld polishers can be used to achieve the desired sheen.
Polished concrete is not only an eco-friendly choice for many property owners, it is virtually maintenance free, it's easy to clean and will last for many years. No longer limited to dull gray finishes, polished concrete can be stained for custom looks and brighten any space.
Looking for a Pro? Call us at (866) 441-6648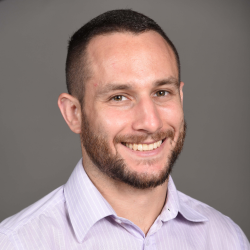 Top Cities Covered by our Concrete Contractors