The Greenest Ways to Dry Your Clothes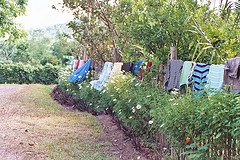 When you're trying to live a greener lifestyle, it's helpful to take a close look at all your daily activities to evaluate their environmental impact. You may be surprised to learn that drying clothes in a standard electric clothes dryer accounts for a whopping 6 percent of the average household's electricity use. Here is a round-up of ways to use less energy (and save money on utility bills!) drying your laundry.
Choose a lower energy dryer. Both gas and electric dryers use electricity to turn the drum which rotates your clothes, but they differ in terms of the energy source for the actual drying heat. Gas dryers are more energy efficient and thus cheaper to run than most electric ones. However, gas models come with a higher purchase price plus an additional charge if you need to install a gas hookup to your laundry room. New electric dryers with condensers or heat pumps may consume less energy than their more traditional counterparts, which expel moisture via a venting system. Before purchasing a new machine, check labels and compare energy consumption figures.
Station your dryer in the optimal environment. Find a savvy handyman to set up your dryer in the right spot. Your dryer will be able to perform its best if it's not placed in an unheated area, such as a basement. The machine's location should be dry and well ventilated, too. If you own a venting model, have it vented it to the outdoors.
Keep your dryer clean. Regular cleaning of the lint screen removes dust – a fire hazard – and lowers your machine's energy consumption by 30 percent. In addition, you will need to scrub the screen monthly to remove film buildup if you use dryer sheets, although you may prefer to switch to greener reusable dryer balls of rubber or felted wool. The vent hose should be cleaned occasionally as well.
Load properly. Use a high speed spin cycle in your washing machine to extract more moisture from your laundry before you even move it into the dryer. Make sure clothes are not bunched up, as this will slow drying time and increase energy consumption. Similar weight items such as lightweight synthetic tablecloths or thick jeans should be loaded together. Try not to run an energy-wasteful partial load, but stay away from overloading, which slows down the machine.
Run efficiently. Whenever possible, dry several loads in a row, progressing from delicates to the heaviest clothes. This way you will benefit from the heat of previous loads. Set the Auto Moisture sensor to automatically turn the dryer off when your clothes are dry. Remove anything that you want to iron while it is still slightly damp.
Use the sun's power. Drying your laundry on a line outside is the greenest way of all. You don't need to wait for a summer day; temperature is less important than sunshine and a breeze. Hang the clothes by their edges and spread them out for faster drying. Though it has yet to catch on among the majority of Americans, outdoor clothes drying has many advantages beyond its energy savings. This method is easier on your clothes, causing less wear and tear, shrinkage and static cling. It even kills dust mites, bacteria and fungus, and adds a fresher smell than any fabric softener.
Hang clothes inside if your local climate, HOA or city ordinances restrict you from using the great outdoors. Choose a well ventilated space and open the windows wherever feasible. If you live in a humid state like Florida, try turning on an energy-efficient ceiling fan to help laundry dry faster – even with the fan you will still save on your St. Petersburg electricity bill. Use a freestanding dryer rack or build one permanently into your laundry room; a foldable or wall-mounted rack is very practical.
Laura Firszt writes for Networx.com.
Updated May 29, 2018.
Looking for a Pro? Call us at (866) 441-6648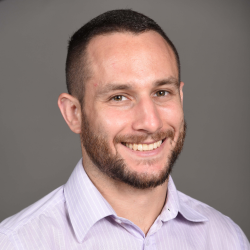 Top Cities Covered by our Electricians