Installing Smoke Alarms: Where, How and Why?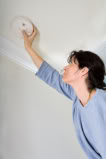 The "why" is obvious. The importance of smoke alarms is no secret. They are proven to save lives by providing an early warning in the event of a fire. While most US households have one or more smoke alarms, they are not always enough, nor are they always installed properly. In fact, according to the National Fire Protection Association (NFPA), "A 2004 survey found that 96% of US households had at least one smoke alarm, yet in 2000-2004, no smoke alarms were present or none operated in almost half (46%) of the reported home fires." Here's how to install smoke alarms the right way.
How Many Smoke Alarms for a Home?
The general rule of smoke alarms is that there should be:
One in every bedroom
One at the top of each stairwell
At least one in the basement
Every level in the home should have at least one smoke alarm
Consider interconnecting all of the smoke alarms in your home. This means that when one smoke alarm sounds, it will cause all of the smoke alarms to sound. Interconnected smoke alarms are a good idea if you sleep with your bedroom door closed or if you have young children at home. Find a qualified electrician to help you with the installation of interconnected smoke alarms.
Where and How Should Smoke Alarms be Installed?
Since smoke rises, it makes the most sense to install smoke alarms on walls and ceilings. Ceiling smoke alarms should be installed at least 4 inches away from the nearest wall, while wall smoke alarms should be about 12 inches away from the ceiling. Install the alarms at least 20 feet from appliances like furnaces and ovens. For pitched ceilings, the alarm should be installed near the ceiling's highest point. Additionally, smoke alarms should not be installed near doors, windows or vents, as this can cause them to work inefficiently.
What Kind of Smoke Alarm is Best?
Smoke alarms can detect two different kinds of fire or smoke: flaming fires and smoldering fires. Flaming fires are detected by ionization smoke alarms and smoldering fires by photoelectric smoke alarms. The best and safest choice is to purchase smoke alarms that can detect both types of fires.
Many smoke alarms are available with special features by which you can mute the alarm (some even with a remote!) if they are triggered by cooking smoke or shower steam. Be as safe as possible by choosing a dual smoke alarm. Learn more about the ways ionization and photoelectric alarms detect smoke.
Smoke Alarm Safety Tips
Conduct a monthly test of your smoke alarms by pushing the test button. If you find yourself forgetting to test the alarm each month, then do it along with another task, such as when you pay your electric bill, to trigger your memory to test the alarm.


Replace batteries at least once a year. To be extra sure, you can consider changing the batteries each time the clocks are changed: once in the fall and once in the spring.


Replace smoke alarms every 10 years, even if you think they are still functioning properly. (The date of manufacture is marked on the back of every smoke alarm.)


Make sure to have hard-wired smoke alarms installed by a qualified electrician.


Consider a smoke alarm which uses a familiar voice to alert children in case of a fire.


Look for smoke alarms that alert via strobe lights or vibrations if anyone in your home has a hearing impairment.


Prepare your family members. Teach them what kind of signal your smoke alarms make, and what they should do in the event of an alarm.
Updated August 1, 2018.
Looking for a Pro? Call us at (866) 441-6648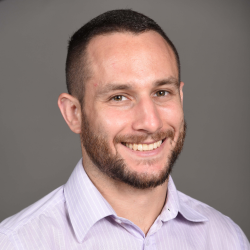 Top Cities Covered by our Electricians