Plushest Mattresses on the Market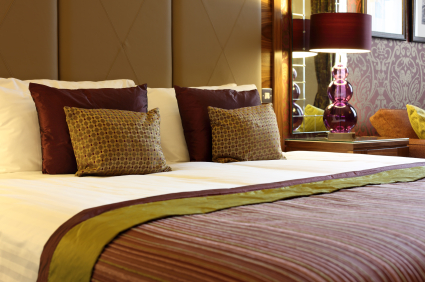 About a week ago, I pulled something in my back, and was in aching pain for days. It's gradually healing, but I still wake up with a sore back every morning. The ordeal has me dreaming of a new plush mattress. High-quality, high-comfort mattresses are not cheap, but they may be worth the price, particularly given the amount of use they will see. Over 10 years, you will probably log 30,000 hours in bed. So consider replacing your mattress as part of a bedroom remodel, large or small.
There are three main types of mattress — innerspring, memory foam and adjustable air-filled. Here are some recommended plush options in each category.
Innerspring Mattresses
The most common mattress type has a layer of springs surrounded by foam, fabric and other materials. Innerspring mattresses start at $300 and run upwards of $15,000 for the Hypnos mattress, on which the Queen of England sleeps.
The $2,300 Custom Four Seasons Ultra Plush Pillow Top is a luxurious compromise. The mattress is only sold through the upscale Four Seasons hotel chain. It is 13 ½ inches thick, including two inches of pillowtop padding. The mattress has 848 coils and 40 to 50 pounds of cotton stuffing (most mattresses have less sturdy synthetic stuffing).
A Travel and Leisure magazine writer gave the mattress his highest marks among six beds he tested at luxury hotels — not a bad way to sample high-end beds if you can afford it.
Foam Mattresses
Other mattresses replace the springs and stuffing with layers of memory foam or latex foam. Some experts say the plushest foam mattresses can't match a pillow-top innerspring, but others say quality foam mattresses provide the best sleep possible. Don't go with the cheapest foam, though, as it is likely to compress and become uncomfortable very quickly.
The Tempur-Pedic Tempur-Cloud Supreme is the high-profile foam bed company's plushest model. Queen-size mattresses start at $2,300. They are 11 inches thick, including a 2-inch Tempur-ES comfort layer. A reviewer describes it as "just like lying on a very big, supportive marshmallow."
Air Mattresses
The least common type of mattress has air chambers in place of springs. Quality air mattresses feel much like innerspring models, but the firmness can be adjusted. In addition, these mattresses are more amenable to repair than other types.
We like the Comfortaire, which earns higher marks from some sleepers than the better-known SelectComfort Sleep Number bed. It also carries less of a brand-name markup, which is not to say the beds are cheap.
A plush GS900 Comfortaire queen mattress costs $3,500. It is 14 inches thick, including a six-inch base of support foam. It adjusts to 100 firmness settings by remote control. "No bed you will ever buy will compare to this one," claims one review.
How to Choose
Even armed with specific recommendations, expect mattress shopping to be a chore. Consumer Reports says its rate of mattress inquiries is only exceeded by its rate of car inquiries. Comparison shopping is difficult, and mattress companies load up their products and marketing with confusing features and claims.
The only way to find the best mattress for you is with an in-store test nap. If your back is comfortable and you have drowned out the sales pitch after 15 minutes, you may be on the right track.
Updated June 10, 2018.
Looking for a Pro? Call us at (866) 441-6648