New Kind of Resolution: Big Chairs for Big People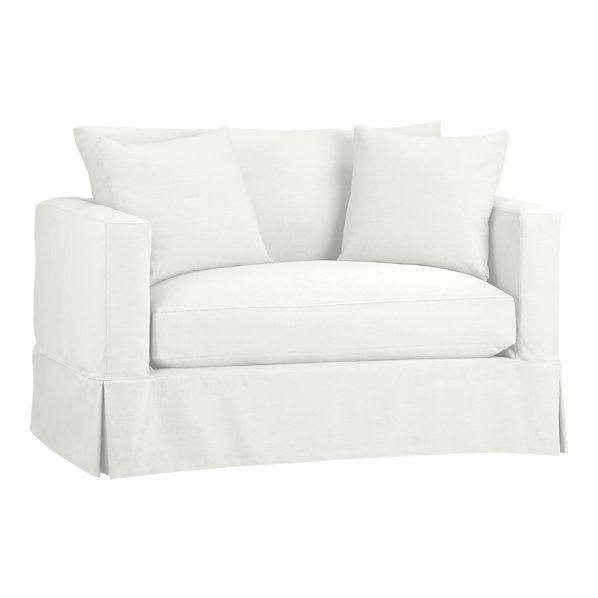 Here's a question for other people who publish websites and blogs: Why do we perpetuate the barrage of self hatred improvement articles that flood the internet this time of year? It's like, Xmas comes around and what comes next? Cute little chestnuts like this:
Build a Home Gym for Only $100! ("HERE'S ALL YOU NEED TO TONE UP IN YOUR OWN HOME" –The Nest. I also don't understand the emphatic use of all caps here. It's like they think that fat people are also nearsighted.)
Ways to Ramp Up Workouts for Holiday Indulging ("Recent studies confirm that regular exercise minimizes weight gain that comes from a fatty, high-calorie diet." – Fit Sugar. Thank you so much for telling me this. I have never heard it before and it is truly a revelation.)
Lose 2 lbs. A Week ("New year, new you!" – Self Magazine. You mean that if I lose 2 lbs I will lose my bad traits and stop snapping at people who annoy me? Sweet!)
New Year's Resolution: Creating a Fitness Area ("I value fitness more than I value having a coffee table." – Networx.com.) Oops. I was skinny and single when I wrote that. Now I'm married and donating bags of too-small clothes weekly. I'd buy new, bigger clothes but I'm spending all my discretionary income on the gym that I never have time to go to because I'm always sitting at my computer writing.
I wrote that home fitness blog because I thought I was supposed to. You know what? We don't have any advertisements on this site; Jenny Craig definitely is not paying us. The only thing I am "supposed to" do is shed a little realistic light on the otherwise "aspirational" world of home & garden content.
Guess what? A lot of people are fat. I am joining the ranks. Instead of going on a self improvement hatred rampage, I've become fascinated by fat bloggers who (gasp!) seem happy and healthy and like they don't give a rat's rump about losing 2 lbs. Instead of looking down my nose at the fat women in my neighborhood (I live in the land of, respectively, fried chicken and potato kugel. Yoga studios and colonic spas have yet to seep over the border into my neighborhood from Park Slope. No one could afford them. The average response in my neighborhood to the suggestion of subsisting on a concoction of cayenne pepper, lemon juice and maple syrup would be, "What?"), I've been thinking, "In a few years, I might look like you."
So I'll spare you the misery of reading another piece about how to Lose Weight and Feel Great! Instead, here are some big chairs for big people who actually want to be comfortable in their own (stylish) homes. They'd also be good for skinny people who like to curl up on a big, comfy chair.
The Pottery Barn Charleston Chair-and-a-Half: Classic design, and customizable with 90 (!) different choices of upholstery fabric. Nice.
The Crate & Barrel Willow Chair and a Half: This one has modern lines, but is cushy enough to be comfortable. It's also made in North Carolina with a sustainable hardwood frame. So unlike me, it's politically correct.
The West Elm Bliss Chair and a Half: Tweedy upholstery fabric and mid-century lines meet lounging bliss with this chair, proving that gentrifying brownstone neighborhoods are not only being furnished by raw vegans who spend 5 days "cleansing" after drinking 1 beer.
The Restoration Hardware Majorca Chair-and-a-Half: This beautiful all-weather wicker chair costs half a month's salary, but its square lines and squat profile are awesome. Who wouldn't want to hang out on this one on the deck with a good book?
The Jonathan Adler Kirby Chair and a Half: The upholstery choices for this densely-cushioned chair are out of this world. Also, you can push two of these together for a guest bed.
Have a great, self-accepting new year!
Chaya Goodman Kurtz is a Networx writer.
Updated December 24, 2018.
Looking for a Pro? Call us at (866) 441-6648