Eco-Friendly Toys For Toddlers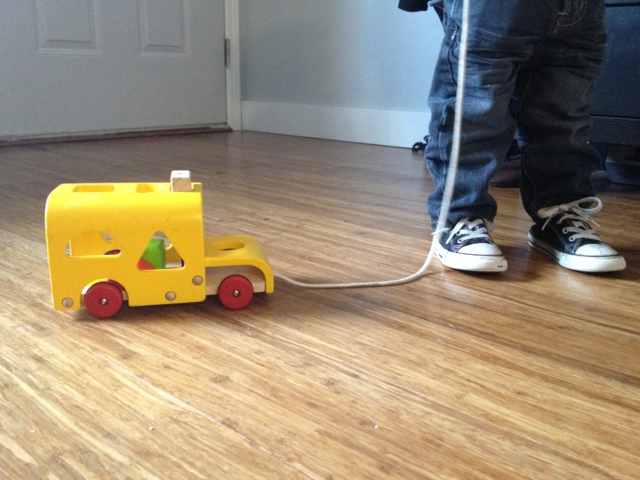 One of the greatest side effects of becoming a parent is the hope that it instills – the way that you can see the future stretching out in front of you, and how suddenly that future seems really, really important. Maybe that's why moms and dads are some of the most passionate environmental activists. They have a greater stake in the game.
The good news is that nowadays, it's easier than ever to make sure your purchase packs an activist punch. You can use your dollar for good by choosing companies who make it their mission to preserve the planet ... for example, makers of eco-friendly toddler toys. The ones below are just a few of my favorite larger operations, which are accessible to a wider audience.
1. Vehicles from Green Toys
This company is amazing, and their little toy trucks, made entirely from recycled plastic and produced in the USA, are absolutely adorable. My two-year-old son would go bonkers for these!
Green Toys gets my vote because they turn trash into treasure by recycling old milk jugs into brand new toys. The entire company operates out of California (in the San Francisco area), including manufacturing. American jobs are green jobs! And although they are made out of plastic, they are phthalate- and BPA-free.
2. Musical Instruments from Plan Toys
We have a few of the Plan instruments, and can attest to their quality and beauty. They are simple, well designed products that children just seem drawn to.
Plan Toys gets my vote because they are a company deeply committed to environmental stewardship. All of their wood comes from spent rubber trees – that is, trees that are no longer producing and would be cut down and discarded (burned) by the latex industry. They use non-toxic paints and do not use wood preservatives.
3. Ride-On Toys From Wishbone Design Studio
Wishbone bikes are the industry standard in wooden riding toys. Their 3-in-1 convertible balance bike grows with your child, transforming from a push trike to a small scooter, to a large balance bike.
Wishbone gets my vote because their company manifesto includes a declaration to "Sustainibilize Everything". This has led to a bike made from 100% reforested birch plywood with a silicone seat and organic cotton bag, a "no plastic packaging" policy, a carbon emissions offset program which certifies them carboNZero (the company is based in New Zealand), and more.
Updated November 29, 2018.
Looking for a Pro? Call us at (866) 441-6648