Designer picks: Modern candle sticks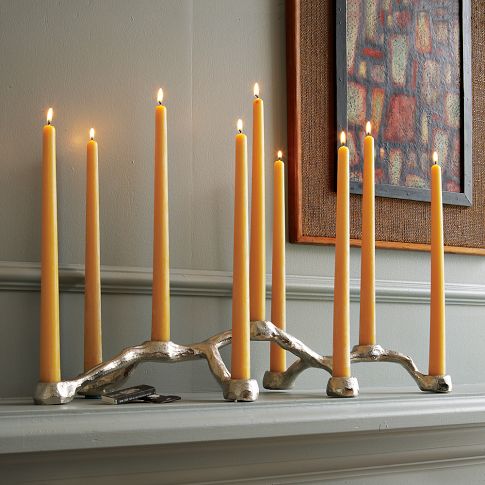 Candles have long been in use, dating back to 200-300 BC. Naturally, there was an immediate need for candleholders or vessels of some kind to contain the wax or other burning medium (such as whale fat!). Candles have long been at the nexus of function and decoration and from the earliest times, candleholders were likely decorative as well as necessary.
Since the advent of the candle, little has changed in its basic concept and candles are still widely used for the light they produce, which is decorative in and of itself. The design of candlesticks has certainly changed from the old days and here I've gathered an eclectic mix of modern candlesticks and holders that still serve a functional need, while adding to the decoration of a space.
Root Candelabra from West Elm: West Elm's Root Candelabra features both the modern touch of silver aluminum as well as the rusticity of a twisted branch. This piece is a perfect accent for fall and winter design schemes, particularly as it can stand alone in a more streamlined, modern décor.
West Elm's Rustic Cast Aluminum Tapers: Along the same lines as the Root Candelabra, West Elm also carries a grouping of Rustic Cast Aluminum tapers that can be used in many modern setting such as a tablescape or mantle. They are subtle, yet still make a statement.
Mikaela Dörfel's Double Candleholder: Scandinavian Design Center offers a gorgeous mirrored steel Double Candleholder that is inspired by dancing forms and balance of masculine and feminine sensibilities. This is a piece that is sculptural and beautiful on its own, yet also serves a functional role in the home as well.
Tair Candle Holders from Modern Tribe: The silver plated Tair Candle Holders from Modern Tribe are sleek and sophisticated with a strong European sensibility. A modern take on an age-old ritual.
Jalex Studios Heel Candleholders: These Heel Candleholders from Jalex Studios via Etsy have Lady Gaga written all over them. Made from bamboo and zebra wood, these candle sticks attract the eye for their interesting wood pattern and overall shape. It's only after a while that you notice it's actually a pair of ladies shoe heels.
McG Design Copper Pipe Candlesticks: Industrial design comes home with Copper Candlesticks from McG Design made from plumbers pipe. Infinite variations are possible for single or multiple holders. The copper can be polished to maintain the bright and shiny look of new pipe, or allowed to develop a natural verdigris patina over time.
Fused Glass Candlesticks by Virtually Glass: Virtually Glass on Etsy creates these wonderful Fused Glass candlesticks in watery shades of blue and green. These glass items are made using a kiln-formed glass fusing technique that results in a gorgeous sea glass effect.
Linda Merrill is a Hometalk - http://www.hometalk.com - writer. Get smart home & garden advice like this - https://www.networx.com/article/designer-picks-modern-candle-sticks - on Hometalk.com.

Related Articles
Looking for a Pro? Call us at (866) 441-6648