Concrete Floors and Radiant Heat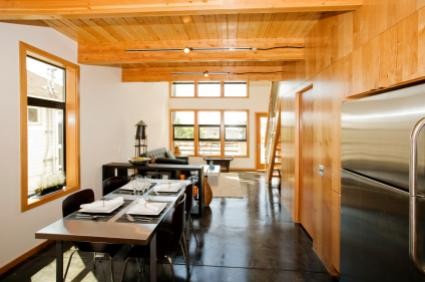 Radiant heat is among the most comfortable and efficient heating options, particularly with concrete floors. Water pipes or electric coils (or, in rare cases, air tubes) radiate heat directly into the floor. The floor is evenly warm underfoot, and heat rises into the home.
Efficiencies and Advantages
Baseboard heating similarly radiates heat by running hot water through pipes, but uses more energy in spreading heat throughout each room from the edges. Radiant heat also is more efficient and healthy than a forced air furnace. Ducts leak energy and blow dust and allergens into the room. Radiant heat pipes are invisible, reducing the need to place furniture away from heater vents or baseboards. In homes, a gas boiler typically heats water, which runs through the floors. Radiant heat also can run on geothermal or solar power so homeowners can save on utility bills and switch to renewable energy. Geothermal heat pumps push water into warmer, deeper earth and back through the floor pipes. Solar thermal panels, which are cheaper and more efficient than solar electric arrays, are an option for smaller homes. Still, a traditional boiler must supplement solar power for nighttime heating.
Sub-Floor Choices
The US Department of Energy recommends concrete sub-floors for radiant heat. With plenty of thermal mass, concrete slabs retain heat over time (like concrete driveways that remain warm after sunset). Water pipes run through the top layer of concrete, so heat is not wasted below the surface. If pipes are installed under a wood sub-floor, heat is lost below the joists. Installation is cheaper, but wasted heat translates to higher utility bills. Some companies place insulation or plywood under tubes, but wood is still no match for concrete. Water tubes or electric cables are easily embedded in concrete slabs. The same principle applies when pouring concrete over a sub-floor, but the added weight typically requires additional foundation support. A structural engineer may determine the floor will not support the weight of concrete, gypsum, or other rock.
Surface Options
Flooring surfaces also make a difference. Tiles maximize radiant heat efficiency while thick carpets and hardwood floors are least effective. Like concrete, tiles conduct and retain heat well. Thin carpets, vinyl and linoleum are secondary choices as long as they are not designed to insulate the floor. Laminate wood surfaces are better than hardwood. Thick hardwoods block the heat and are liable to shrink and split at high temperatures.
Disadvantages
Radiant heat in concrete floors must maintain a constant temperature for maximum comfort and efficiency. Just as the thermal mass of concrete retains heat, it also takes time to reach a comfortable temperature. Even if the pumps are not constantly running, they use energy when the family is sleeping or away from home. That is a non-issue with geothermal heat pumps. The subsurface temperature is constant. On the other hand, solar-powered systems use more backup gas or electric heat at night, when outside temperatures are lower.
Despite its disadvantages, radiant heat is an ecological, economical, and comfortable choice for many homes.
Looking for a Pro? Call us at (866) 441-6648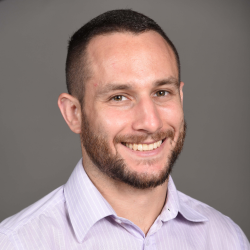 Heating & cooling Average Costs
Top Cities Covered by our HVAC Contractors