What's The Best Way To Clean My Bathtub?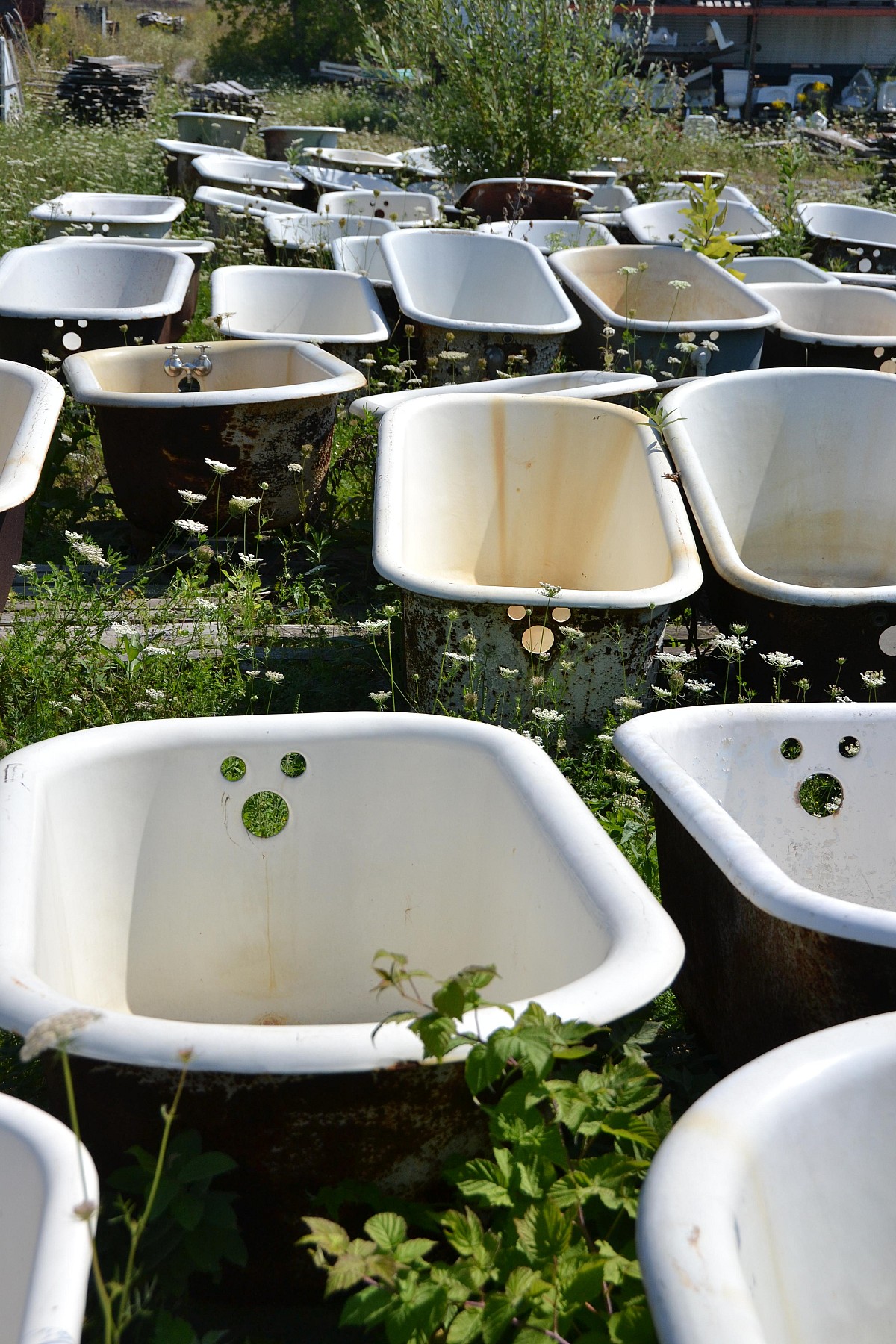 The definition of bliss: a luxurious soak in a hot, bubbly bath. The definition of misery: cleaning the dirty, grimy bathtub that results. Who else hates cleaning the tub? Just about everyone, from what I hear. That's the reason I decided to do some hands-on research into the best way to clean a bathtub. Here's what I found.
Where does that scuzz on the tub come from?
Understanding why the tub gets so filthy might make it simpler to tackle the task of de-filthing it. After all, it really doesn't seem logical. If you shower every day, aren't you immersing an already clean body in that deliciously scented bath? Well, hate to break it to you, but the scent may be part of the problem. That unsightly gray scuzz is a witches' brew of residue from bath oil, hair conditioner, or similar products, along with soap scum and dead skin cells. If you live in an area with hard water, you're spicing up the mix with a little limescale, as well.
What actually is the best way to clean a bathtub?
My personal bathtub (fiberglass, with a non-skid pebbled bottom) seems ingeniously designed to trap dirt – in other words, the perfect subject for some serious experimentation. So I spent a morning trying out different methods, to determine the best way to clean my bathtub.
Melamine sponge. I'm a huge fan of melamine sponges (AKA "Magic Erasers"), which seem capable of removing all kinds of spots and stains. However, the prospect of kneeling on the cold, hard tile floor while I slowly hand-scrubbed the entire surface of my tub was intimidating, so I regretfully moved on.
Broom plus dish liquid. Always on the lookout for an easier, softer way, I liked the sound of this tip: spritz the tub with dish liquid (to remove built-up grease), and then sweep it off with a new plastic-bristled broom. Not having a brand new broom handy, I used a long-handled brush instead, without much luck.
Dish liquid plus baking soda plus vinegar. By this point, stuck with a tub slathered in dish soap, I decided to go with the flow, as it were, and try adding vinegar (to combat grease and scale) and baking soda (as a gentle abrasive) to the mix. I sprayed on vinegar, sprinkled on soda, and let them steep a while before wiping the goo evenly over my bath. After leaving that for a further 10 minutes, I scrubbed down the tub to reveal a nice beige color, instead of its former shade of grimy gray.
Hydrogen peroxide. One thing that the above method did not remove was a bit of staining. A few days before, I'd tried to protect the tub with newspaper before cleaning my stove hood filter, ending up with ink marks on the fiberglass. A paste of 1 TBSP hydrogen peroxide to 1 cup of warm water took care of the stains very nicely, thank you.
Caveats
Test cleaning products on a small area of the bathtub first.
Wear rubber gloves to protect your hands.
Be careful using hydrogen peroxide, which can damage clothing and paintwork.
Rinse tub well to remove all dish soap, to avoid a slip hazard.
Preventive maintenance to keep your tub clean
Sub liquid soap or body wash for the traditional bar of Ivory or Dial. It washes away more readily, leaving less scum behind.


Switch from baths to showers … or try Japanese-style bathing – climbing into the bathtub to soak (sans bath oil, soap, etc.) only after you have already washed yourself clean.


Clean the tub after every use (some folks even clean the bath while they shower – merrily brushing or sponging away any traces of their presence. This would. Not. Work. In my home) or at least every week so grime doesn't have a chance to build up. Keep supplies close at hand as a reminder.


Ensure your bath drain is flowing freely so soapy, oily water doesn't linger on the tub surface. Clean out your drain strainer before a bath or shower, repair your drain stopper, and call a plumber to clear any clogs.
Laura Firszt writes for networx.com.
Looking for a Pro? Call us at (866) 441-6648