10 Unforgettable Toilets
You've heard the expression "toilet humor?" How about "humorous toilets?" Back in the day, the lowly toilet was a simple porcelain fixture that had little personality. Well, times have certainly changed! Check out these crazy commodes: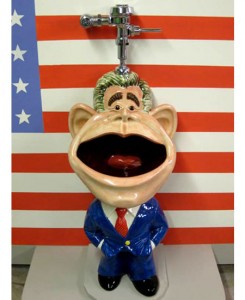 The George Bush toilet, designed by Clark Sorenson, will be funny to roughly half the voters in the US, but the half who do enjoy the joke will certainly chuckle at this toilet that puts the ex-leader-of-the-free-world in such an awkward position.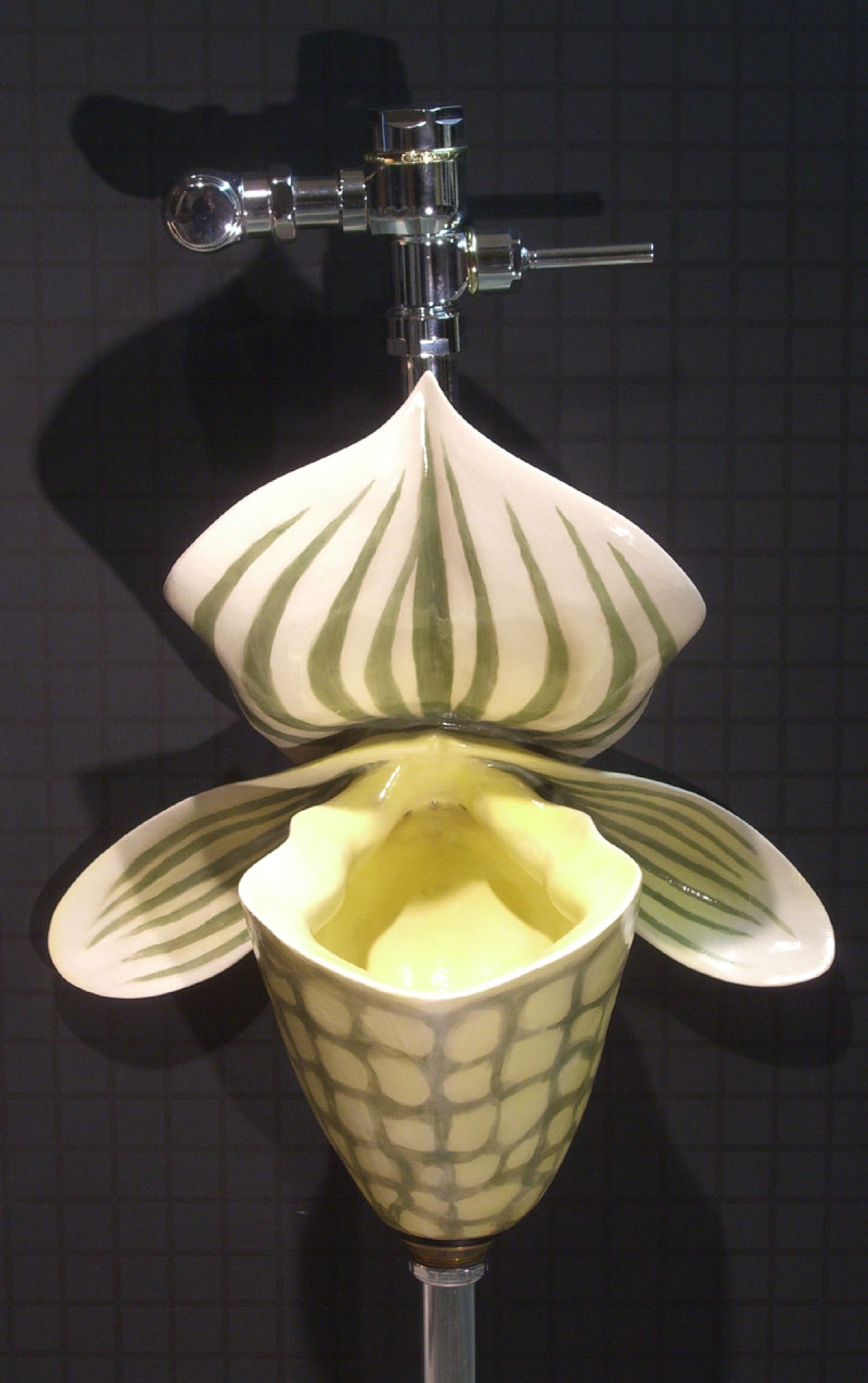 Clark Sorenson, maker of the irreverent George Bush toilet, ironically also specializes in whimsical, sculptural urinals that are truly too pretty to use. It's hard to imagine these fixtures gracing the average men's room, but one has to wonder if these unusually shaped styles will make aiming better, or worse?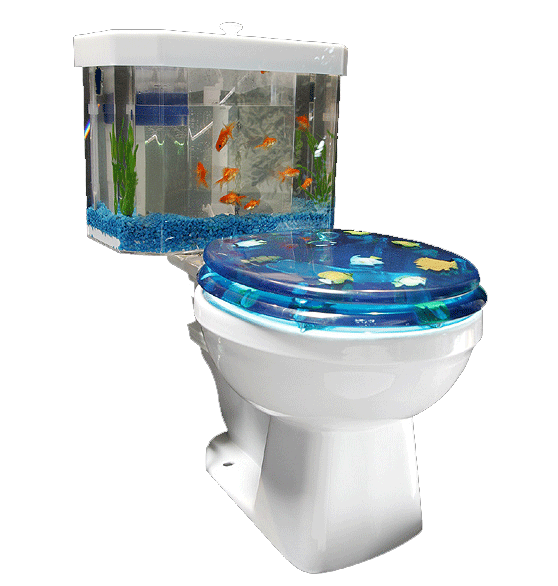 Hopefully, you don't suffer from shy bladder syndrome, as you could have dozens of tiny eyes watching you from the Fish N' Flush, a real working aquarium that is wrapped around a clear inner water tank.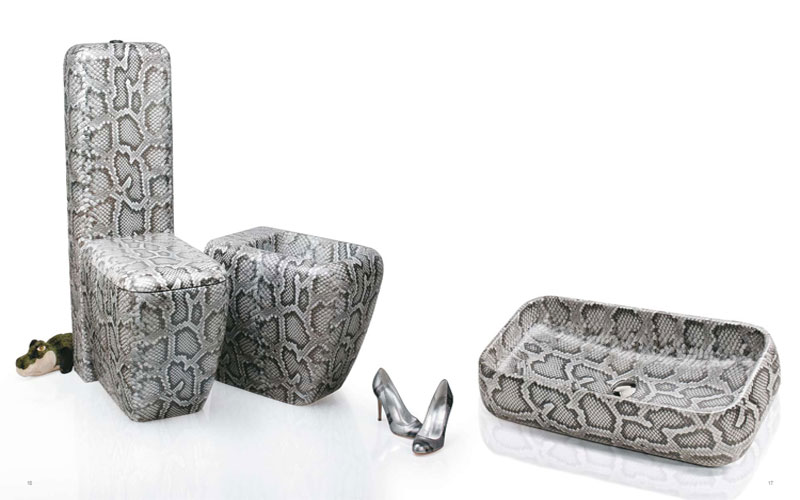 The Monty Snake Natural standing WC brings to mind James Bond, or at least a great Bond Villian. One wonders what kind of person would find a snake-skin toilet the height of fashion and style. An aggressive one, that's for sure!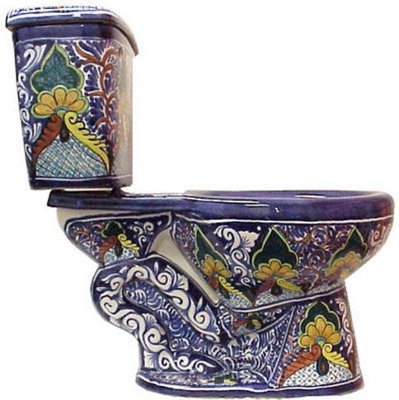 Turn your basic porcelain fixture into a work of art reminiscent of beautiful Portuguese pottery. This toilet, seen on the blog Now That's Nifty, would certainly be a focal point in any bathroom remodel, the marriage of world style with modern convenience. Not funny, just pretty.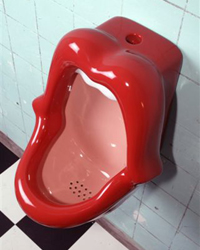 The mind boggles ... but at least the plumber you hire to install this work of, er, art will have a good laugh.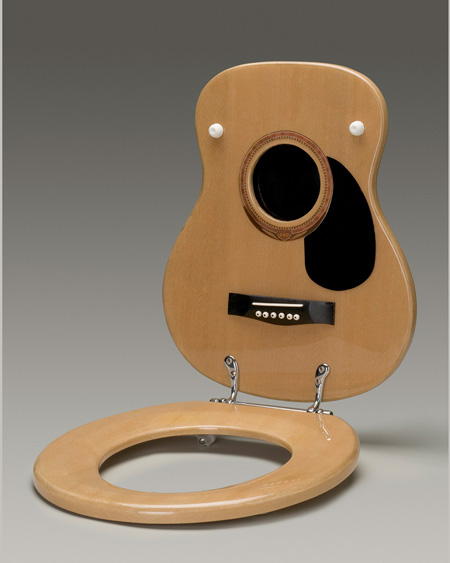 Get your rock star on with these Jammin' Johns in guitar and piano motifs. Guitar Hero Joe Perry puts his pants on one leg at a time just like the rest of us, so dream big and live like a rock star.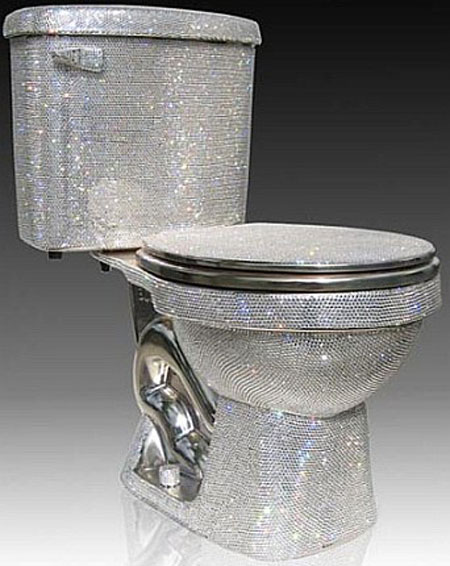 Cha-ching! Live like a Russian oligarch,or maybe just Donald Trump, and install one of these blinding Swarovski crystal encrusted toilets. You might need to keep a stash of dark shades in the bathroom with this sparkly throne!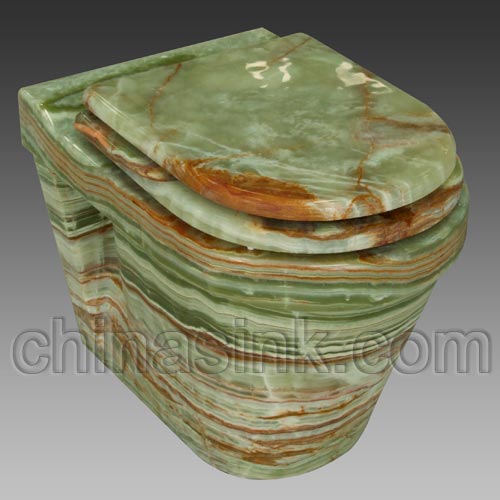 This beautiful green onyx toilet is a gorgeous example of the beauty that can come out of the earth. While green onyx is often treated to enhance the green color, the variations in patterns and shades are beautiful nonetheless. Symbolically, green onyx is said to foster achievement-good things both in and out of the bathroom.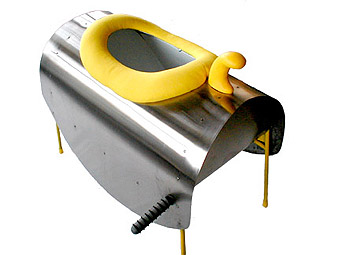 Well, the world wouldn't be complete without a rocking good time toilet. Shaped like a saddle, but made from stainless steel, this rocking horse toilet is spirited and fun, plus also apparently positions the user in a healthy position for the actual task at hand. Yippie-yi-o-ki-yay!
Updated July 29, 2018.
Looking for a Pro? Call us at (866) 441-6648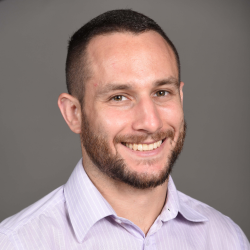 Top Cities Covered by our Plumbers