---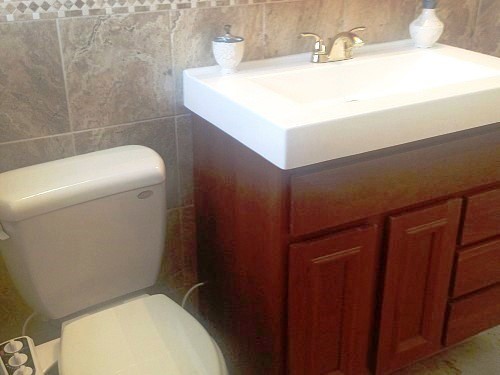 A plumbing pipe suddenly just exploded in my upstairs bathroom. It was just before Christmas and the pipe in the bathroom closet had frozen, then burst. I was panicking. The water was gushing like crazy and it took us a while to turn the main water off. The water went pouring down the stairs to the other bathroom, which was completely demolished. The ceiling and all the walls were totally soaked with water.
So I needed emergency restoration work.
The contractor I hired was professional and trustworthy. They knew what they were doing and they were looking for the customer's satisfaction first. I had some people who came and gave me an estimate which was much more expensive and others much less. Remodeling Squad seemed to be moderate and they looked out for my interests. They actually advised me, showing me which part could be fixed and which part needed to be demolished and start over. So they sounded legit, especially because they had previous recommendations.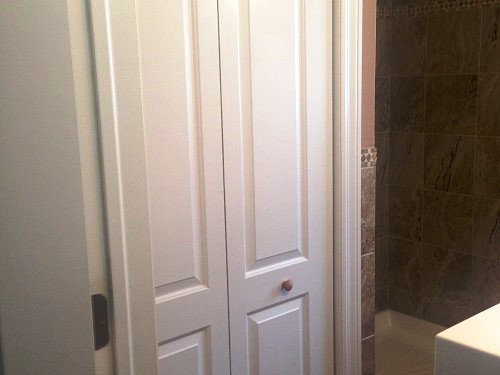 A person like me – I didn't know about remodeling, how I should do it and all that. But they actually tell you what you have to do and what's going to happen. They advise you and they give you different options. You could tell when you deal with people who are professional. I felt that I was in good hands.
When the contractors came to assess the damage in the bathroom and on the stairs and saw what was going on downstairs, they recommended demolishing it and they showed me how it was so fragile. The water looked like heavy bags hanging from the ceiling. It was kind of scary. In fact, it's still not pleasant to remember. Really, the only safe way was to demolish it and after that remodel it.
The workers brought in big fans to dry the house from the attic down. After everything had been dried, it took 2 weeks to remodel the upstairs and downstairs bathrooms. I continued living in my house while the work was going on.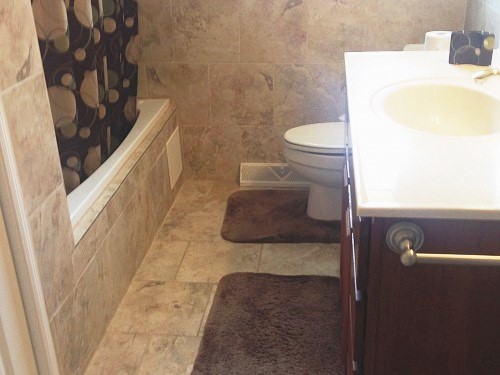 Please be aware that they did everything, all the bathroom work from A-Z:
tiles for the floor and walls
bathroom closet
installing all the vanities
painting
building the space for the electric Jacuzzi and installing it
fixing the pipes
and the electrical work after the frozen pipes.
This incident happened to me almost 2 years ago and till now both my bathrooms are still like new. They are beautiful and I love to share the pictures with people.
Remodeling Squad helped me with the insurance claim. I got a good settlement from the insurance company so I was satisfied. The money that I got from the insurance didn't cover everything, but the contractors were able to balance the budget and fix whatever needed to be fixed. I was planning to install a regular bathtub and they brought me an electrical Jacuzzi. I told myself it wasn't such bad luck to have a frozen pipe – it was bittersweet.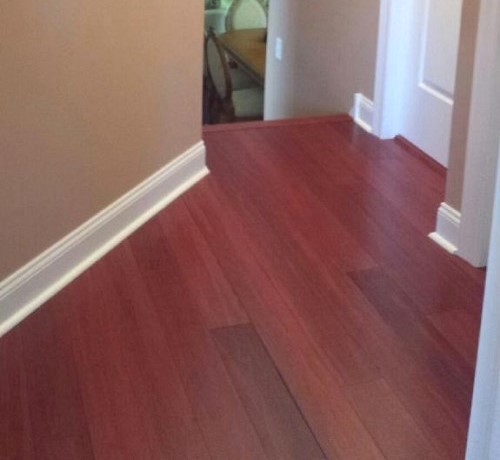 Besides the bathroom work, they fixed the stairs, the hardwood. We needed new wood for some parts, but they saved us tons of money by repairing rather than completely replacing what was there.
I was so happy with them, so happy. If I need other work for my house, definitely I will let them come and do the work for me. Absolutely. They showed me what kind of work they could do, so whatever I need, I could back them.
If you are looking to hire a contractor, do the research, ask for references, ask to see their previous work, test the person who's going to come and give an estimate. Don't just take their word and that's it. Use people who have a good reputation, especially word of mouth and especially people you know about. By doing that, you have a sense of confidence that you're hiring the right people for the right job.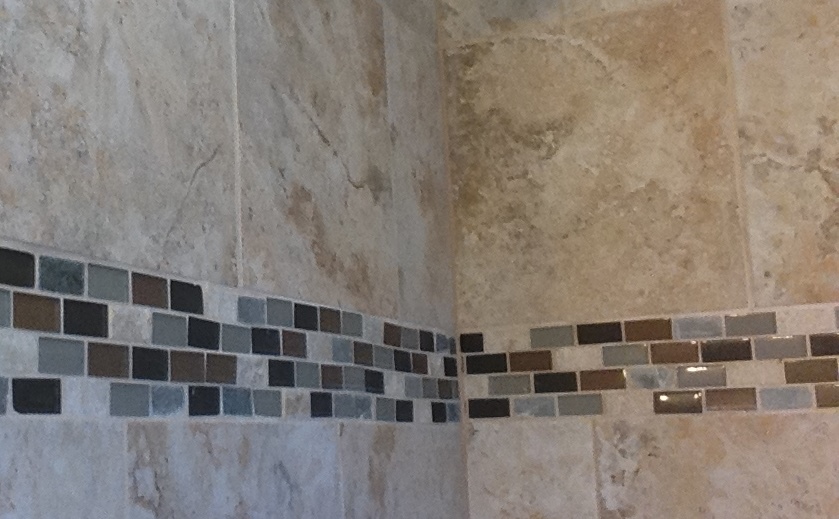 Save