---
The Snapshot
Why did you look for a contractor?
Tile floor installation for my parents.
Why did you choose this particular contractor?
Reasonable price and pleasant manner.
How do you feel about the results?
They did a very nice job.
If a friend asked you for a referral, what would you say about this contractor?
I would definitely recommend them. They were outstanding for their professionalism and how well they did on the tile itself.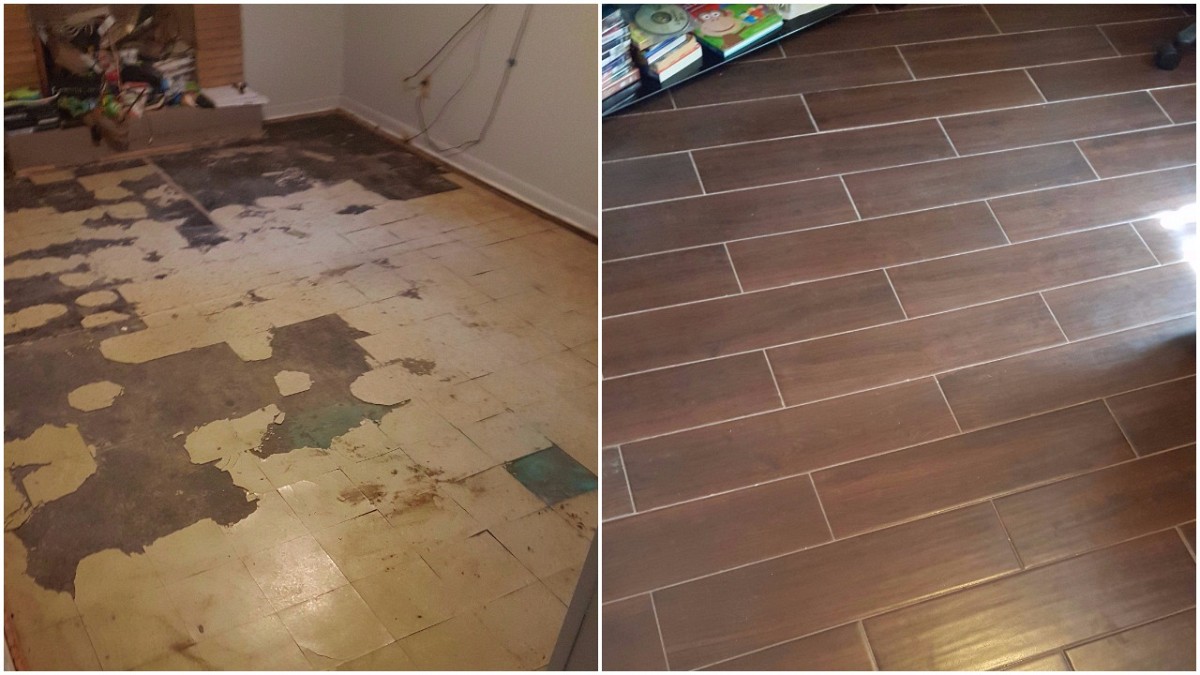 The Full Scoop
My parents have done a lot for me, especially over the past 6 months, so I wanted to give them a special "thank you." I planned the ultimate surprise – a "new" den!
Their den was looking really bad, with awful carpet on top of peeling linoleum. When anyone sat on the couch, it sagged about 4 feet. They'd been thinking about fixing up the room for a while. My sister said that Mom even looked at some dark wood floor tile, but wound up not getting it. Knowing my mom, it was probably because of the price.
So while my parents were away on vacation, I redid the room with the help of a contractor. I hired Greater is He Handyman Services, partially because the owner, Brian, gave me a good price … but I also liked how friendly he was. After hearing so many horror stories about contractors, I was nervous at first, but he made me feel much better.
Here's how we did it:
My sister and I went to Lowes and bought all the supplies, including nice dark wood tile, which we found on sale.
My parents left for their vacation on a Friday. As soon as they were gone, friends came over to help me move out the furniture. Brian actually came by that day as well, to do the estimate.
Over the weekend, I took down the old blind, bleached the walls (my mom's a bit of a germophobe), and painted. Then I hung fresh new curtains.
On Tuesday, Brian's crew showed up, as scheduled, to start tiling the floor. They finished on the Friday a week after my mom and dad left).
Once the floor was done, I had a brand new couch and computer desk delivered.
When Mom and Dad came home, they were surprised and thrilled! I'd told my grandma that I was hoping to make Mom cry when she saw the den … in a good way. And I got my wish!