How to Use Every Fabric Scrap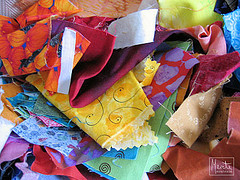 The story is told of a dedicated crafter whose workroom was filled floor to ceiling with boxes of leftovers from past projects. She couldn't bear to throw any of them away. Among the cartons, there was even one labeled: "Fabric scraps too tiny to do anything with."
Now if you love fabric as much as we do, there is *no* scrap too small or insignificant to play a functional role in the repurposing universe. True, some uses for these tidbits require a certain degree of sewing skill. Others, however, are simple "cut-and-paste" (or just "cut") jobbies. Be aware, though, that should you intend on eventually machine washing your creation, raw edges of every type of cloth that can fray – almost all wovens – should be hemmed first to avoid causing problems with your washer.
Patchwork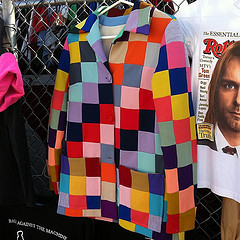 The very smallest remnants are perfect for that time-honored form of repurpose: patchwork. Craft a comforting quilt to cover your bed on cold winter nights or to give as a gift from the heart. You may prefer to turn your patchwork creation into a unique jacket or tote. Extra proud of your work? Sign and date it using embroidery floss or permanent fabric marker.
Baby Items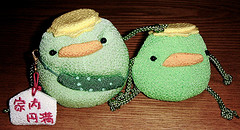 A type of fabric scrap usage that deserves a category of its own is crafting for infants. Use the softest, warmest and lightest bits in your repertoire to create mini blankets. Cloth books, rag dolls and cuddly animals are examples of easy-to-make playthings; be sure to follow safety guidelines for homemade toys. TIPS: Vary the colors and textures of the scraps you use to make the object more interesting for the very youngest children to explore. And don't forget to include a snippet from an outfit that you or the child's parent wore as a tot.
Draft Excluders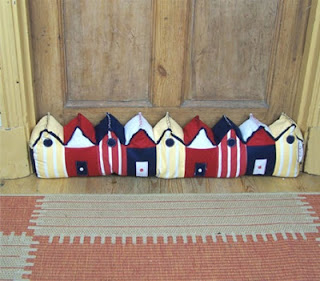 To keep Baby – and all the family – warm during the day when the temperature drops, turn leftover fabric into a draft excluder. This can be as simple as a rolled up length of material, or an elaborate design like a cute snake, train or row of houses. However it looks, the excluder has one purpose: to block cold drafts coming in under the door. Using one of these can save money on your fuel bills, particularly if you live in a northern city with harsh winters, such as Boston. (Of course, if your drafts are more reminiscent of Arctic storms, you might want to find a Boston carpenter to adjust your doors.)
Cozies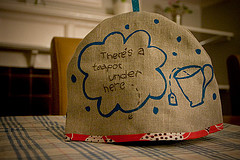 Another way to warm up on snowy, icy days is by helping yourself to a steaming mug of coffee. To make sure that cup of java stays hot, swaddle it in a coffee cozy made from scraps of heavy wool or knit. Non-caffeine addicts can craft cozies for anything from their teapot or toaster to their Chapstick or Kindle.
Cleaning Cloths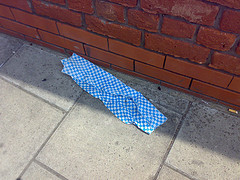 Though it may not technically be repurposing, one obvious use for fabric remnants is as, well, fabric. Leftovers from natural fibers, cotton for example, tend to be the most absorbent and make great cleaning rags for mopping up spills and the like. Many frugal folks cut large scraps of synthetic fibers like polyester fleece to size, for use as inexpensive reusable cloths for the popular Swiffer sweeper.
Living Room Décor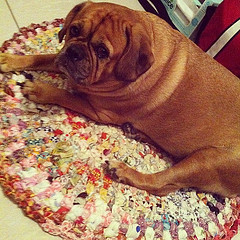 Embellish your living room with fabric scrap projects. DIY throw pillows provide a color pop with a minimum of effort or expense. Recover a tired lamp shade with a light-colored, translucent material or brighten a bookcase with fabric scrap facings. The ultimate in fabric scrap chic is a homey handmade rag rug, in colors carefully selected to coordinate with your furniture ... or your pet.
Laura Firszt writes for Networx.com.
Updated April 19, 2018.
Looking for a Pro? Call us at (866) 441-6648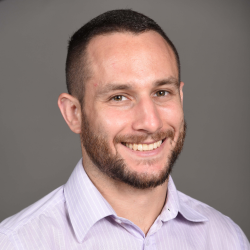 Top Cities Covered by our Cleaning Services