How To Get A Deck Or Patio Into Warm Weather-Worthy Shape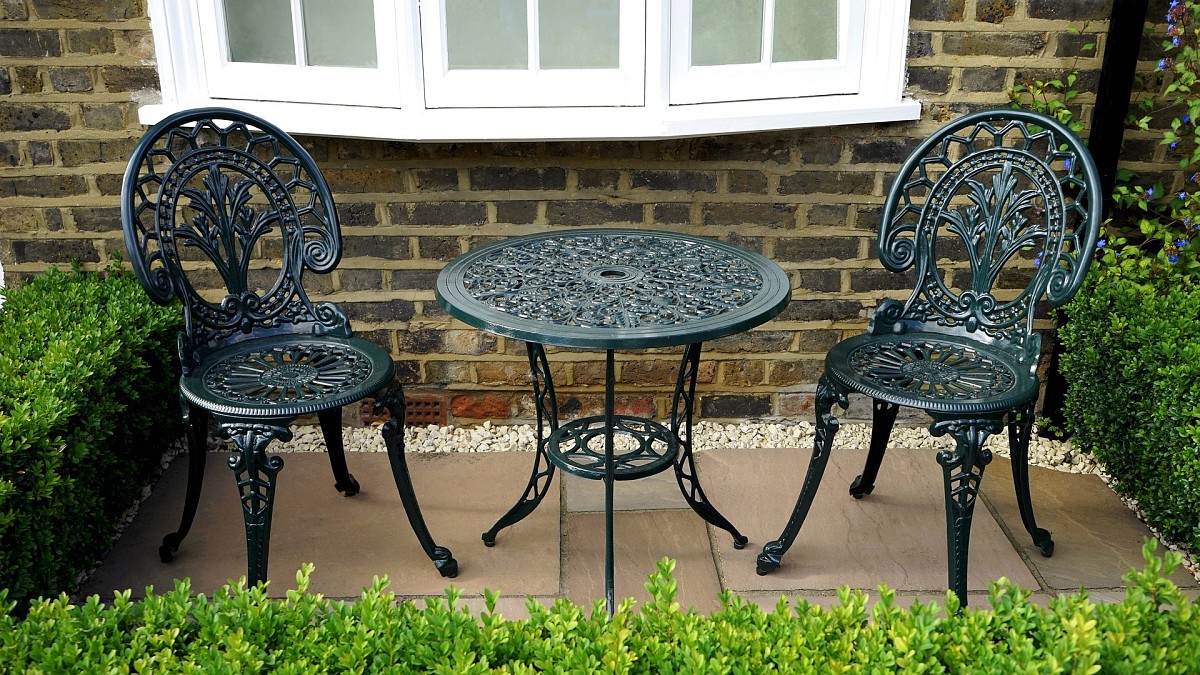 Now's the time to get in shape for summer! No, we're not talking about hitting the gym to French twist or yoga surf your way to a bikini bod, but something equally important … ensuring your deck or patio is ready for fresh air fun. Whether your thing is open air dining, container gardening, or relaxing in the sweet summer breezes, read our tips to get your outdoor on.
Sweep
Sweep up surface debris from your patio or deck. I know, I know -- you made a herculean effort to clear your outdoor space of all the dead leaves, sticks, and stones just last fall. Unfortunately, winter storms have taken their toll since then, leaving plenty of new debris for you to get rid of. If fallen foliage from overhanging branches is an ongoing headache, you might want to simplify your outdoor maintenance by having the tree professionally trimmed.
Deep clean
Once the surface has been swept, use a putty knife to clean out gunk trapped deep down between boards or pavers. Then power wash the structure. Start by applying a detergent appropriate for your deck or patio material (check the manufacturer's instructions); after that, use the pressure washer to remove both suds and dirt at the same time. Pressure wash with care, so you don't end up doing any damage to your deck – or to yourself! Consumer Reports outlines some detailed safety tips.
Repair
Take care of any cold season damage inflicted on your deck or patio. In the case of a deck, you might typically have to repair rotting or split wood; problems with the flashing (the metal or plastic between your deck and the house wall, which directs rainwater away from your home); loose or corroded screws or other fasteners; or wobbly railings. A concrete or paver patio may have cracks that need patching or missing pavers that will have to be replaced.
Finish
Now it's time to apply the finishing touch -- a coat or two of sealer, stain, or paint. These types of finishes will keep your patio or deck looking great all summer long. They'll also protect against moisture penetration and seasonal damage when (sigh!) winter returns once again. For a handsome wooden deck, you might want to choose a clear stain that lets the sun shine through, gradually turning the wood color to gray. Alternatively, a semi-transparent stain will provide an increased level of UV protection. You can also stain concrete. Although more difficult to apply, paint generally offers the best protection; just be sure to choose the correct type for your material -- whether wood or concrete -- and apply on a dry, mild day. Adding a second coat of stain or paint will give a longer-lasting finish.
Extend
Need more space for outdoor fun? Extend your deck or patio this year. It's relatively easy to enlarge a concrete patio, especially if the adjacent ground is level. The process involves careful measurement and soil preparation, followed by form construction, then pouring and curing the concrete. For a smooth join, top the existing patio with a thin layer of concrete as well. An even simpler method, which makes a great DIY project, is to add one or more rows of concrete pavers around the perimeter. Extending a deck is more complex; because the raised structure requires adequate support, you will probably have to have new beams and footings installed. To minimize problems matching the wood, consider replacing your current decking during the construction, or building the addition at a different level. Whichever way you opt for, check with your local building department to obtain any necessary permits and contact a one-call center to make sure it's safe to dig in the spot you choose.
Laura Firszt writes for networx.com.
Looking for a Pro? Call us at (866) 441-6648