Choose the Right Wall Tile, Using Tips from the Pros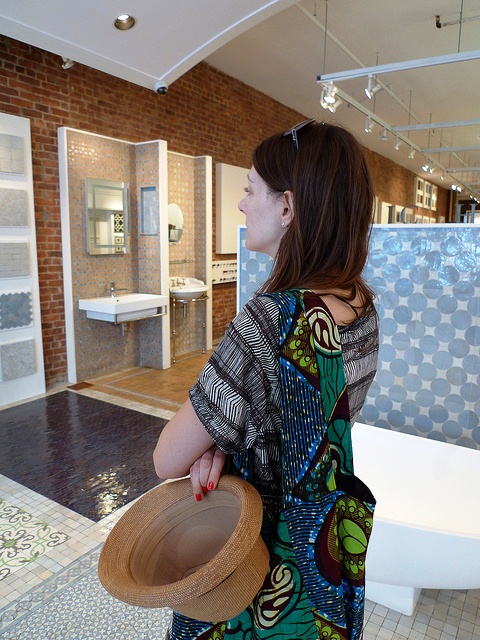 Stone, ceramic, or porcelain tile adds beauty and distinction to your home anywhere it is installed. But don't choose your wall tile based on good looks alone. Build the best, most durable (not to mention stunning!) shower, backsplash, or other tiled walls you can with these insider tiling tips from the pros.
General Tile Tips
Before you totally fall in love with a certain tile, make sure that it is good quality. Try holding 3 or 4 samples from the batch against a flat surface to check that they are not warped. Order 10 to 15 percent more tile than you estimate you'll need to cover your square footage, to allow for cutting and breakage. Always keep a few tiles on hand after your tiling contractor has finished the walls, to simplify future repairs.
SAVE TIME AND MONEY: Shop for your tile as early as you can, whether you're planning a major bathroom or kitchen remodel, or simply a small-scale upgrade. This will allow you plenty of time to pick out and order the right style for your home, so that the tile will be delivered before your contractor shows up with a work crew.
Size
Tiny glass or mosaic tiles have been a popular backsplash tile for some time now. However, installing just a single row of oversize tiles in that above-the-sink area will create a thoroughly modern sense of drama. Larger tiles also look very "right now" on bathroom walls. You may have hesitated to use them for fear of overwhelming a small space but you'd be surprised -- they often have the opposite effect, enlarging your tiny bath or powder room in a very attractive way.
MAKE LIKE THE PROFESSIONALS: Still not sure whether large tiles are right for you? Picture your walls covered in various sizes of tile, with the help of 3-D design software.
Color
While stone tile comes in lovely natural colors, ceramic or porcelain tile is available in just about any shade you can imagine. How to choose? Remember the basic principle followed by interior designers -- light wall tiles make a room seem larger, darks make it feel warmer, but in the end, the best color is the one that you love and will be happy to live with.
TAKE THIS PRO TIP: Tile color varies. Ask to see several pieces of a particular shade lot to make sure they are exactly what you want. In addition, the hue will tend to appear different inside your house than it does in the manufacturer's showroom. Request a sample to take home; then see how it looks in the unique lighting conditions of your residence and whether it is truly the right match for your cabinets, vanity, or other furnishings.
Finish and Grout
Ceramic tiles may be glazed or unglazed. The unglazed have a pleasantly earthy ambiance, but glazed are more suitable when the atmosphere is humid, as in a bathroom or laundry. In the kitchen, beware of tile that is unglazed or that has a rough-textured or raised surface, since it will tend to trap dirt and grease. All tile needs to be grouted; for best results, wait at least 24 hours after tile installation before grouting. In terms of color, opt for a grout that goes well with your tile, whether coordinating or contrasting.
TRY TILE CONTRACTORS' RECOMMENDATION: Apply self-sealing, flexible epoxy grout to allow for wall movement as your house settles. If you use cement-based grout, protect it against water, stains, and grease marks with a penetrating sealer.
Laura Firszt writes for networx.com.
Updated June 25, 2018.
Looking for a Pro? Call us at (866) 441-6648