Ceiling Fans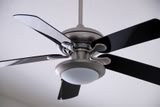 For decades, ceiling fans have been a top choice for comfort and energy savings. Ceiling fans are beautiful and practical and make a great addition to any room. The fact that ceiling fans can help circulate heated or cooled air explains how these inexpensive-to-operate devices work to lower energy bills. Plus, the fact that ceiling fans come with the option of a light makes them popular as a lighting fixture.
The ceiling fan market is huge, with ceiling fans being manufactured in seemingly endless styles, colors, configurations, motors, finishes and more. So how does one make the choice? There are important qualities that every ceiling fan must have, the most important of which are quiet performance and steady operation (which means that it is safe and has been installed properly).
There are several other important factors that you should consider before purchasing a ceiling fan:
1. Brand Reputation
Brand reputation matters with ceiling fans, and it's best to go with a reputable company that stands behind its fans and warranties the fan's motor (10 years is a good warranty). Ceiling fans cost anywhere from $24 to hundreds of dollars for high-end, top-quality fans. Cheaper fans tend to have weaker, noisier motors ... and that's exactly what you don't want.
Some reliable ceiling fan manufacturers include Hunter/Casablanca and Emerson. The motor of ceiling fans should have sealed bearings that require no lubrication and run quietly, without major problems, for up to 12 years. Be sure the fan you buy is listed by Underwriters Laboratories or an equivalent testing agency.
2. Controls
What type of controls do you want for your fan? Ceiling fans come with several control options, such as a pull chain or remote control. Do you want a fan with multiple settings and speeds? Do you want the light to have a dimmer switch? All of these will determine not only the price of the fan but how it is installed, as well.
Many of the higher-end fans come with advanced features like the ability to automatically adjust the fan speed to suit changes in room temperature and to turn the fan light off when you are not home.
3. Blades
Blades play an important role in ceiling fan performance. There are several important blade characteristics, including number of blades, size and length. Usually the more blades, the higher the price of the fan. The most common number of blades is four, though three and even five blades are not unheard of. Number of blades depends on your preference and is not always tied to the strength and performance of the fan.
Length of the blades also determines these qualities. Blades come in several lengths, measured by the full blade sweep they produce: 30, 42, 44, 46, 50, 52 and 60 inches.
Blade color and material are another consideration. Blades come in natural wood, or with painted blades of solid wood, cross-laminated veneer (plywood) and less-expensive veneered constant-density board. Popular finishes include natural, appliance white, cherry wood, oak, walnut, bleached oak, white, faux granite, rosewood and black.
The Bottom Line:
Movement of air is a result of the pitch, length and number of blades; their distance from the ceiling; and their revolutions per minute (rpm). A weak motor can spin short blades quickly if the blades are at a minimum pitch of about 10 degrees, though this type of fan is likely to be noisier than a fan that swirls 14-degree, longer blades more slowly.
The best advice is to choose a fan to meet the specific needs of the room where it will be installed. And make sure you get your ceiling fan installed properly by a professional electrician.
Updated August 6, 2018.
Looking for a Pro? Call us at (866) 441-6648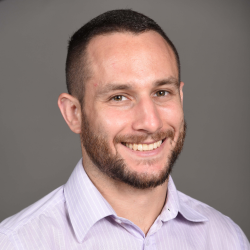 Top Cities Covered by our Electricians