Bathroom Tile Design Ideas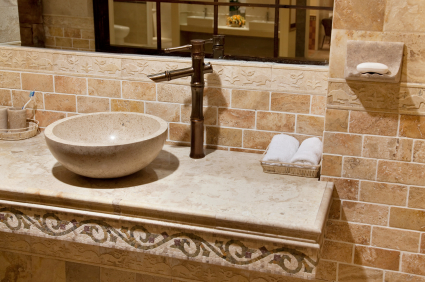 With nearly every surface in the bathroom being suitable for tiling, tile can do for a bathroom what landscaping can do for an empty lot. Just take one step into a tile showroom and you'll wonder why 4 x 4-inch white tile has remained the bathroom standard for so long. Here are just a few bathroom tile design ideas for stamping each surface of your bathroom with a personal touch.
Showers
Shower walls and floors are great opportunities for fun and fantasy. Of course, water-related themes are always appropriate here. Perhaps a "river rock" floor tile, wall tiles embossed with wave patterns or gradients of blue-to-clear glass tiles that mimic the color variation of a pool.
Tub Surrounds
Tiled walls around tubs and Jacuzzi baths are perfect for creating a focal point, turning the bathing area into an inviting composition. Nature-inspired hand-painted tiles or pictorial mosaics set the stage for your next bath escape.
Main Floor Area
When it comes to the main floor, bathroom tile patterns vary from neutral blends of earth-tone tiles to bold black-and-white checkerboards. Fine lines of accent tiles along the edges or in geometric frames add a formal touch or create an "area rug" effect to break up a large tile field. Small mosaic tiles in contrasting colors are a timeless classic. To avoid an overly busy scheme, floor tile should complement the wall color.
Main Walls
Adding tile outside of the shower and tub areas is a nice way to dress up-and waterproof-areas around sinks and toilets. A wainscot (from the floor up to about 36 to 42 inches) of tile is a classic traditional treatment that allows for additional decor on the top portion of the wall.
Backsplashes
Taking a cue from kitchens, the backsplash (in bathrooms, the wall area behind the sink) has inspired a new range of bathroom tile design ideas. Rectangular white "subway" tile brings a clean, classic look, while tinted glass tile introduces color with a captivating, watery depth.
Before You Hit the Showrooms...
When faced with the seemingly endless, often overwhelming, variety of tile options, try to avoid going hog-wild and choosing an "eclectic" mix of every tile you love. On the other hand, don't go in the opposite direction and settle on a "safe" option like plain white squares (unless that's really what you want). The best plan is to settle on an overriding theme for the entire bathroom, and choose a collection of tile styles that complement or play off of the central theme.
Find a tile design expert near you, and get free quotes.
Looking for a Pro? Call us at (866) 441-6648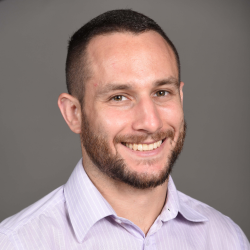 Top Cities Covered by our Remodeling Contractors