---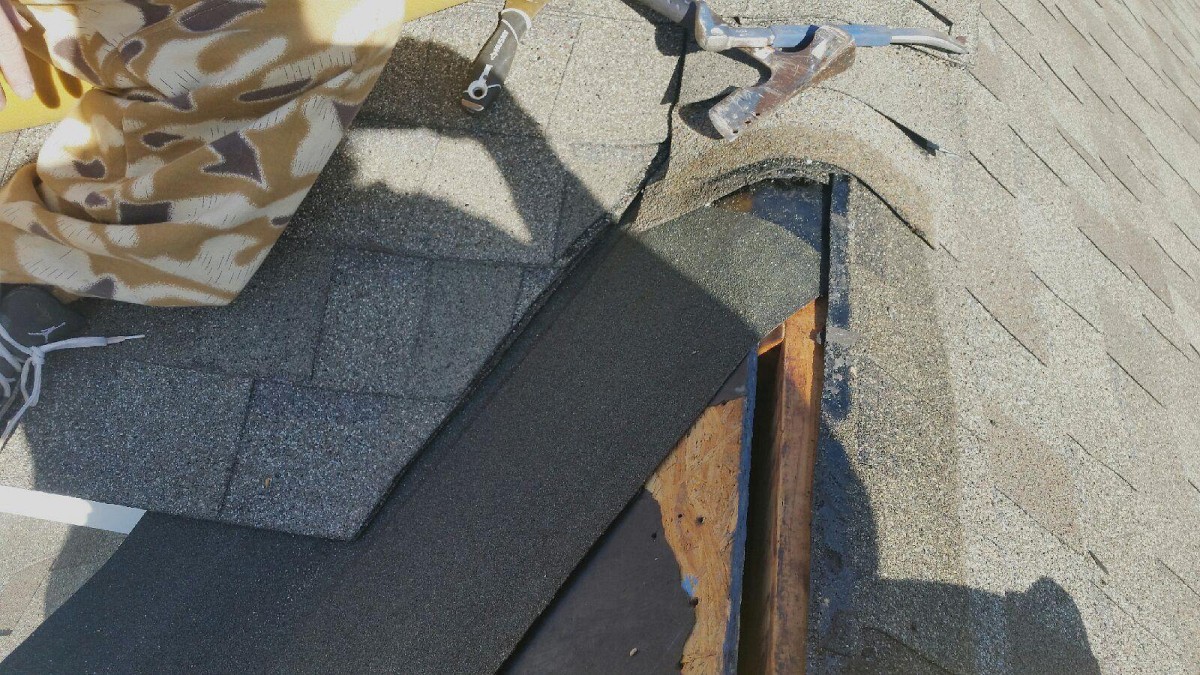 WHAT MY NETWORX CONTRACTOR DID FOR ME: Roof repair for my garage.
WHY I CHOSE HIM: Businesslike approach, clear answers to my questions.
Water was leaking through the roof of my garage; I could hear it dripping. After it quit raining, I went up and looked for where it had been hitting. I have drywall on the ceiling … and the rain had actually made a happy face on the drywall, 2 dark brown spots and a big round half-moon smile! When I found where the leak was coming down onto the drywall, I put a bucket there and I got about ¾ of a cup of water from a whole day of drizzle. A very, very small leak but it could only get worse.
To take care of the leak, I went online to look for the fellow who had put in my skylight a few years ago. Turns out he's no longer in business, but when I typed his name into the search box, Networx came up. I filled out the questionnaire thingy and one of their roofing contractors, Hans from Straightline GA, contacted me. I told him, "I've already got somebody coming to look" and he said, "That's fine." He made an appointment to come out the next day.
The first roofer, who wasn't from Networx, was late arriving; I'm older and promptness does mean something for a first impression. However, he was so very personable that I probably spent more time chitchatting than we needed to. He just looked from the ground to see where the "A" of the garage roof kind of slides into the "A" of the second story of my house. He figured that the area where the 2 roofs were joining was where the problem would be, so he gave me a quote based on that assumption and left.
When Hans came, it was a different story. Although he was also very personable, he was much more businesslike -- showed up on time, handed me a business card, got out his ladder, climbed up on the roof, lifted up tiles, took pictures, came back down, explained to me what the problem was … and then gave me a quote. And I understood clearly what he was saying.
Another thing: the little weather thing on my phone was telling me "rain for a week, with a 2-day break," so I was trying to get somebody to do the roof repair in that little 2-day window. The first guy was kind of vague about how busy he was and what day he'd be able to come. When I asked Hans when he could do it, without hesitation he said, "Tomorrow." His quote was $50 higher but I liked the sound of him much better, so I hired him.
It was going to frost the night before he came out and he explained that if you take shingles off when they're frozen or frosted, sometimes they'll crumble. So he said that he wanted to allow some time for the roof to warm up the next morning. We'd set an appointment at 10 o'clock, but he actually called me at 9 and said, "It's not warming up enough. I'm going to be there between 11 and 11:30."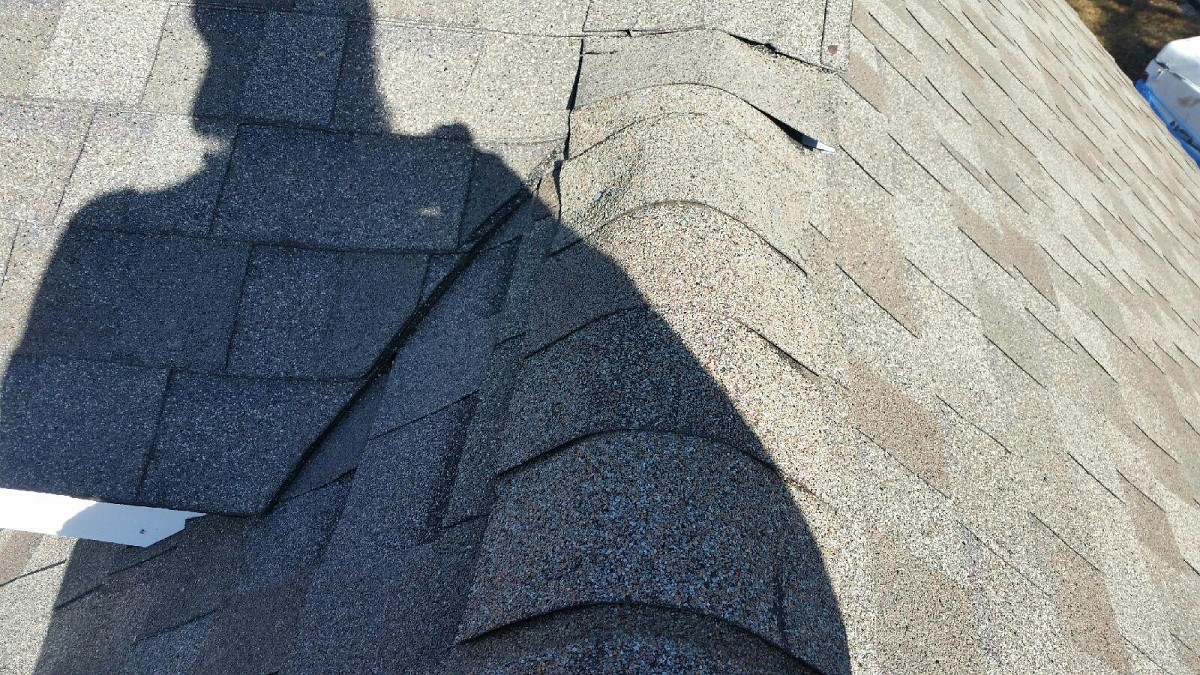 If I can repeat back what Hans taught me … when roofers come across a valley where a roof joins another roof, what they normally do is take a long piece of shingle and run it up and down both sides of that valley, so there's a good drain area. I had a new roof installed in 2008 by a company that I was not real happy with, though it has not been a problem until recently. When he checked the roof, he found that they had shorted the shingles – instead of taking a whole piece and running it up both sides so that rainwater would drain down the valley, wherever the shingle ended, they just left it. In other words, the water could get into valley, go down under the shingle and around into a nail hole – and from there, drip down into the garage.
So Hans pulled up the shingles that were covering the valley and replaced them. When the original roofers finished, they left all their trash in the yard. I had saved a lot of ridge shingles from that mess, so he took one of those to match the color. He was able to buy a bunch of shingles that perfectly matched the roof, even though it's 8 years older. And I got to keep the rest of the bundle for future repairs. Of course there will be more leaks, but hopefully this roof will last 25 years.
It's rained once since the roof was done. I haven't gotten up into the attic again but I did not hear any dripping. I was very pleased. I'm going to keep Hans's name for sure – he's down in my repair book, under "roofer."
My advice for choosing a roofing contractor: Look for somebody that's on time, gives you a business card, explains things well, and schedules the work promptly without being vague about it but giving you dates and times. Communication is important; I don't care if you're going to come late for a good reason, but call me an hour before your expected time of arrival and tell me that, I'm fine with it. If you don't call me at all and just show up late, I'm kind of steaming.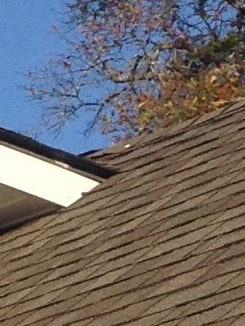 Edited by Laura Firszt.