Ceramic Tile for Your Kitchen Floor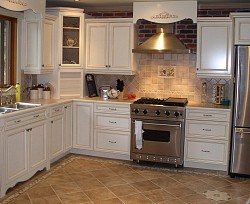 Are you renovating your kitchen or building a new home? Chances are you've given a great deal of thought to the cabinets and countertops ... but what about the flooring? Ceramic tile is an excellent choice for kitchen floors. It looks lovely and lasts for many years with a minimum of maintenance. In addition, it's priced very reasonably. Here's more about why we like it.
Good Looks and More
There are lots of reasons to love ceramic tile for kitchen floors. It's durable, stain- and heat-resistant, and hypoallergenic, plus it doesn't wear out from heavy foot traffic. Best of all, a tile floor installation looks fantastic. Ceramic tile comes in a huge assortment of colors, sizes, designs, and even textures. Whatever your kitchen's style, you can match it -- try warm, earthy terracotta-colored tile for a rustic country look or sleekly modern faux metallic tile to create an atmosphere of industrial chic, just for starters. Trending now is ceramic tile made to resemble other materials, such as hardwood, linen fabric, or natural stone, in think-outside-the-box shapes like circles, hexagons, or freeform pebbles. We're especially fond of tiles digitally printed to look hand-painted, evoking colorful floors in Mexico, the Middle East, or Victorian England.
Maintenance
A huge advantage of a ceramic tile installation is that it is delightfully easy to maintain. Cleanup is a breeze -- just use a broom or a damp mop with a bit of mild soap to get rid of dust and grime. Repair is equally simple; you can replace a damaged tile or two without taking up the whole floor. Just ask your tile contractor to order a few spares so you won't have to worry about matching.
A few caveats, though: Ceramic tile can become slippery when wet, so be prepared to wipe up spills promptly and to wait before walking on your freshly washed floor. Alternatively, opt for tiles with a new anti-slip surface. To avoid "grungy grout" syndrome, either opt for a dark tone or have it sealed. And be warned that dirt, food debris, pet hair, and the like will show up annoyingly well on solid-color tile, especially pure black or solid white.
Comfort
Some homeowners find the non-resilient surface of tiled kitchen floors uncomfortable, citing backaches and tired leg muscles after they've spent long hours working at the counter or stove. This problem can be solved by standing on a comfort mat, a cushioned, anti-fatigue rectangle that's about the size of a welcome mat. If you are about to install a new tile floor in your kitchen, you may want to avoid another common complaint -- that ceramic tiles feel cold underfoot -- by putting in radiant heat at the same time.
Cost to Install a Tile Floor
You'll find it quite affordable to install a tile floor in your kitchen. Depending on where you live and the quality of material that you choose, the project will cost approximately $9-14 per square foot, when done by a professional. Kitchens in 21st century houses generally measure a generous 300 square feet, so you can figure a total of some $2700-4200, including the price of non-discounted tile. (Older homes, townhouses, and condos tend to have much smaller kitchens, making the cost less.) Ceramic tile styles are updated frequently and when this happens, yesteryear's designs are often sold at a substantial reduction, which will allow you to bring down the expense.
Laura Firszt writes for networx.com.
Looking for a Pro? Call us at (866) 441-6648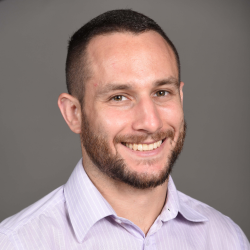 Top Cities Covered by our Tile Contractors